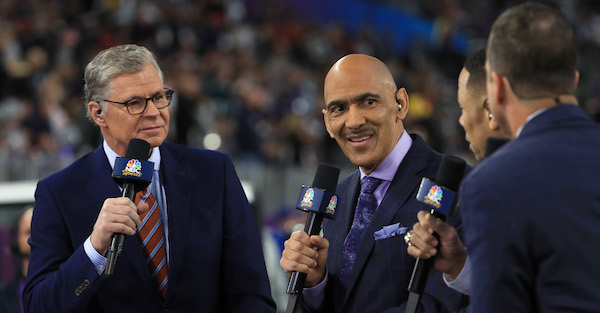 Mike Ehrmann/Getty Images
MINNEAPOLIS, MN - FEBRUARY 04: NBC Sports personalities Dan Patrick and Tony Dungy speak prior to Super Bowl LII between the New England Patriots and the Philadelphia Eagles at U.S. Bank Stadium on February 4, 2018 in Minneapolis, Minnesota. (Photo by Mike Ehrmann/Getty Images)
It's been over a decade since Dan Patrick has worked for ESPN, but the "Mothership" is reportedly interested in bringing Patrick back in some capacity.
Sporting News broke a story detailing how Patrick met with ESPN, and Patrick confirmed the story on his radio show. Patrick said he met with former ESPN executive John Skipper just two days before his resignation for substance addiction in December.
Patrick's dual contract with NBC Sports and AT&T SportsNet expires later this month, and he said he wants to continue doing NBC Sports' "Football Night in America" and his radio show with the "Danettes."
But he also indicated that he wants another show he hosts to appear on ESPN in the afternoon lineup. Patrick is the host of "Sports Jeopardy," and he said he'd like to see it alongside "Around the Horn" and "Pardon the Interruption" during ESPN's afternoon lineup.
Related: ESPN trolls Patriots quarterback Tom Brady after Super Bowl LII loss
Patrick also has a new broadcasting school in Florida, and he said he wanted to set up a feeder system with ESPN where broadcasting students could intern at ESPN.
Here's Patrick addressing the meeting with Skipper on his radio show on Monday:
"I said, 'I?m not leaving Football Night in America,'" Patrick said. "That?s what I want to do. I don?t want a TV job at ESPN. But I?d like to be in business with them with these other entities."
Patrick was with ESPN from 1989-2007, and he is one of the most popular SportsCenter anchors in history. He and Keith Olbermann were perhaps the most famous duo to host the "Big Show," and they were known for their quick wit and banter.
It seems unlikely Patrick will return to ESPN since Skipper is no longer with the company, but it would be great for sports fan to see Patrick back at ESPN in some capacity.