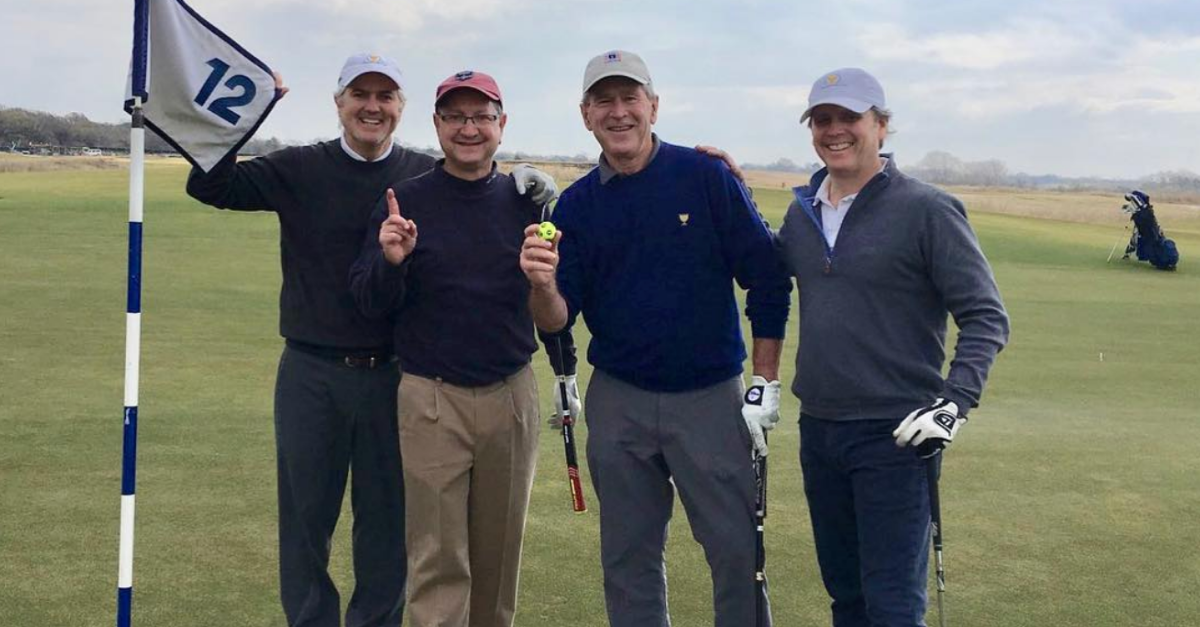 Instagram: @georgewbush
President George W. Bush is no stranger to the golf course. He didn't play much while living in the White House, although he did some with his late father, President George H.W Bush, but the 43rd President of the United States is definitely enjoying the links these days.
Much like many 72-year-old men in the retirement phase of life, President Bush is not the strongest golfer in the world. However, on Wednesday, he recorded his first-ever hole-in-one.
Playing Trinity Forest Golf Club in Dallas, Texas — the new home of the AT&T Byron Nelson and the Warrior Open, a three-day tournament hosted by the George W. Bush Presidential Center for wounded service members in the U.S. Armed Forces — Bush aced the Par 3, 12th hole and has a picture on Instagram to prove it.
RELATED: Nobody Threw Ceremonial First Pitch Strikes Quite Like President George H.W. Bush
According to the Trinity Forest official member scorecard, the 12th hole is a smooth 164 yards from the white tees. The Bush Center CEO Ken Hersh and board members Mike Meece and Bill Hickey were all on hand to witness it, too.
"With coaching from [The Bush Center] CEO Ken Hersh and board members Mike Meece and Bill Hickey, I scored my first hole-in-one at the home of our Warrior Open and the [AT&T Byron Nelson]. Next golf goal: live to 100 so I can shoot my age."

— Former President George W. Bush, via Instagram
Designed by Bill Moore and Ben Crenshaw, Trinity Forest Golf Club was established in 2014 and is a treeless links-style course. It also happens to be the home of the SMU Mustangs men's and women's golf teams in addition to the PGA's AT&T Byron Nelson and Warrior Open.
On Wednesday, however, the entire club belonged to President Bush, and you better believe the clubhouse was the place to be with the drinks tab being picked up by the former POTUS. He even had the Presidents Cup sweater on.
Congrats, Mr. President. That's an amazing accomplishment.