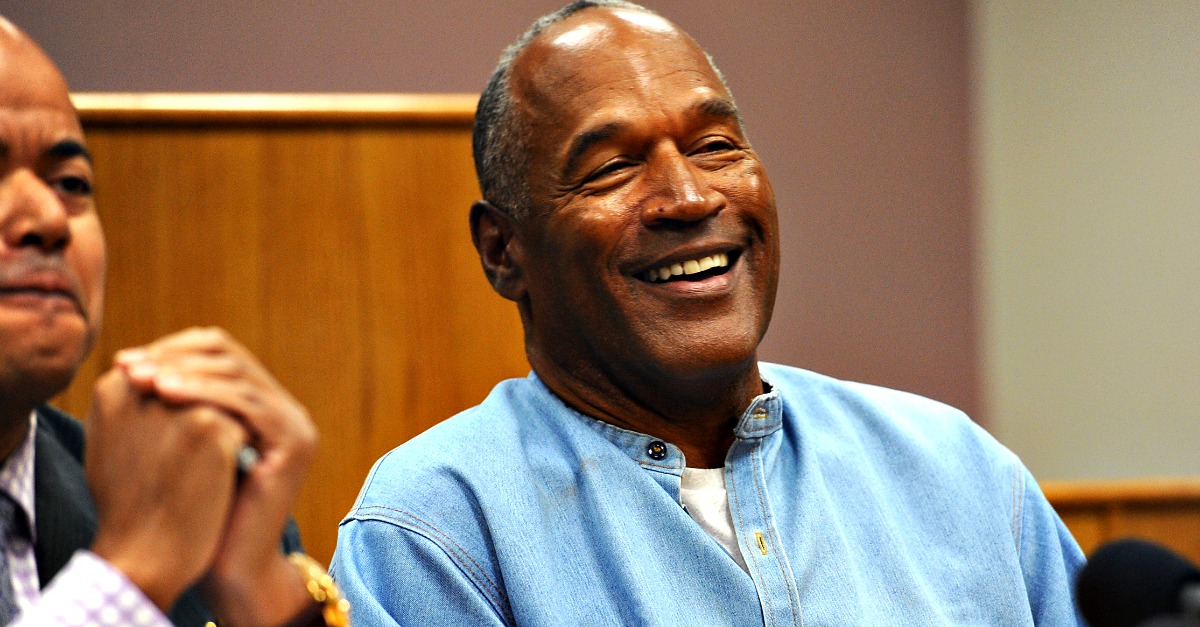 Pool photo via Getty Images
Jul 20, 2017; Lovelock, NV, USA; O.J. Simpson attends a parole hearing at Lovelock Correctional Center. Simpson is serving a nine to 33 year prison term for a 2007 armed robbery and kidnapping conviction. Mandatory Credit: Jason Bean/Reno Gazette-Journal-Pool Photo via USA TODAY NETWORK
The ex-manager and long-time friend of O.J. Simpson expressed relief that the former football star will be released from jail after he was granted parole on Thursday, and he had a piece of very strong advice for him — get some different friends.
"Stay away from his bad friends," his ex-manager, Norman Pardo told FanBuzz. "He has some friends who are felons and he needs to distance himself, and I hope he can pick good friends."
Simpson, now 70, has served just over nine years of a 30-year sentence for a memorabilia robbery in Las Vegas in September 2007. Simpson and five other men entered a hotel room and held two memorabilia dealers at gunpoint because Simpson claimed they had possession of items that rightfully belonged to him. Simpson was arrested, held without bail, and eventually convicted of kidnapping, armed robbery, assault with a deadly weapon, burglary and conspiracy.
RELATED: O.J. Simpson gets paroled
One of them men involved in the robbery, convicted felon Thomas Ricco, taped the event and sold it to TMZ.com for $150,000. He testified he made another $60,000 from television appearance fees. He was given total immunity to testify in the burglary case.
Pardo said he and his wife watched the parole hearing on television and were "elated" by the decision to release Simpson, who could be freed as soon as Oct. 1. Pardo said he and Simpson would talk during his prison stay and his wife wrote letters to Simpson.
And, he had this advice for his friend.
"He just needs to make sure that he considers someone a real good friend. You can tell a good person from a bad person. It's gonna be easy for him to get back in prison if he hangs around the wrong people."
Pardo said he's sure he and Simpson will get together, and when they do, "I don't want to talk about his prison time. I just want that to be forgotten."
What's the first thing they'll do?
"Probably just go out for sushi. That's his favorite thing."
Simpson was a football star at Southern California, where he won the Heisman Trophy in 1969. He played in the NFL from 1969-1979, and in 1973, became the first player to rush for more than 2,000 yards in a season. He played for the Buffalo Bills until 1977, and was traded to the San Francisco 49ers following that season, an that's where he played the final two years of his career. He was inducted into the Hall of Fame in 1985
But that wasn't the end of O.J. He became a pop culture icon by starring in a Hertz commercial that famously showed him leaping over luggage as he ran through an airport. He also found fame in movies with roles in Roots and the Towering Inferno, among others, but he may have gained the most movie fame with his portrayal of the dimwitted Det. Nordberg in the Naked Gun movies. He became a commentator on Monday Night Football as well.
His life took a turn in 1994 when he was arrested in the killing of his ex-wife, Nicole Brown Simpson, and a friend, Ronald Goldman. Simpson and his friend, Al Cowlings, famously led police on chase — the White Bronco chase — that was internationally television.
His court appearances were tagged, "The Trial of the Century," and he maintained his innocence throughout. In a controversial ruling, the jury agreed, and Simpson was found not guilty. However, he was found "liable" in the deaths in a civil suit and ordered to pay $33.5 million.