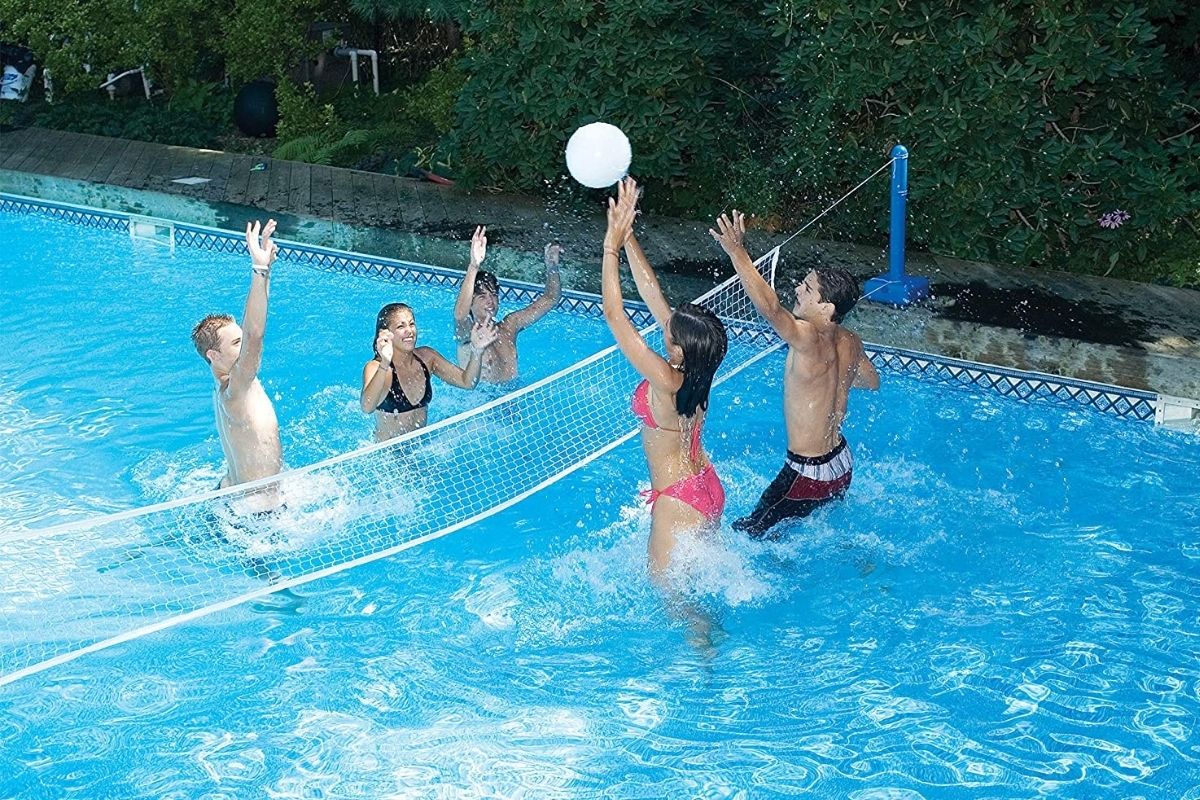 Amazon
There are two kinds of people in the world. People who like sand volleyball and people who like pool volleyball in the summer. Which one are you? I know it's a tough decision, but pool volleyball is kind of superior. I get very competitive during pool volleyball.
Remember the pool volleyball scene in Meet the Parents? "It's only a game, Focker." Yeah, right. I've been the pool volleyball champion for years. I'm ready to defend my title this summer!
Feeling up for the challenge as well? Grab a pool volleyball net for the family and invite your neighbors over for a friendly game of pool volleyball.
Best Pool Volleyball Net Systems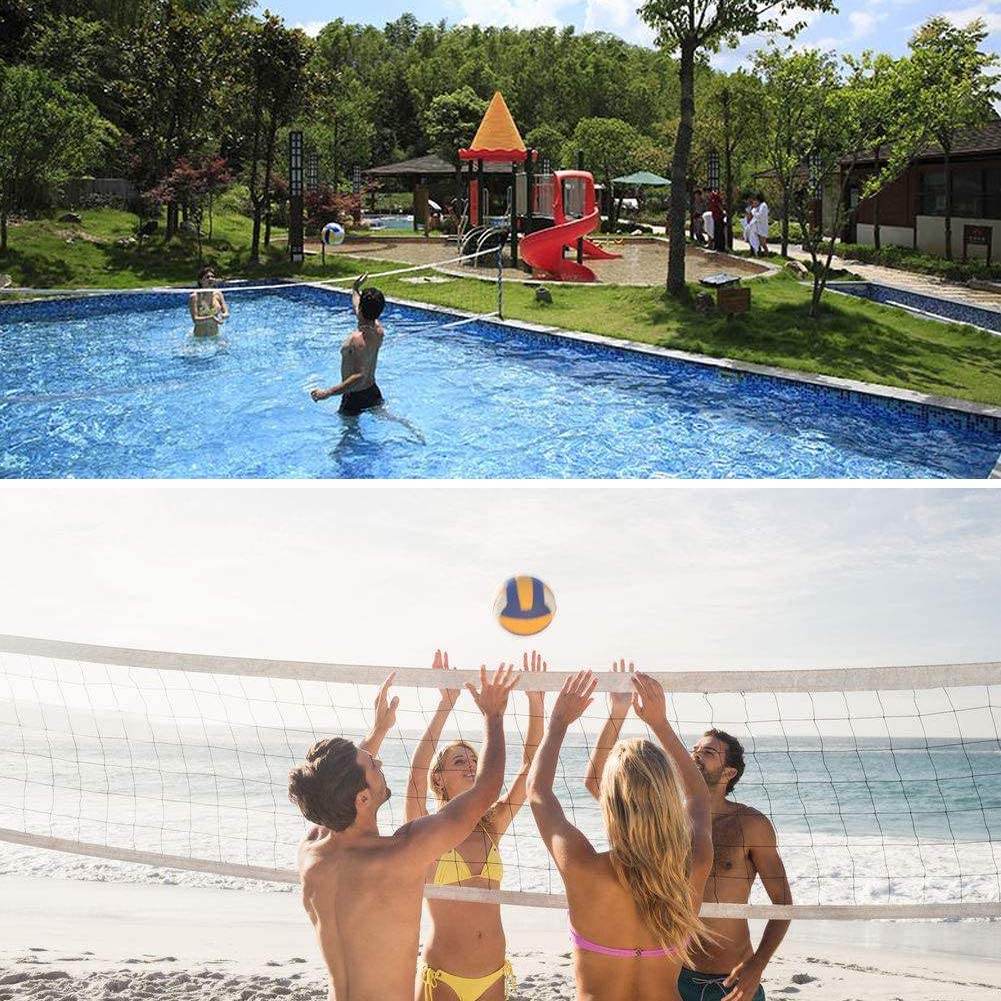 Best portable volleyball net option under $32
Sanung's volleyball net is made from PE material, making it a great outdoor volleyball net. This net will be able to make it through the summer without aging a day!
Keep in mind that poles are not included. I'd consider this net if you'd like to take it apart and bring it to your vacation spot for beach volleyball. However, it's an excellent fit for a large swimming pool.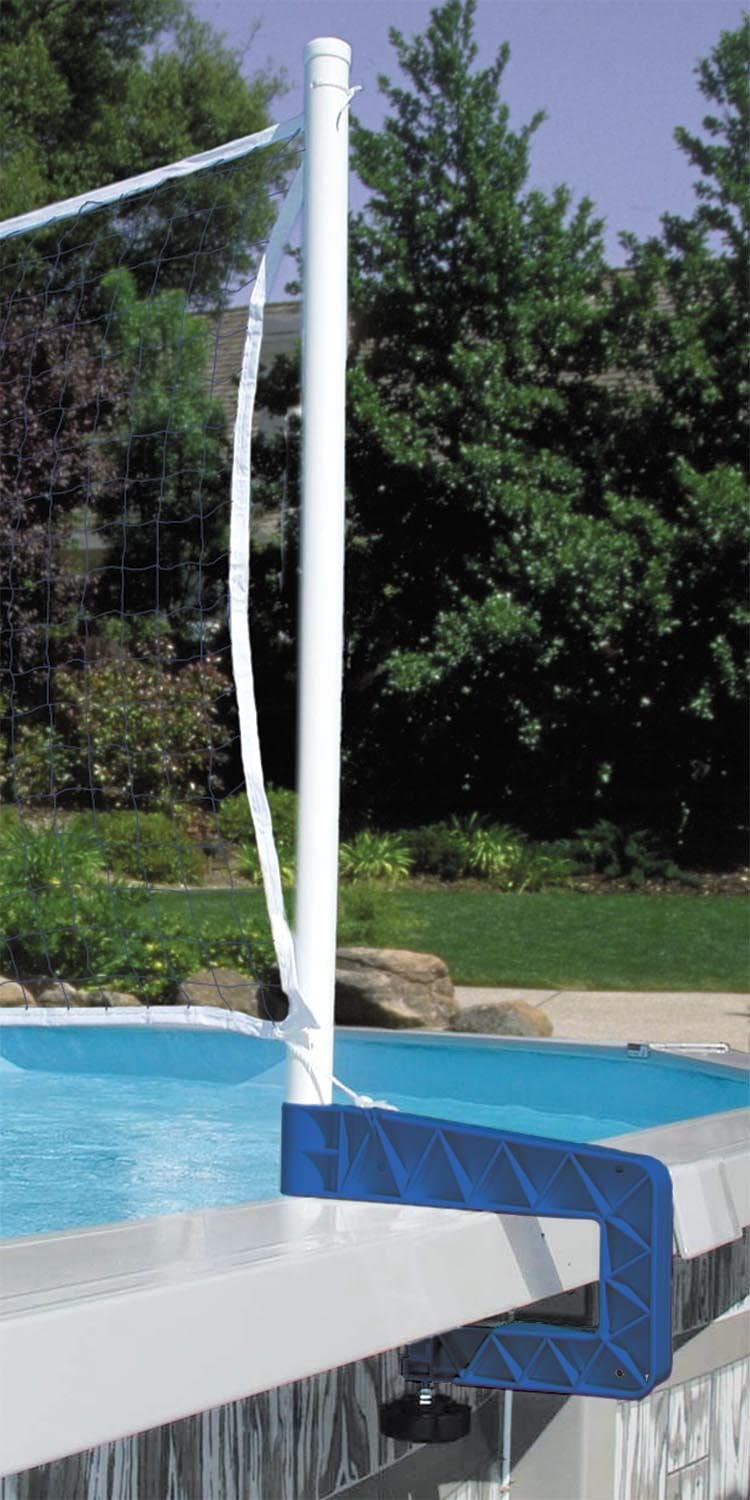 Best non-inflatable option for above-ground pool
Poolmaster's above-ground net is a good option for those who have above-ground pools and don't like the idea of an inflatable set. The $94 pool volleyball system comes with a net, side ties, upright poles, and bracket mounts for attaching to 4-inch or wider top rails. It even includes badminton rackets and birdies.
Kimberly gave it five stars and wrote, "Best purchase we ever made for our pool. The net has survived hours of use by us and four overzealous teenage boys and is holding up just fine. The ball that comes with it is sub-par, but you can buy some nice Mikasa soft volleyballs at Walmart for under $10."
RELATED: These Best-Selling Indoor Trampolines Are Fun (And Healthy) for the Whole Family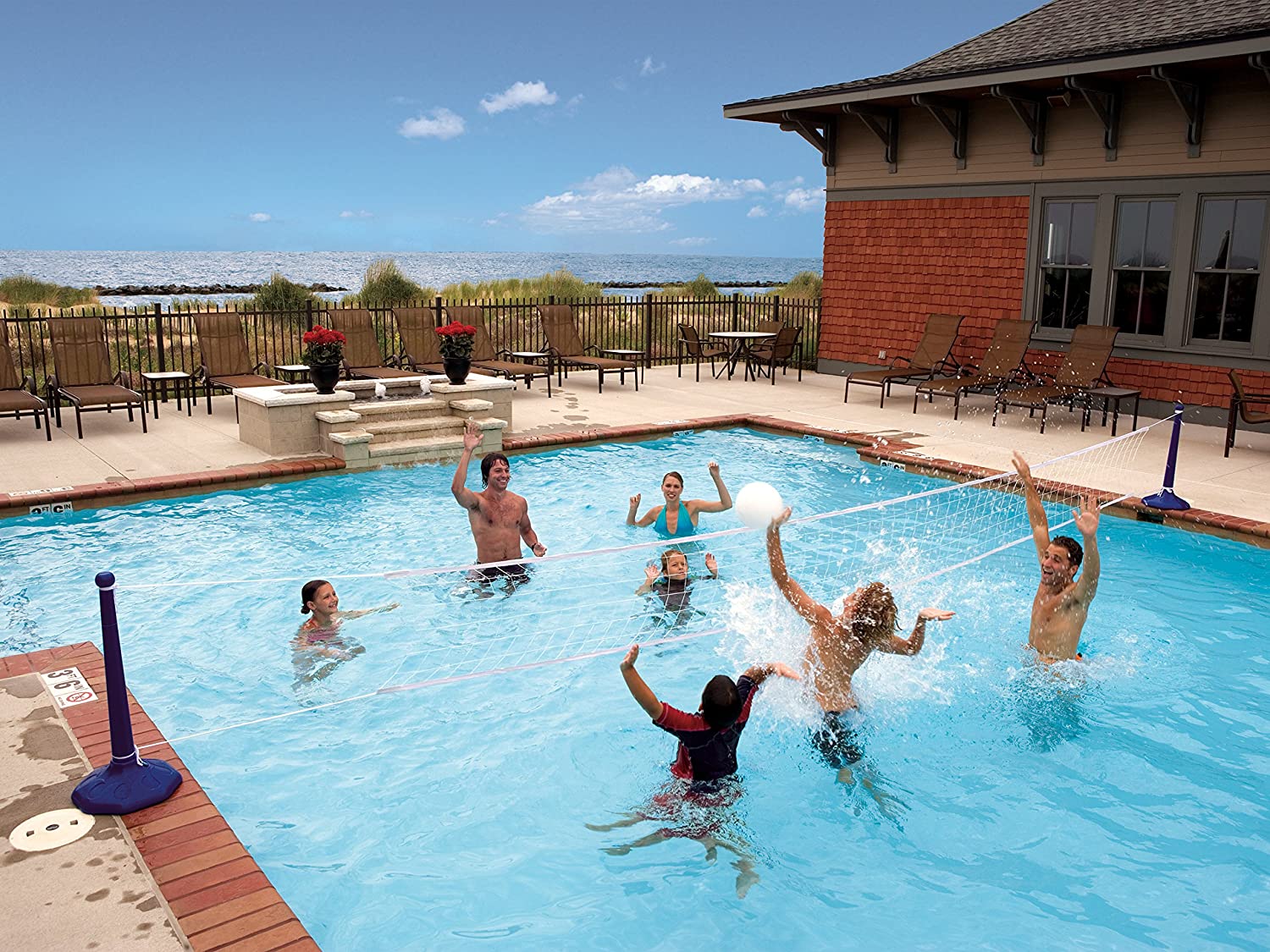 Best in-ground pool option under $50
SwimWays is a top-notch brand for all things swimming. The pricing is fantastic on the heavy-duty net. It's only $46 and has nearly 600 positive ratings. The net is 24-feet long and includes two heavy-duty stands that you can fill with sand or water for extra stability.
It only weighs about seven pounds, so the kids shouldn't have any issues setting it up!
Amy gave it a perfect rating and wrote, "Filled the bases with sand and played a pretty aggressive game of volleyball. No tipping issues whatsoever. The net does say but let's be honest, we aren't playing pro volleyball here. The ball that comes with this kit is pretty hard but we just replaced it with a beach ball and it's been loads of fun for our family this summer."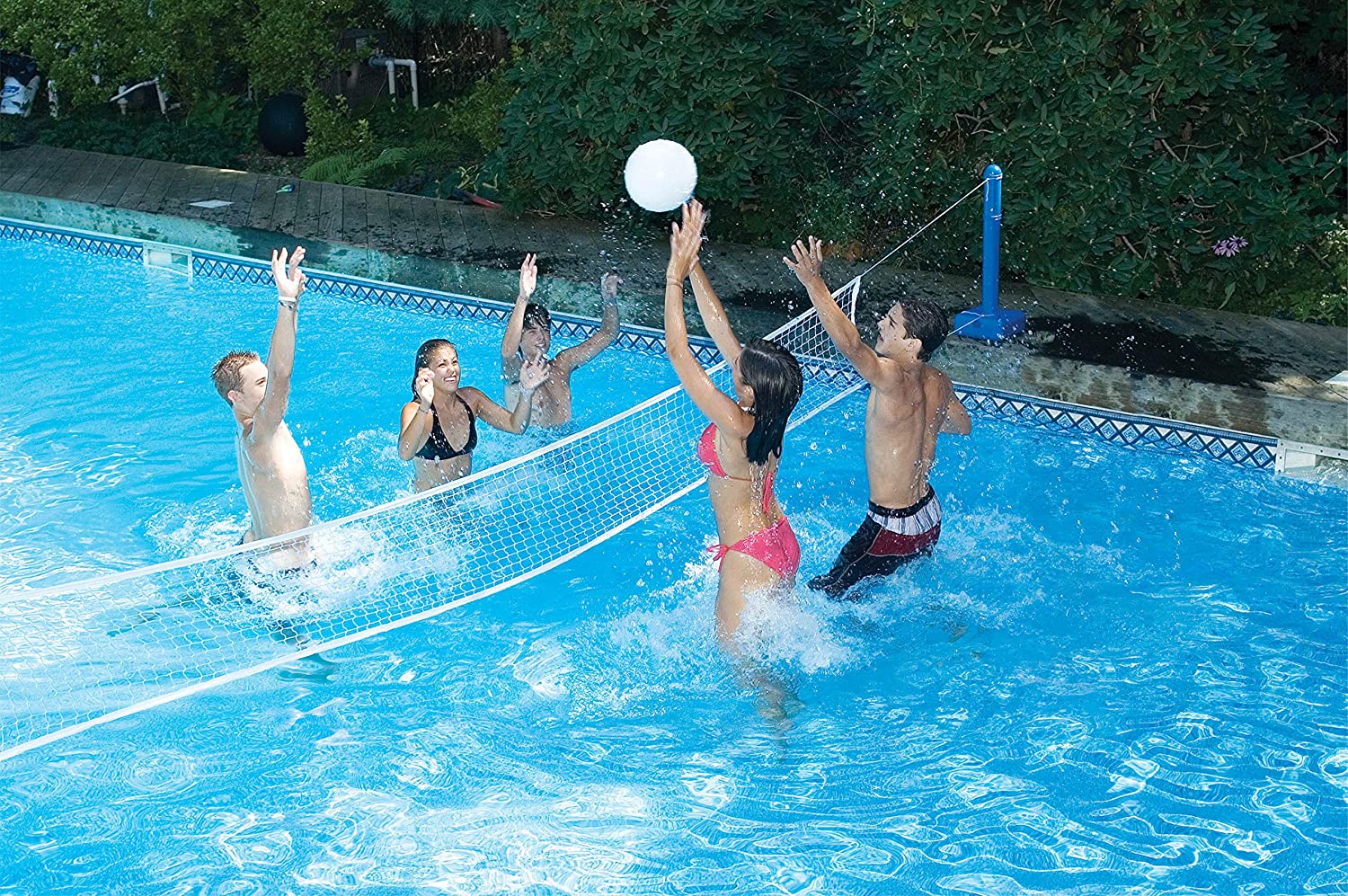 Best in-ground option for pools up to 20-feet wide
Swimline's $41 net fits in-ground pools up to 20-feet in width and comes with a volleyball. This is another great in-ground pool option for the family. The durability of the net is fantastic. You'll also receive sturdy blow-molded posts for extra stability.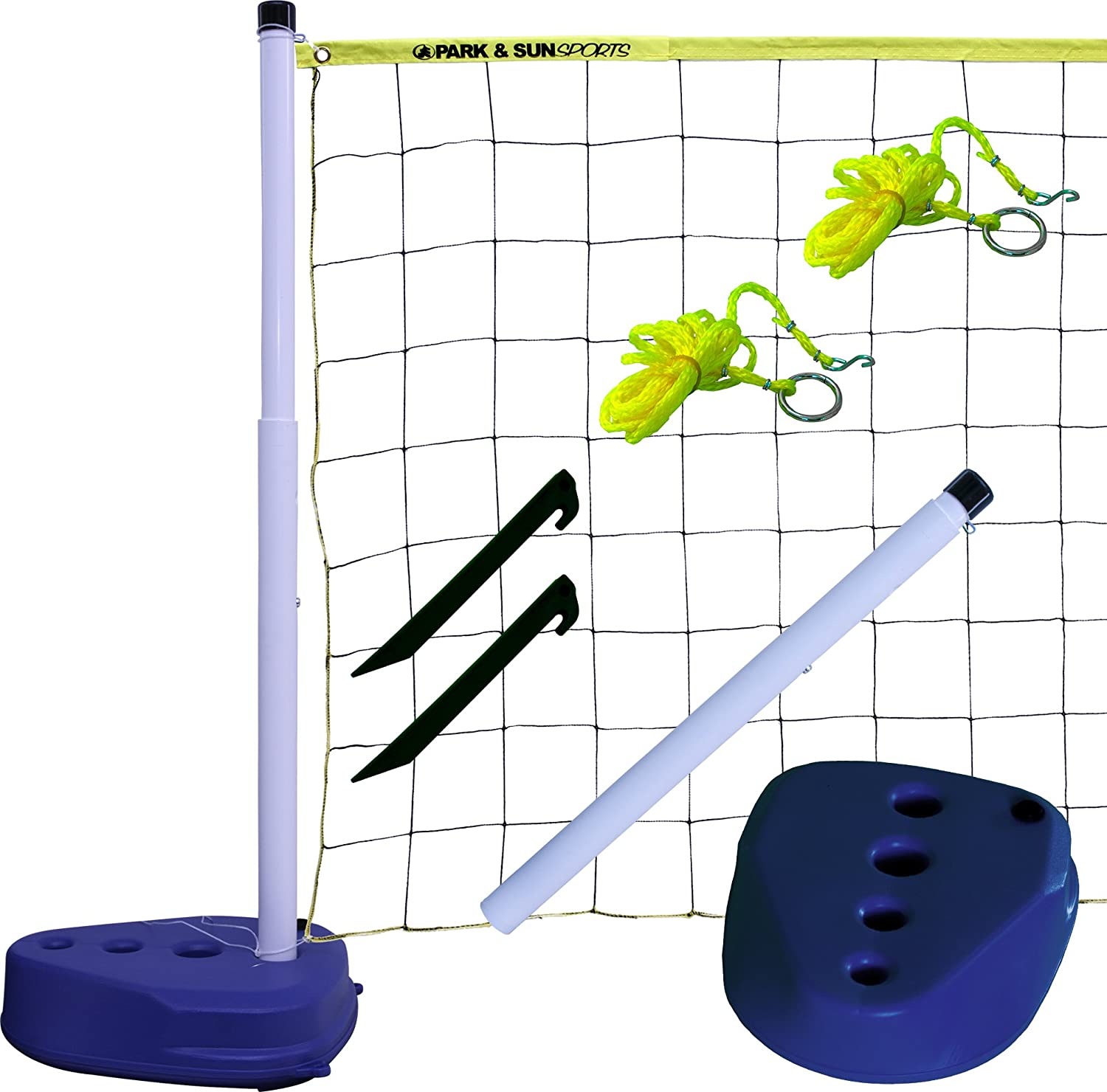 Best option under $45 for pools 24-feet wide
Park & Sun's volleyball net is easy to set up. The 24-foot wide net comes with telescopic PVC poles for stability and two 15-foot cords and ground stakes for additional net tensioning. No one likes a saggy net! Feel free to fill the support bases with sand or water for extra stability. Customers seem to think it's sturdy and worth every penny for their above-ground pool!
A customer gave it a perfect rating and wrote, "Love the net! Perfect for our pool. We ended up using cinder blocks to hold the bases in place. That way we can move the net easily and not have anything permanently in the ground. We also have the concrete pool decking all around the perimeter of the pool, so nothing soft to anchor the net to. Works great for us. I'd recommend and buy it again. been playing volleyball in the pool every weekend. Nice durable net."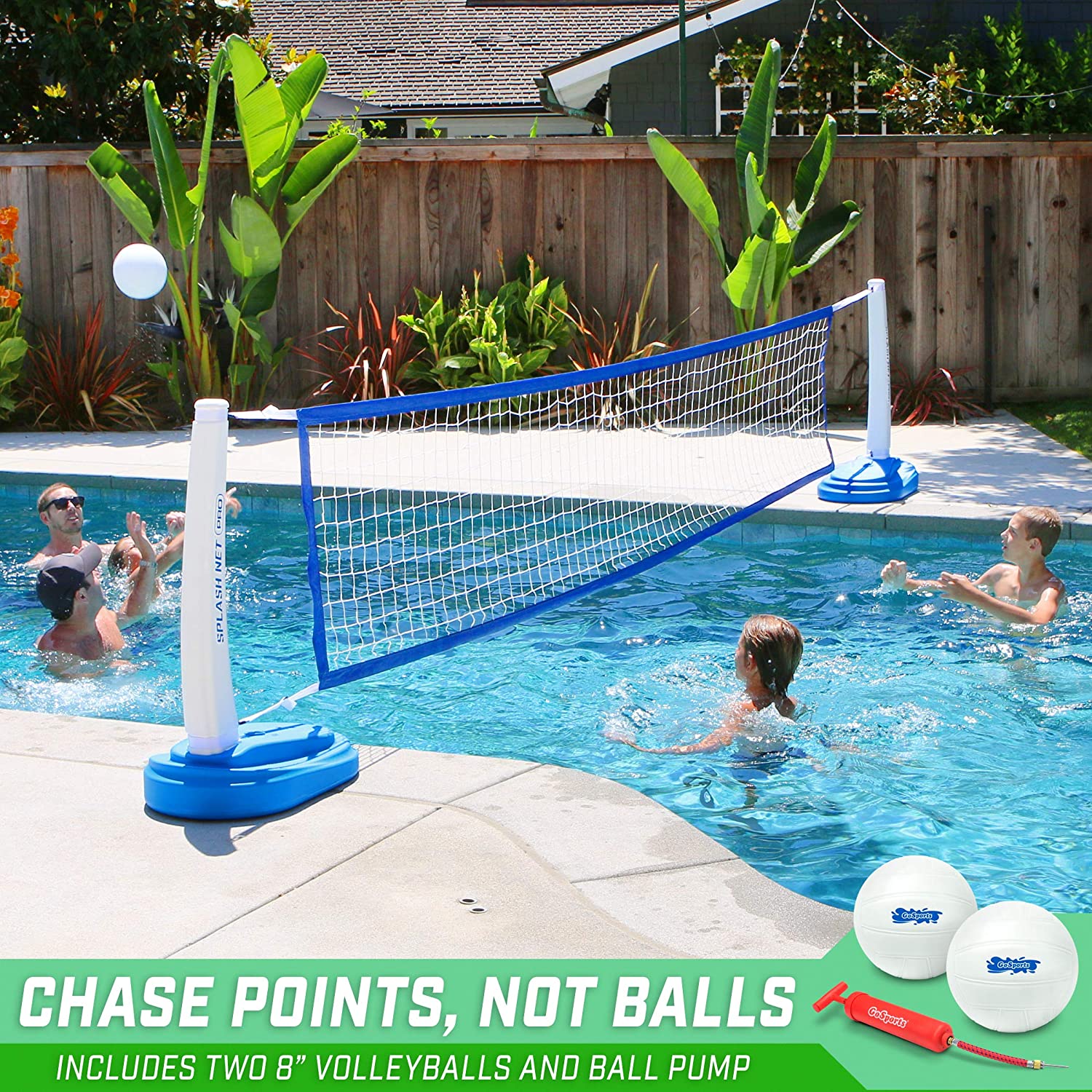 Best overall option for all in-ground pools
Of course, we had to add in Amazon's Choice for pool volleyball sets. Nearly 500 customers gave it a perfect rating. The net comes with two water volleyballs, one pump, and posts for stability. It's perfect for lap pools, rounded pools, rectangular pools, and more. The net is $119, but it sounds like the easy-setup is worth every penny.
Check out this review from Tim.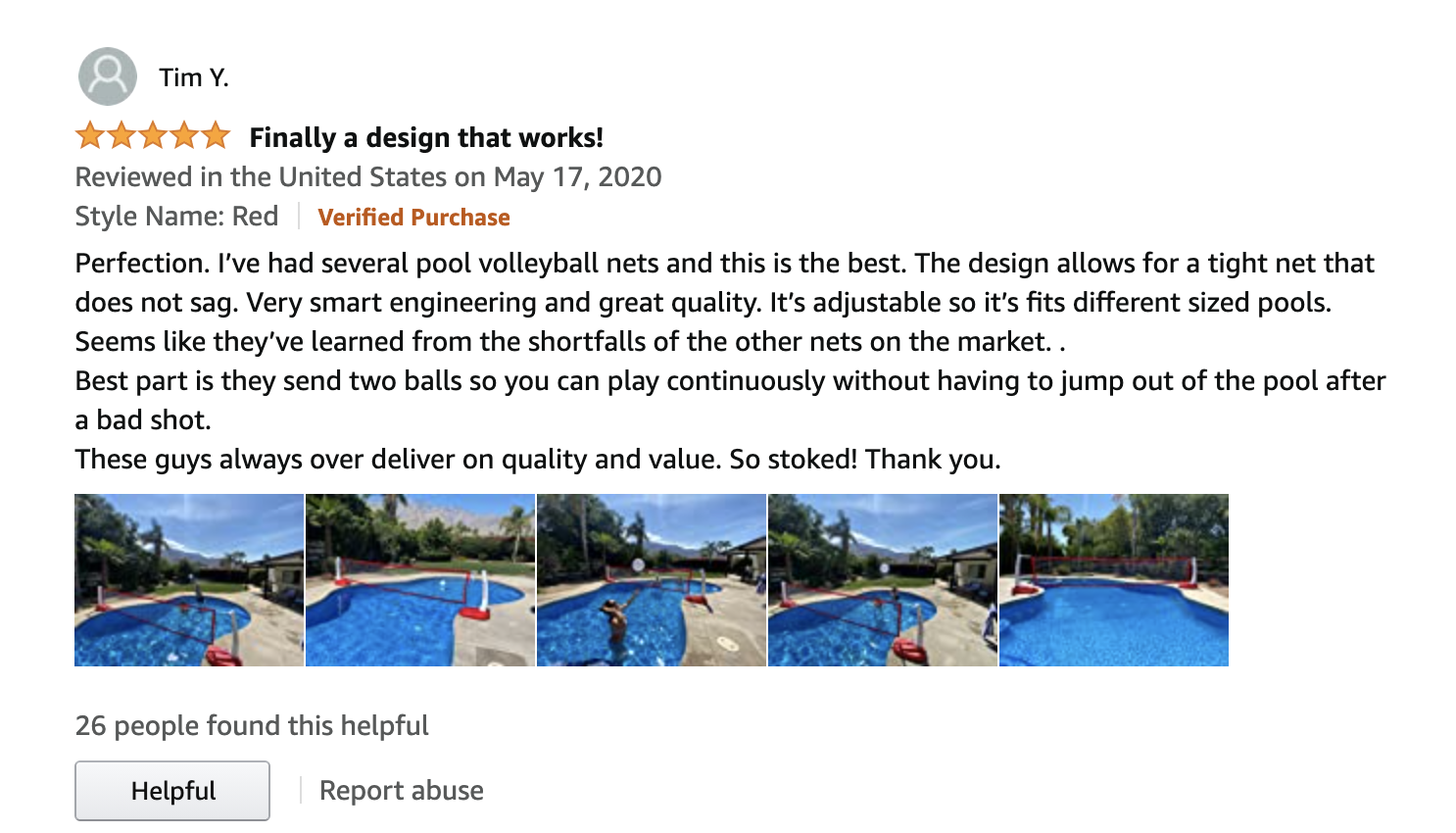 Best Inflatable Pool Volleyball Nets for Above-Ground & In-Ground Pools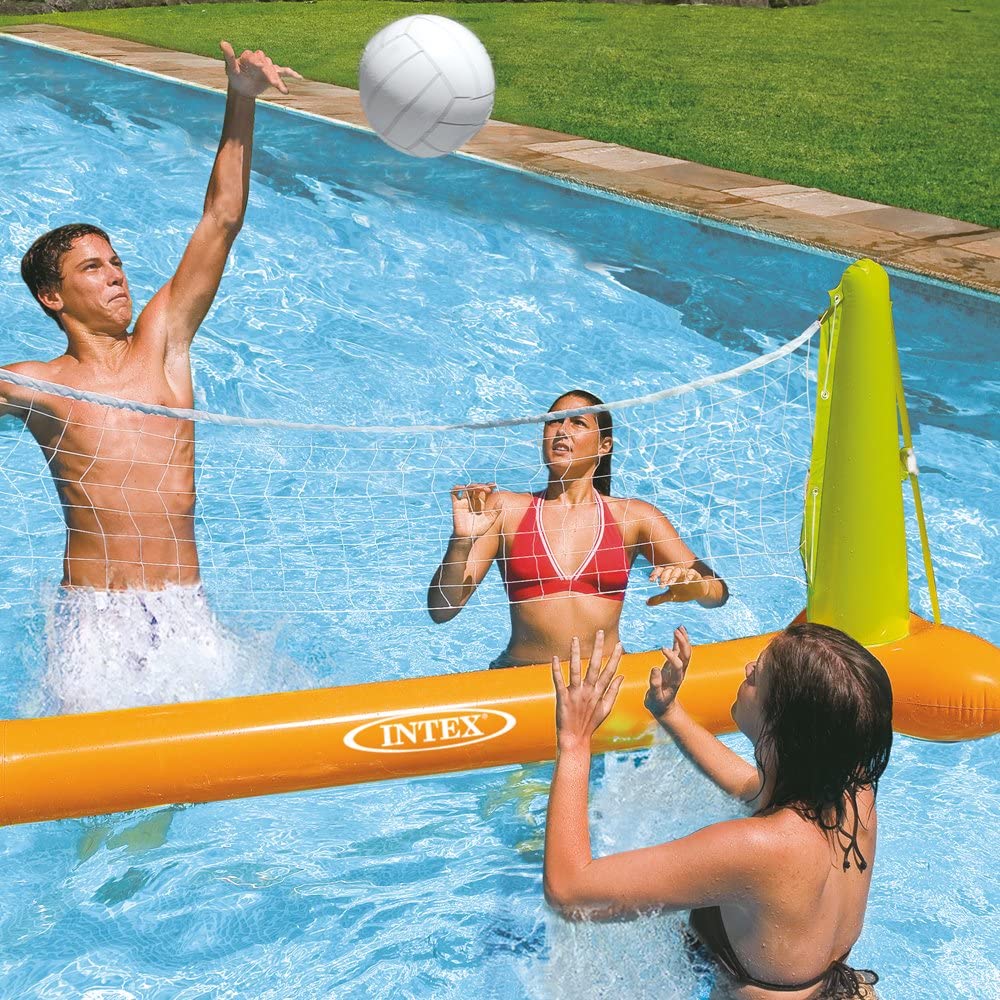 Best overall inflatable option
I highly recommend inflatable options for above-ground pools or for anyone who doesn't want to set up an in-ground net. This inflatable net comes with an inflatable volleyball.
Feel free to add anchor weights to the net! Check out this perfect review.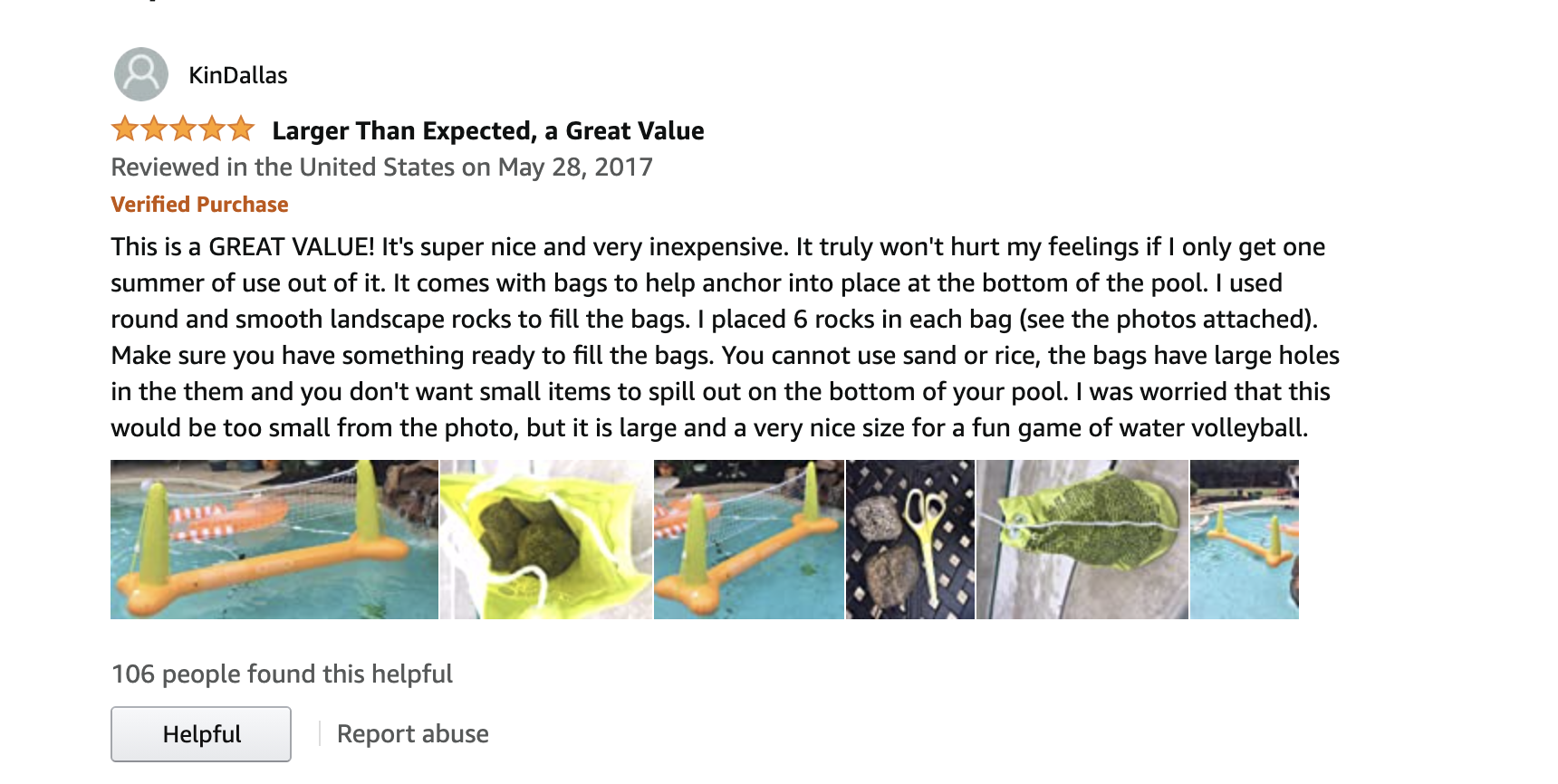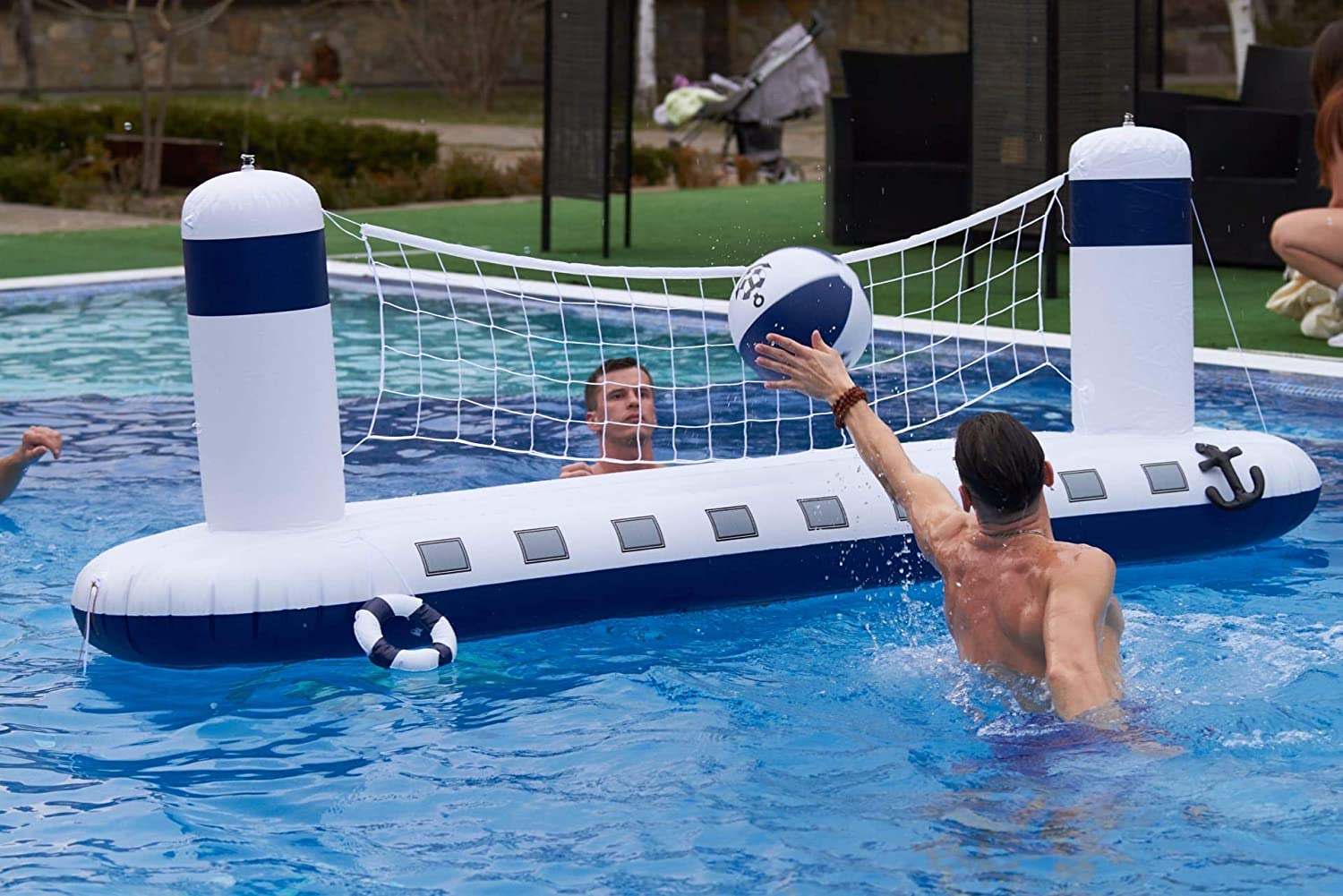 Best inflatable option for style
This $33 inflatable net is very creative! Not only can you use it for volleyball, but kids can also use it as a pool float. The ship-design is too cool.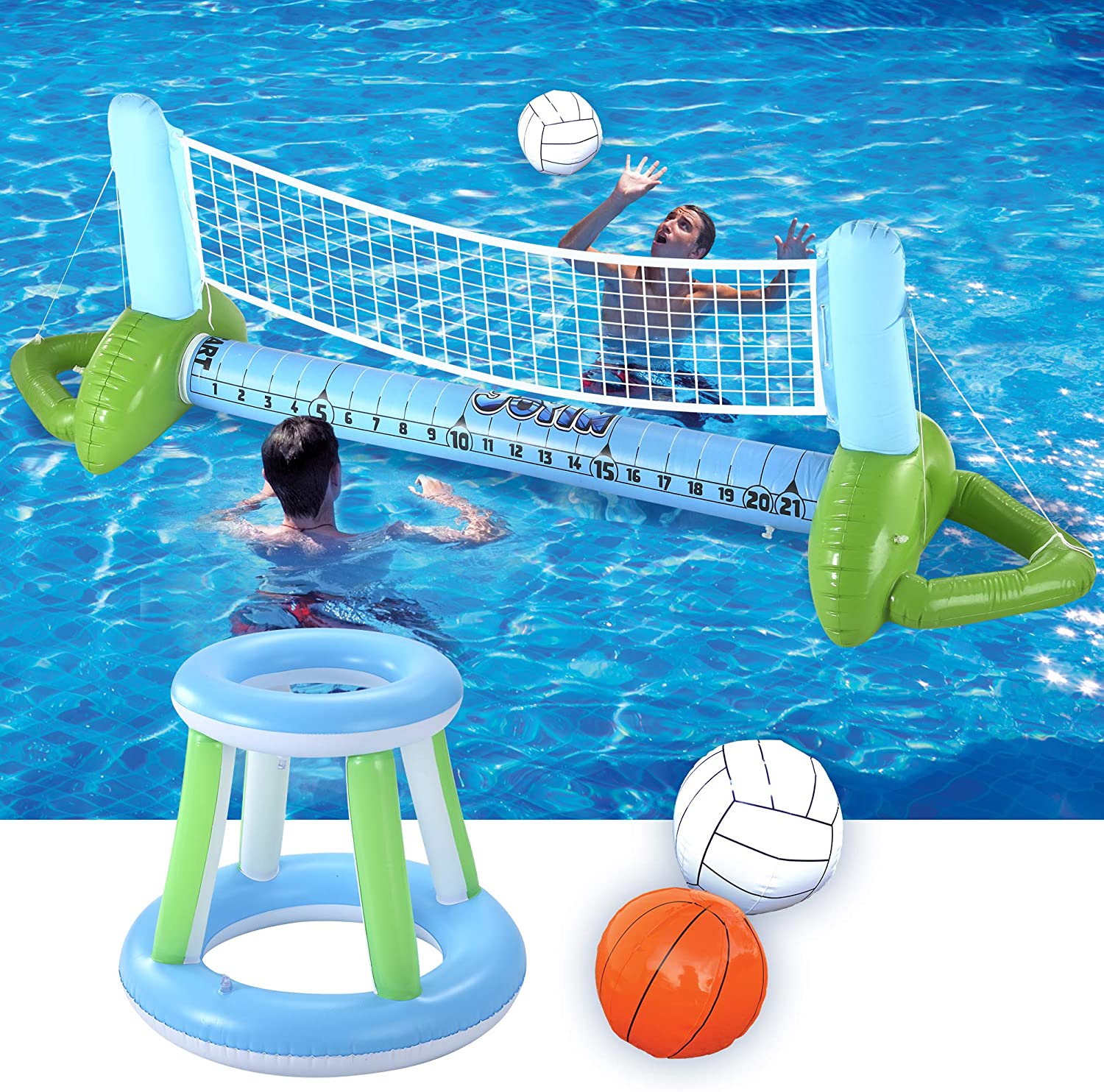 Best inflatable combo game under $28
JOYIN's pool sport combo game comes with an inflatable net and inflatable pool basketball hoop. This is a great option under $28 for kids who love multiple sports.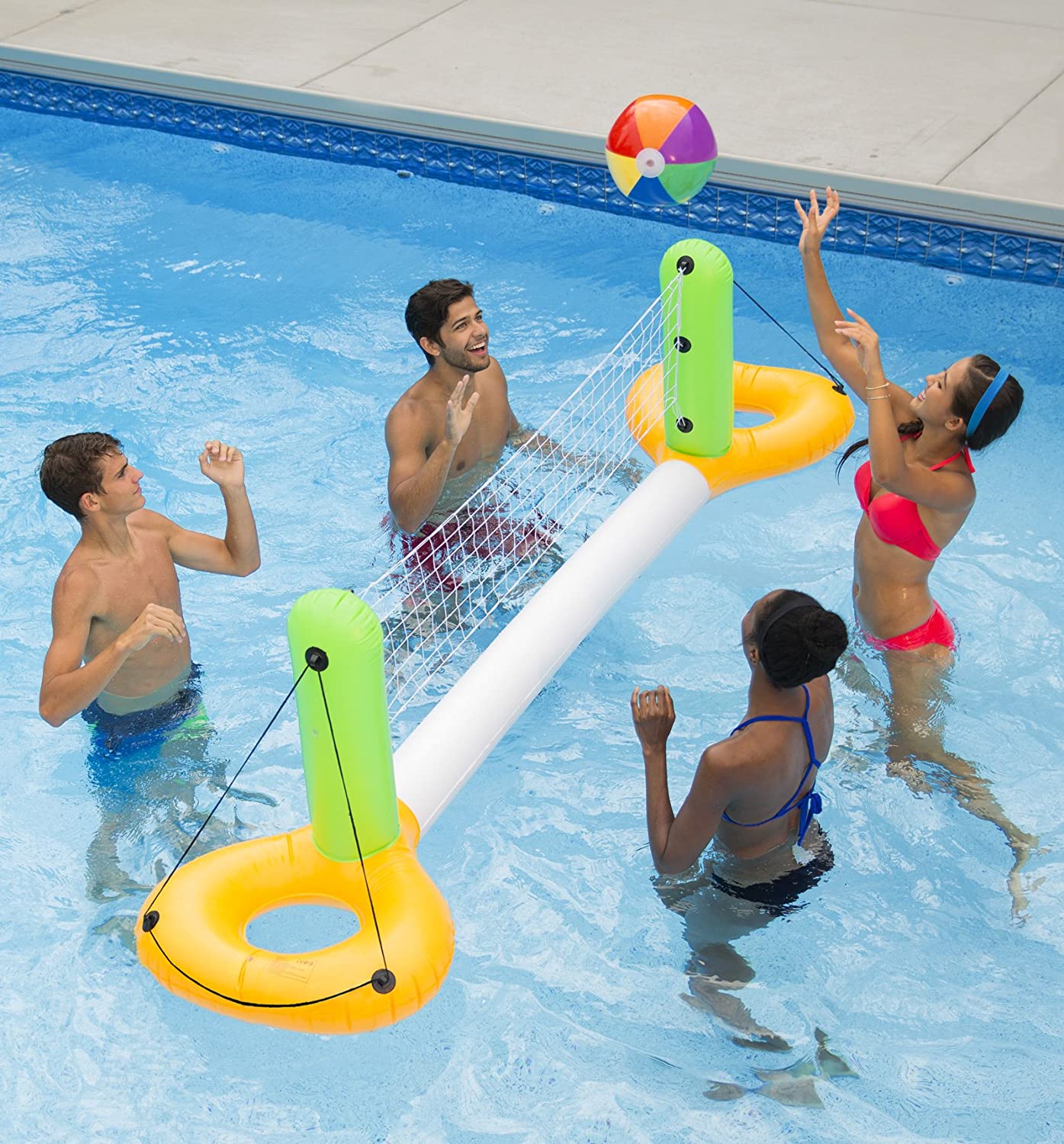 Best inflatable volleyball net under $20
Here's another fantastic inflatable net for pool volleyball. The durable net inflates in minutes and deflates in seconds for easy transportation.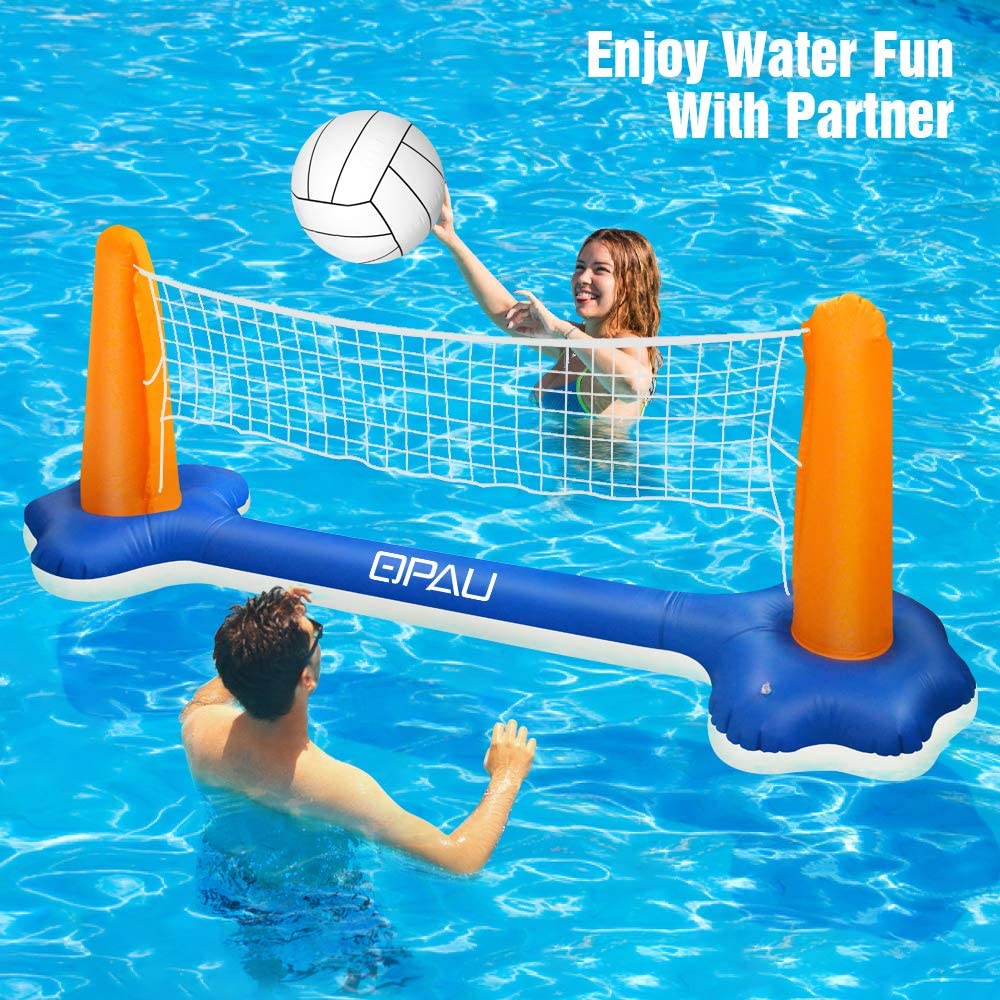 Best combo game set under $30
Here's another great volleyball and basketball set for kiddos. The game comes with weight bags to keep the volleyball net in place. Check out this awesome review.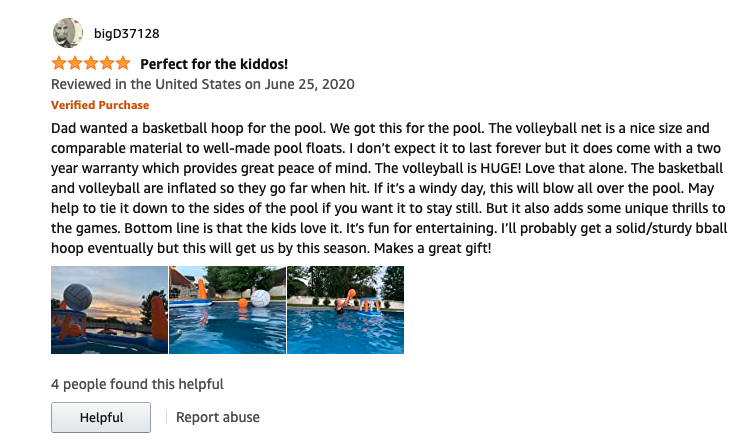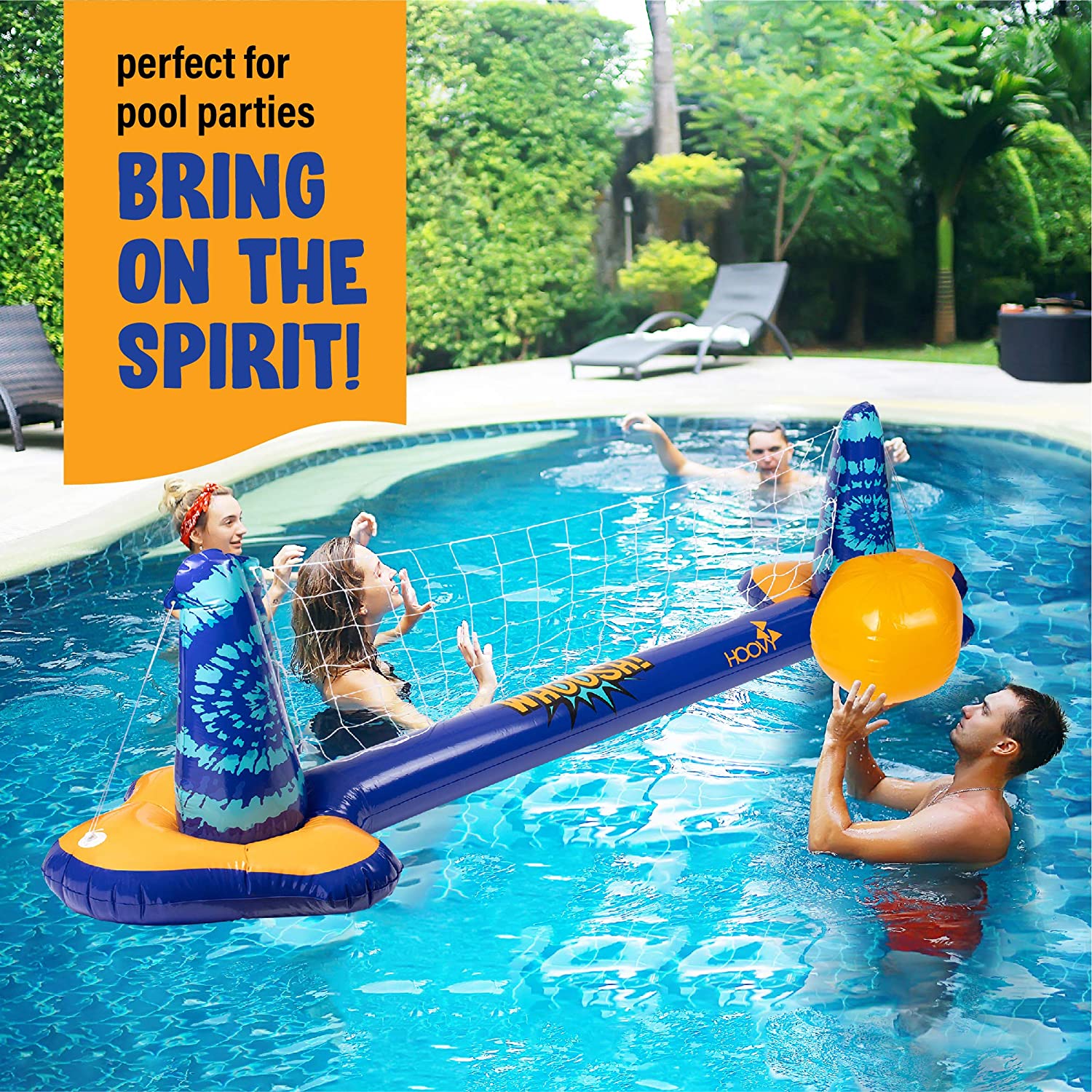 Another great 2-in-1 option under $30
In case you weren't convinced those were great options, consider this 2-in-1 set as well. The set comes with one inflatable volleyball net, inflatable volleyball, inflatable basketball hoop, and inflatable basketball.
The net has two weighted pouches on the bottom, so that you can fill them with water. (This will keep it sturdy and prevent it from floating away.)