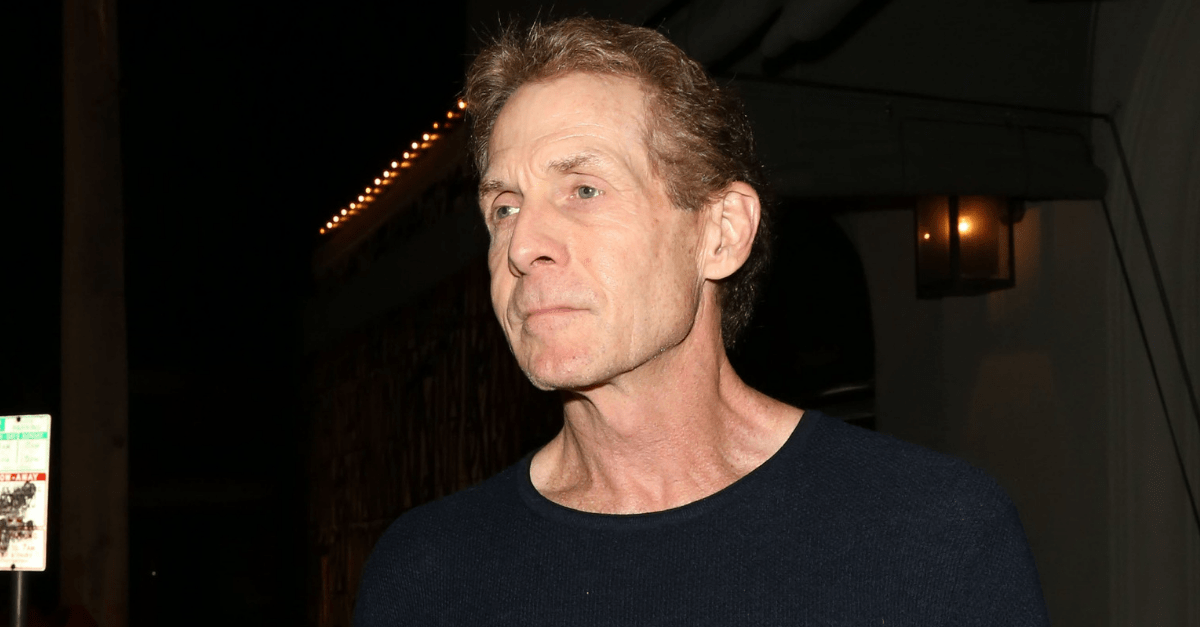 Photo by: GOTPAP/STAR MAX/IPx 2017
There aren't many people who are more recognizable in the sports world than Skip Bayless. He has been covering sports for decades and that is why he is making the amount of money he does and is worth as much as he is.
Born John Edward Bayless II and later legally changed to Skip, he has not just become a huge American television personality in the last decade or so. He has been one of the top sports journalists in the country since the 1970s and then made the move to television where he became more popular.
RELATED: A $10 Million Opinion? ESPN Thinks Stephen A. Smith Is Worth It
An Early Start
Skip Bayless was in high school when he was introduced to sports journalism. At Northwest Classen High School in Oklahoma City, he was the primary columnist for the school's newspaper during his junior and senior years. He graduated as the salutatorian of the class of 1970 and was awarded the Grantland Rice Scholarship to attend Vanderbilt University where he would major in English and history.
He was became the sports editor for the Vanderbilt student newspaper, the Hustler. He also served as the sports director of his fraternity, Phi Kappa Sigma.
Print Journalism
After graduating from Vanderbilt, Bayless immediately found success in the world of sports journalism. His first job was at the Miami Herald writing sports features. He worked there for a little more than two years before taking a job at the Los Angeles Times in August 1976. During this time, he wrote investigative pieces about the Los Angeles Dodgers, Rams, and other teams. He was also given the Eclipse Award for Outstanding Newspaper Writing in 1977 for his coverage of Seattle Slew's Triple Crown win.
Bayless then took a job with the Dallas Morning News writing their lead sports column before moving over to the Dallas Times Herald three years later. He was voted Texas Sportswriter of the Year by the National Sportscasters and Sportswriters Association three times (1979, 1984 and 1986) in an eight-year period.
Bayless moved to Chicago to become the lead sports columnist for the Chicago Tribune in 1998 and won the Lisagor Award in his first year, an award for excellence in sports column writing. In 2000, he was named the Illinois Sportswriter of the Year.
Published Books
While in Dallas, Bayless had three books published in a seven-year period, each about the Cowboys. His first was released in 1990 and was about the rise and fall of the Tom Landry led teams titled "God's Coach: The Hymns, Hype, and Hypocrisy of Tom Landry's Cowboys." His second book came in 1993 after the Cowboys won a Super Bowl and was titled "The Boys: The Untold Story of the Dallas Cowboys' Season on the Edge." His third, and final book, "Hell-Bent: The Crazy Truth About the "Win or Else" Dallas Cowboys" was printed in 1996 and was controversial because of some stories from Cowboys' head coach Barry Switzer speculating that quarterback Troy Aikman was possibly gay.
Radio
During his time in Dallas, he was also doing more than writing. From 1991 until he moved to Chicago, he was spending time on the radio, even hosting his own show on Dallas radio station KLIF and invested in Fort Worth radio station KTCK, The Ticket.
In the late 90s and early 2000s, he was a regular guest on quite a few radio shows, including Coppock On Sports and The Jim Rome Show. He also co-hosted a weekend radio show on ESPN Radio with Larry Beil until he went full-time to television in 2004.
The Skip We Know Today
Skip Bayless became a regular on television when he became a panelist on ESPN's The Sports Reporters back in 1989. Three years later, he joined the NFL show "Knights of the Roundtable," with Mitch Albom and Michael Wilbon.
In the early 2000s, he was constant on shows with Jim Rome and other Fox shows and then was on ESPN shows like SportsCenter more often when Rome went to ESPN for his show Rome is Burning.
In 2004, he was hired full-time by ESPN for a segment with Woody Paige on the ESPN2 show "Cold Pizza" called "1st and 10," and to also write columns for their website, ESPN.com. In 2007, the show was moved from New York City to Bristol, Connecticut and re-branded as First Take to co-host with himself and fellow tv personality Stephen A. Smith.
In 2016, his contract with ESPN ended and he left the company to join Fox Sports. He then began on his show "Skip and Shannon: Undisputed," with former NFL star Shannon Sharpe on Fox Sports 1.
Skip Bayless Net Worth
When you've been at the top of your field for decades in the United States and have the name recognition, whether it is good or bad, like Skip Bayless does, it will probably lead to quite a bit of money.
Currently, he has a salary of $5 million at Fox Sports and, according to Celebrity Net Worth, has an estimated net worth of approximately $15 million. Not bad for a guy who just gets to debate about sports every day.