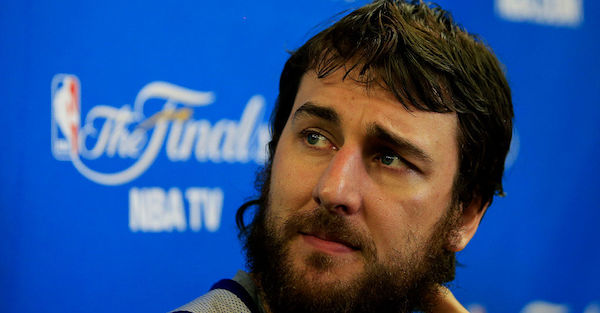 Cliff Hawkins/Getty Images
OAKLAND, CA - JUNE 05: Andrew Bogut #12 of the Golden State Warriors speaks in overtime the media during practice for the 2015 NBA Finals against the Cleveland Cavaliers at ORACLE Arena on June 5, 2015 in Oakland, California. NOTE TO USER: User expressly acknowledges and agrees that, by downloading and or using this photograph, user is consenting to the terms and conditions of Getty Images License Agreement. (Photo by Cliff Hawkins/Getty Images)
The Boston Celtics' roster will look much different this upcoming season as many new faces will be on the team, including stars Kyrie Irving and Gordon Hayward.
But the Celtics are in need of depth?especially in the front court?and Adam Himmelsbach of the Boston Globe reported that the Celtics have expressed interest in free agent center Andrew Bogut.
Related: Boston Celtics bolster depth by adding a former first-round pick
Bogut nearly signed with the Celtics last season before opting to join the Cleveland Cavaliers. He broke his leg during his first game with the Cavs, but he is expected to be ready for the 2017-18 season.
Himmelsbach reported that a source close to Bogut indicated he would like to play for the Celtics.
"Bogut is a strong defender and, if healthy, he would immediately become the Celtics? best rebounder," Himmelsbach wrote. "But Boston would want to be sure that the 32-year-old has sufficiently recovered from the broken leg that sidelined him for several months."
Himmelsbach also listed Boris Diaw, Tyler Zeller, Thomas Robinson and Kris Humphries as possible front court options.
If they added another wing, he suggested that Tony Allen and Gerald Green would be good fits.
Bogut would help the Celtics defensively if he's healthy, and they definitely need another big considering they only have Al Horford, Marcus Morris and Aron Baynes who can contribute on a nightly basis.
(h/t Boston Globe)