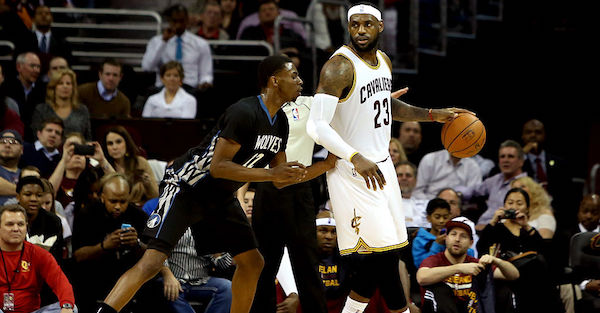 Mike Lawrie/Getty Images
CLEVELAND, OH - DECEMBER 23: LeBron James #23 of the Cleveland Cavaliers handles the ball against Andrew Wiggins #22 of the Minnesota Timberwolves in the first half at Quicken Loans Arena on December 23, 2014 in Cleveland, Ohio. NOTE TO USER: User expressly acknowledges and agrees that, by downloading and or using this photograph, User is consenting to the terms and conditions of the Getty Images License Agreement. (Photo by Mike Lawrie/Getty Images)
The Minnesota Timberwolves are having themselves quite the offseason.
The Wolves traded for All-Star Jimmy Butler, and they also signed free agent guard Jamal Crawford. Now, the franchise is negotiating a five-year contract extension with former No. 1 overall pick Andrew Wiggins.
Related: 3-time All-Star Jimmy Butler traded in blockbuster NBA Draft deal
According to ESPN, Wolves coach Tom Thibodeau announced that the two sides are working on a deal during Crawford's introductory press conference on Wednesday.
"We're working on it right now," Thibodeau said.
The extension would be worth nearly $148 million for five years starting in the 2018-19 season. Wiggins' starting salary would be $25.5 million, and if he made an All-NBA team or was named Defensive Player of the Year, his salary would jump to $30.6 million.
Wiggins is only 22 years old, and he has already increased his scoring average from 16 points per game during his rookie season to just under 24 PPG last season.
Securing Wiggins to a long term deal could convince Butler to stay beyond the 2019 season if the Wolves become a contender in the next two years. The core of Wiggins, Butler and Karl-Anthony Towns is one of the best trios in the league based on talent.
(h/t The Spun)