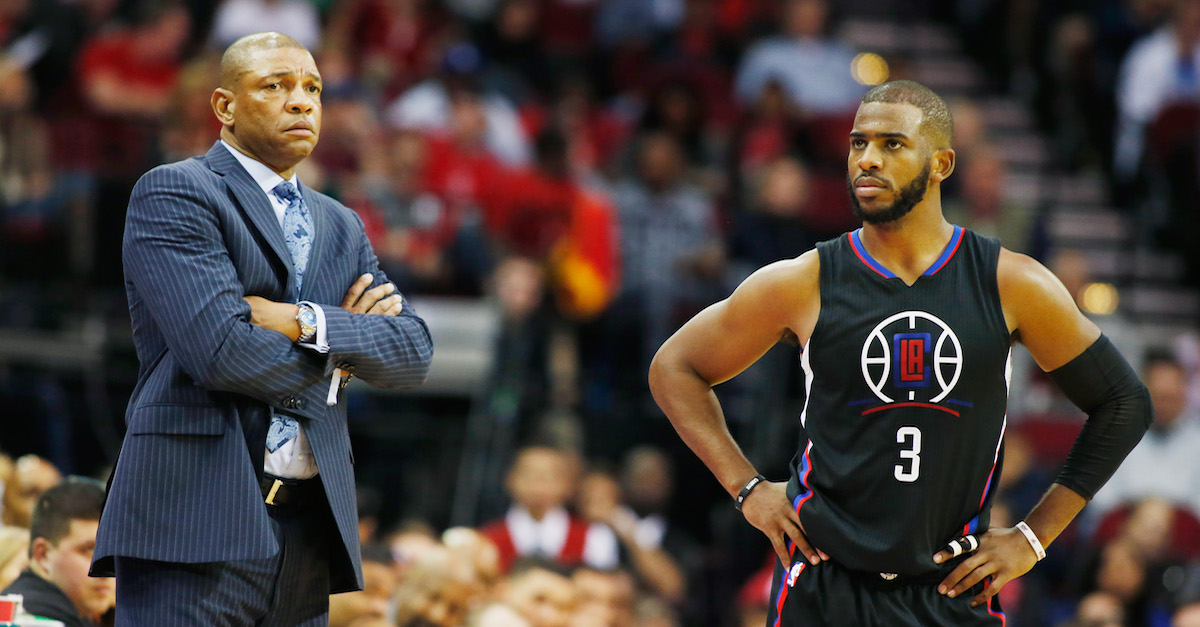 Scott Halleran/Getty Images
HOUSTON, TX - DECEMBER 19: Head coach Doc Rivers of the Los Angeles Clippers and Chris Paul #3 wait near the bench during their game against the Houston Rockets at Toyota Center on December 19, 2015 in Houston, Texas. NOTE TO USER: User expressly acknowledges and agrees that, by downloading and or using this Photograph, user is consenting to the terms and conditions of the Getty Images License Agreement. (Photo by Scott Halleran/Getty Images)
Chris Paul was able to reach free agency in the summer of 2017, as the All-NBA point guard held an option to decline the final year of his contract with the Los Angeles Clippers. Instead of doing that and actually hitting the market as an unrestricted free agent, Paul will reportedly be opting in to the final year but, within that maneuver, Paul also informed the Clippers that he wants to play for the Houston Rockets. That was the backdrop of a deal that was reportedly consummated on Wednesday and the tandem of Paul and James Harden is already drawing a ton of intrigue.
With that said, ESPN SportsCenter anchor Michael Eaves brings a level of detail that is wildly interesting in that his sources indicate one reason Paul was set to leave Los Angeles was a failing relationship with head coach and front office head Doc Rivers.
But what really solidified Paul's dissatisfaction with Doc was a proposed trade involving Carmelo Anthony last season. New York offered Carmelo and Sasha Vujacic to the Clippers in exchange for Jamal Crawford, Paul Pierce and Austin Rivers, a deal to which Rivers ultimately said no. That event led Paul to feel that keeping his son on the roster was more important to Doc than improving the team. So, ultimately, Paul lost both trust and faith in Doc. As one league executive put it, "Chris despises Doc."
This is a bombshell of the highest order if true, simply because the word "despises" brings heavy connotation. Paul is famously prickly and stubborn, making this believable to a degree, but it is another leap altogether to move from tension to full blown disdain and loss of trust.
Regardless of the reason, Paul is headed for Houston and Rivers will be heading up a very different team next season. What's up for debate is just how much Rivers is at fault for the breakup.