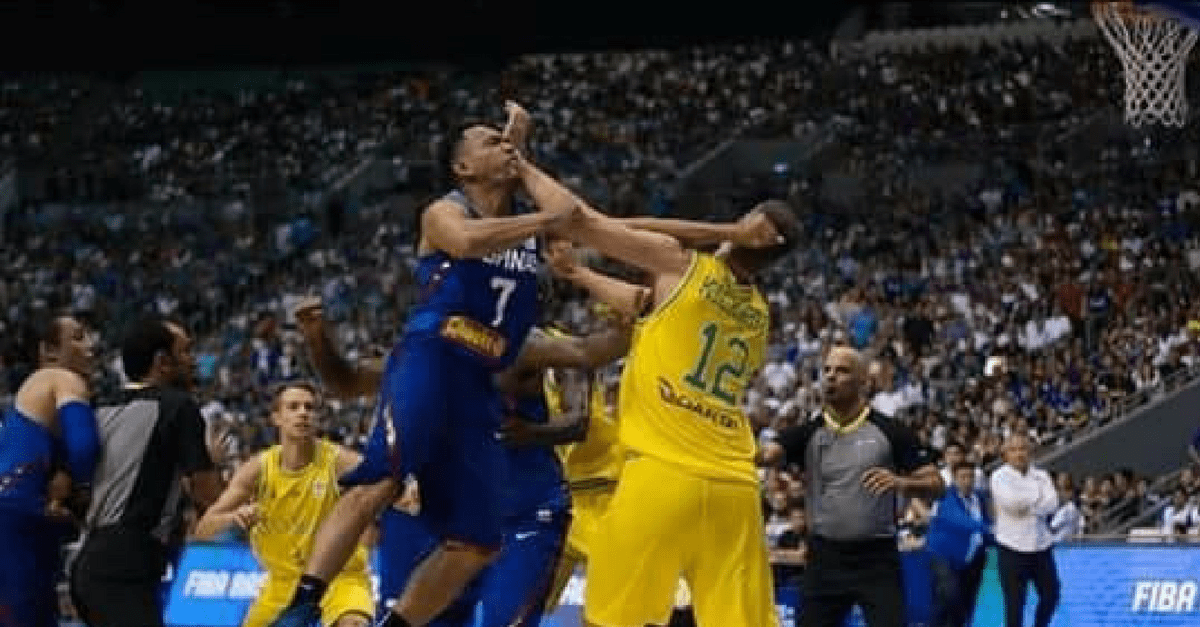 Twitter: @redapples
What first looked like a simple, cruising basketball victory turned into absolute mayhem. For a few moments, the Philippines Arena was a brawling circus and it wasn?t pretty.
In the third quarter of FIBA World Cup qualifier between Australia and Philippines, a hard foul led to a massive, bench-clearing fight and 13 ejections.
The fight started when Roger Ray Pogoy (Philippines) hit Chris Goulding (Austrailia) in the face before Daniel Kickert attacked Pogoy with an elbow. The benches cleared and the rest is history.
It was straight out of control and included some NBA players.
Once everything finally calmed down, nine Philippines players and four Australia players were ejected, including Milwaukee Bucks forward Thon Maker, who plays for the Boomers.
Apparently, many inside the arena could see this coming. According to Camille B. Naredo, tempers flared much earlier when the Philippines called out Australia for removing the sponsor decals from the floor.
Perhaps the strangest thing of all was how the game ended. The Philippines only had three players ? Baser Amer, June Far Fajardo, and Gabe Norwood? remaining following all of the ejections. Then, after Norwood and Fajardo fouled out, Gilas was disqualified and Australia won by default, 89-53.
The Philippines players ejected include: Calvin Abueva, Japeth Aguilar, Andray Blatche, Carl Bryan Cruz, Jayson Castro, Roger Pogoy, Terrence Romeo, Troy Rosario, and Matthew Wright.
The Australian players also ejected include: Chris Goulding, Daniel Kickert, Thon Maker, and Nathan Sobey.
A very ugly sight indeed, and the basketball brawl looks even worse in slow motion.
Goulding finished with a game-high 20 points, while Kickert added 12 for the Boomers, who now lead in Group B. Blatche notched 12 points and 10 rebounds for the Philippines.
The result was important, of course, but the massive brawl outweighs everything and now all the players can do is wait and see what types of punishments will stem for the incident.