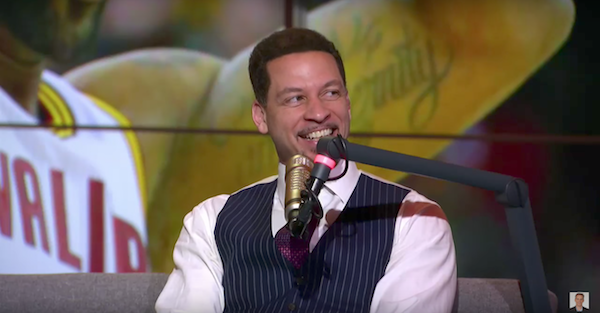 YouTube Screen Shot
Boston Celtics guard Avery Bradley is one of the top defenders in the NBA, but he didn't make the first or second All-Defensive teams.
FOX Sports NBA analyst Chris Broussard didn't have Bradley on his ballot, and he explained why during a recent appearance on the The Herd. Broussard's comments start about 25 seconds into the video:
Related: The Knicks are preparing to make a shocking announcement on 13-time NBA champion Phil Jackson
"Avery Bradley is a fantastic defender, but didn't Devin Booker put 70 on him?" Broussard said.
One small problem with that argument: Avery Bradley didn't play the night Phoenix Suns guard Booker scored 70 points on the Celtics.
Bradley missed the game due to illness, so Booker scored 70 points on Jaylen Brown and Marcus Smart—and Smart actually made Broussard's second team All-Defensive team.
Broussard later acknowledged his error on Twitter, but he then said the 70-point game from Booker wasn't a factor in his voting.
So Broussard's reasoning for leaving Bradley off the list was either absurd, or curious at best. Either way, it wasn't the smartest take from an NBA analyst.