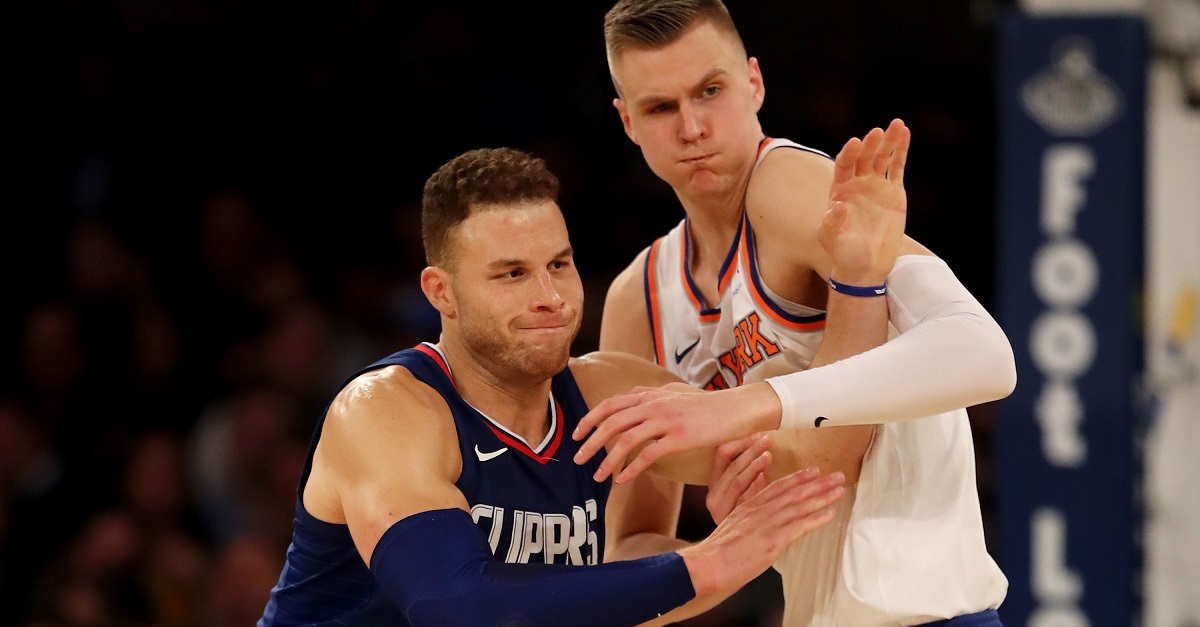 Elsa/Getty Images
NEW YORK, NY - NOVEMBER 20: Blake Griffin #32 of the Los Angeles Clippers and Kristaps Porzingis #6 of the New York Knicks fight for position in the second half at Madison Square Garden on November 20, 2017 in New York City. NOTE TO USER: User expressly acknowledges and agrees that, by downloading and or using this Photograph, user is consenting to the terms and conditions of the Getty Images License Agreement (Photo by Elsa/Getty Images)
The Los Angeles Clippers are reportedly close to getting forward Blake Griffin back from injury, according to Law Murray of ESPN.
Griffin, who has missed the past 14 games for the Clippers with a sprained MCL in his left knee, could make his return as soon as Friday against the Los Angeles Lakers, according to Clippers head coach Doc Rivers.
"Will he play tonight? No. Will he play the next game? He actually could," Rivers said during his pregame availability Tuesday. "He's that close. I didn't say he would. I said he actually could."
Griffin went through shootaround prior to Tuesday night's game against the Sacramento Kings and worked on a number of different shooting drills and routines. He initially injured his knee against the Lakers on Nov. 27 after he was tangled up with teammate Austin Rivers after going after a loose ball. The injury appeared to be severe on replays, but the team originally gave him an eight-week timeline to return from the injury.
The news of Griffin reportedly close to returning comes as welcomed news for the Clippers as they have dealt with numerous injuries to several key members of their team this season. The Clippers have had an inconsistent season after jumping out to an early 5-2 record and is currently in 10th place in the Western Conference with a 14-19 record.
With Griffin near a return, the Clippers could begin to get back on the right track.