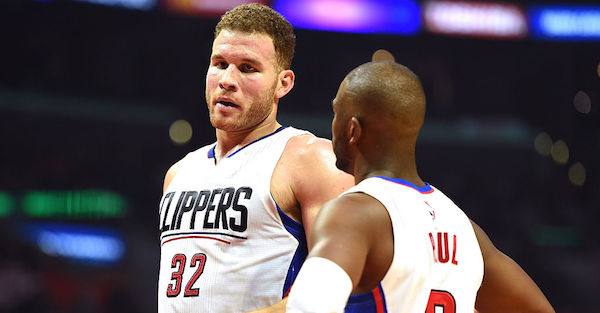 Harry How/Getty Images
LOS ANGELES, CA - NOVEMBER 16: Blake Griffin #32 and Chris Paul #3 of the LA Clippers react after a Clipper foul during the first half against the Memphis Grizzlies at Staples Center on November 16, 2016 in Los Angeles, California. NOTE TO USER: User expressly acknowledges and agrees that, by downloading and or using this photograph, User is consenting to the terms and conditions of the Getty Images License Agreement. (Photo by Harry How/Getty Images)
Blake Griffin is expected to opt out of the final year of his contract to become a free agent this summer, but the Los Angeles Clippers are still the favorites to sign him. The Clippers can offer the most years and most money, plus he can remain a celebrity in Los Angeles.
However, the one team with the potential to lure Griffin away from LA is the Boston Celtics.
NBA insider Adrian Wojnarowski discussed Griffin's impending free agency with front-office insider Bobby Marks on The Vertical podcast, and Woj had some intriguing things to say about the Celtics and Griffin.
Woj said the Celtics are planning to go after both Griffin and Utah free agent Gordon Hayward, and the team's pitch will be that Boston is the place that gives them each the biggest chance to win a title over the next few years. Woj also said Griffin appreciated how Celtics fans treated Paul Pierce during his final trip to Boston.
Related: Former teammate thinks Blake Griffin only has one destination if he leaves the Clippers
Here's the full transcription of Woj discussing Griffin, Pierce, and Boston, courtesy of MassLive.
"So the one thing to know about Blake Griffin, he was (in Boston) when Paul Pierce came in with the Clippers for his last game in Boston, Blake was obviously there with the team. He saw how Boston reacted to Paul Pierce and what it means to have been a great player in Boston.

"Now, Blake doesn't have enough left in his career to be beloved and be the all-time Celtic that Paul Pierce was, but it does give you a sense – and I know it gave Blake a sense, it did not go unnoticed with him – about how that building and that city and the way they loved Paul. And I'm sure Paul being around the last couple years with him, I'm sure they discussed it."
The Clips remain the favorites to bring Griffin back because they can offer a fifth year to the contract. Given Griffin's injury history—he hasn't played a full season since his rookie year in 2011 and has missed 68 regular games the last two seasons—it might make more sense for him to sign a five-year deal that would take him through the age of 33.
But the Clippers aren't any closer to competing for a championship, and Boston might be an easier place to reach the NBA Finals, though the Cleveland Cavaliers will be the favorites to do so again next year.
If Griffin thinks he can come closer to winning a title by playing for Boston over the Clippers, he might make the move this offseason. Otherwise, he'll likely return to Los Angeles for the next five seasons.
(h/t Uproxx)