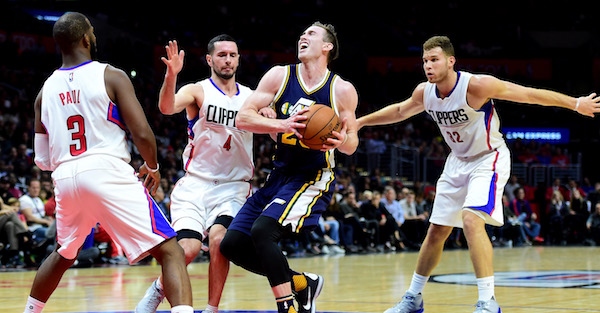 Harry How/Getty Images
LOS ANGELES, CA - NOVEMBER 25: Gordon Hayward #20 of the Utah Jazz drives on Chris Paul #3, J.J. Redick #4 and Blake Griffin #32 of the Los Angeles Clippers at Staples Center on November 25, 2015 in Los Angeles, California. (Photo by Harry How/Getty Images)
Chris Paul is no longer a member of the Los Angeles Clippers and, when it comes to Doc Rivers, Steve Ballmer and company, all eyes are now on the free agency of Blake Griffin. However, Griffin is an unrestricted free agent and, even if the Clippers pay top dollar for his services, there is nothing that provides safety for the organization until he signs on the dotted line.
Beyond that, there could be another issue in play for Griffin and that comes from a season-ending toe injury that could cause problems for 2017-2018. A report from ESPN sheds light on the situation.
Complicating the matter however, sources told ESPN's Michael Eaves, is that Griffin may not be ready for the start of the next season and could possibly be out until December due to a toe injury that cut short his postseason.
It is worth noting that there are mixed reports in the public about this but, at the very least, it isn't a certainty that Griffin has a clean bill of health. The big decision on Griffin will be a four or five-year commitment but, in the same breath, one knock against the top-tier power forward is that he has not been able to stay on the floor for full seasons.
Suitors are already lined up for Blake Griffin but this news could give teams pause when negotiating in early July.