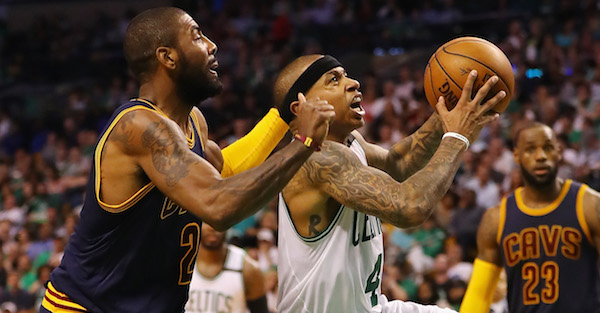 Elsa/Getty Images
BOSTON, MA - MAY 17: Isaiah Thomas #4 of the Boston Celtics drives to the basket against Kyrie Irving #2 of the Cleveland Cavaliers in the second half during Game One of the 2017 NBA Eastern Conference Finals at TD Garden on May 17, 2017 in Boston, Massachusetts. NOTE TO USER: User expressly acknowledges and agrees that, by downloading and or using this photograph, User is consenting to the terms and conditions of the Getty Images License Agreement. (Photo by Elsa/Getty Images)
For now, the Cleveland Cavaliers' trade sending Kyrie Irving to the Boston Celtics in exchange for Isaiah Thomas, Jae Crowder and assets is still going to happen, but there's a chance the deal could fall apart.
The Cavs are concerned about Thomas' lingering hip injury, and they are attempting to acquire another asset or two from the Celtics since Thomas might not be ready to start the season. If the trade falls through, ESPN analyst Zach Lowe mentioned another team that could move to strike a deal for Irving.
According to Lowe, the deal would include Irving for Malcolm Brogdon, who just won Rookie of the Year, and Khris Middleton. Lowe thinks the Cavs would also want a first-round pick from Milwaukee.
"Brogdon and Middleton are good," Lowe wrote. "They can shoot 3-pointers, and switch across multiple positions on defense. They are tailor-made to help the Cavs mimic the Golden State Warriors, the only team LeBron really cares about right now."
Related: Cavs-Celtics trade reportedly closer to meeting NBA's deadline
Lowe said he isn't sure Brogdon and Middleton would be a better alternative to Irving for Cleveland to beat Golden State.
"They each provide some secondary ball-handling around Giannis Antetokounmpo," Lowe said. "They do fine with that stuff in the regular season against most teams; Brogdon is a point guard by trade, and Middleton can post up mismatches and run nifty pick-and-rolls on the left wing. But compared to Irving, they are almost 3-and-D guys. It is a lot to ask of them to create consistent, efficient offense against elite postseason defenses."
The idea of Irving and the Greek Freak together sounds intriguing, but Kyrie also made it clear he wants to be the focal point of the offense wherever he goes. Antetokounmpo is a better overall player than Irving, and he would likely still be the bigger attraction in Milwaukee than Irving.
It's unlikely that the Celtics deal falls through, but the Cavs will at least have some options to still move Irving. Boston, on the other hand, would probably be stuck with Thomas, which could result in an awkward season.
(h/t ESPN)