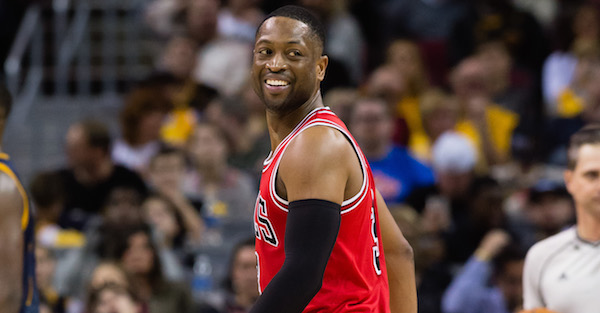 Jason Miller/Getty Images
CLEVELAND, OH - FEBRUARY 25: Dwyane Wade #3 of the Chicago Bulls reacts after scoring during the first half against the Cleveland Cavaliers at Quicken Loans Arena on February 25, 2017 in Cleveland, Ohio. NOTE TO USER: User expressly acknowledges and agrees that, by downloading and/or using this photograph, user is consenting to the terms and conditions of the Getty Images License Agreement. (Photo by Jason Miller/Getty Images)
Three-time NBA champion Dwyane Wade worked out a buyout deal with the Chicago Bulls over the weekend, and there are several teams pursuing him.
ESPN NBA insider Adrian Wojnarowski reported that the Cleveland Cavaliers are the frontrunners to sign him, though Wade might not rush to make a decision.
Other teams are also in the mix for Wade, including the Oklahoma City Thunder, San Antonio Spurs and Miami Heat. The Thunder, who recently traded for Carmelo Anthony, are expected to make an "aggressive bid" for Wade.
Wade and LeBron James are good friends and the duo won two titles together in Miami so they already have chemistry. But Wade is also friends with Anthony, and the Thunder could use the help on the wing.
Miami could offer Wade the most money, but he likely wouldn't compete for a title with the Heat. The Spurs are an interesting choice, but Wade would almost certainly have to come off the bench for the Spurs.
The season is less than a month away, so Wade's decision will almost certainly come within the next couple of weeks.
(h/t The Spun)