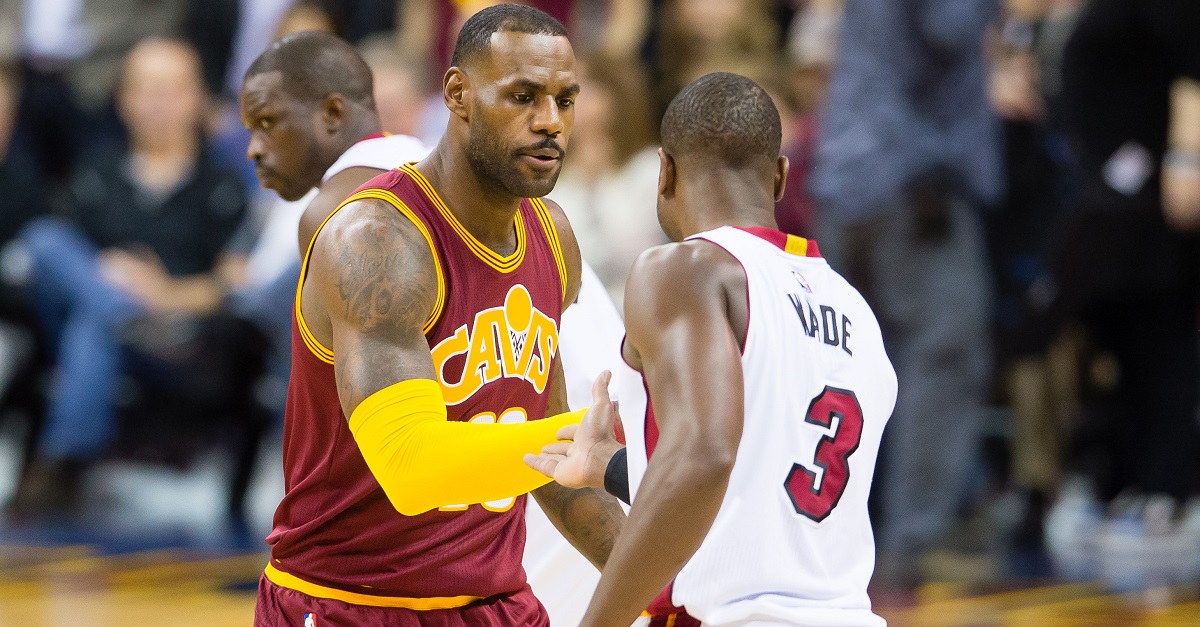 Jason Miller/Getty Images
CLEVELAND, OH - OCTOBER 30: LeBron James #23 of the Cleveland Cavaliers and Dwyane Wade #3 of the Miami Heat shake hands during the first half at Quicken Loans Arena on October 30, 2015 in Cleveland, Ohio. NOTE TO USER: User expressly acknowledges and agrees that, by downloading and or using this photograph, User is consenting to the terms and conditions of the Getty Images License Agreement. (Photo by Jason Miller/Getty Images)
The Chicago Bulls' experiment seemingly failed. They tried to bring Dwyane Wade back to the Windy City, back to his roots, and it did not work out.
The Bulls shipped one hometown hero, Derrick Rose, off to the New York Knicks and thought they could bring another hometown hero in to take his place. However, Wade won't even get to see the end of his two-year, $47.5 million deal with Chicago.
On Sunday night, Wade and the Bulls agreed to a buyout.
For a long time, many suspected the Cleveland Cavaliers would be the team Wade would end up with if and when a buyout was reached with the Bulls. And, sure, the Cavaliers are involved and would love to pair Wade back up with his friend, LeBron James. However, Cleveland isn't alone in the Wade sweepstakes.
The Miami Heat, the Oklahoma City Thunder, and the San Antonio Spurs are all interested in signing the three-time NBA champion.
A return to Miami would be somewhat of a storybook ending for Wade. However, he'll likely want to compete for a fourth ring this season, and the Heat is in no position to make a run at the title.
The Thunder are fresh off acquiring Carmelo Anthony from the New York Knicks, so Wade could take a stab at partnering up with a different member of that legendary 2003 NBA Draft Class. Oh, and let's not forget Oklahoma City already has Paul George and some guy by the name of Russell Westbrook. Yeah, he's pretty great with a basketball in his hands.
San Antonio is a staple in the title hunt, year after year. Joining forces with Kawhi Leonard, LaMarcus Aldridge, Pau Gasol, Rudy Gay, and Tony Parker would certainly create yet another formidable roster for Gregg Popovich.
By the way things shook out in Chi Town, it's probably safe to say Wade's intention is to chase another championship. After all, he (again) turned down big bucks to get away from the Bulls.
When you take into consideration how much money Wade turned down to bring James and Chris Bosh to Miami, it's pretty telling about how his time in Chicago went.
That contract he signed with the Bulls was supposed to be his chance to make up all of those dollars he lost while chasing rings. With Chicago entering the rebuilding mode, he simply had to get out of there.