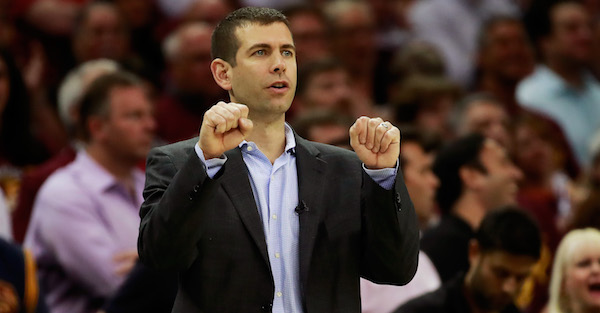 Gregory Shamus/Getty Images
CLEVELAND, OH - MAY 23: Head coach Brad Stevens of the Boston Celtics reacts in the second half against the Cleveland Cavaliers during Game Four of the 2017 NBA Eastern Conference Finals at Quicken Loans Arena on May 23, 2017 in Cleveland, Ohio. NOTE TO USER: User expressly acknowledges and agrees that, by downloading and or using this photograph, User is consenting to the terms and conditions of the Getty Images License Agreement. (Photo by Gregory Shamus/Getty Images)
The Boston Celtics reportedly partnered with the Philadelphia 76ers on a massive trade that will likely result in Markelle Fultz landing in Philly while Danny Ainge adds to his ever-growing stockpile of assets. While there has already been speculation that the Celtics could be looking to cash in on those assets in pursuit of a player like Chicago Bulls swingman Jimmy Butler, one report indicates that Boston could be aiming even higher.
Chris Mannix of The Vertical brings word that, even if it is unlikely, the Celtics have their eyes on New Orleans Pelicans big man Anthony Davis.
As of now, league sources told The Vertical that isn?t the case. Boston ? everyone, really ? would love to get its hands on Anthony Davis. But Davis is tied to a manageable contract through 2021, and the Pelicans appear committed to giving the Davis-DeMarcus Cousins pairing a full season together.
Davis is on the (very) short list for "best assets in the NBA" because of a contract that runs through 2021. The talented big man is one of the ten best players in the league and, given his age of 24, the asking price for Davis is almost certainly through the roof at this point.
With that said, the Celtics are one of the few teams that could sell the farm in a single deal like this and Boston's assets could conceivably be enough to sway New Orleans in this direction. Nothing appears imminent or even close at this point but, if Danny Ainge wanted to get weird, this would be a lofty place to start.