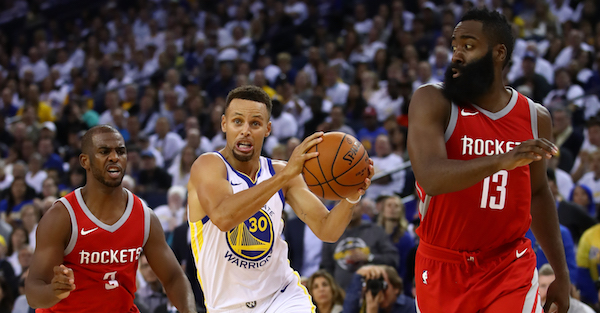 Ezra Shaw/Getty Images
OAKLAND, CA - OCTOBER 17: Stephen Curry #30 of the Golden State Warriors drives with the ball against Chris Paul #3 and James Harden #13 of the Houston Rockets during their NBA game at ORACLE Arena on October 17, 2017 in Oakland, California. NOTE TO USER: User expressly acknowledges and agrees that, by downloading and or using this photograph, User is consenting to the terms and conditions of the Getty Images License Agreement. (Photo by Ezra Shaw/Getty Images)
Chris Paul's debut with the Houston Rockets was cut short due to a knee injury on opening night in the win over the Golden State Warriors, and the injury could sideline Paul for a month.
Former ESPN NBA analyst Marc Stein reported that the Rockets have listed Paul as day-to-day with the knee injury, but they expect him to miss a few weeks.
Related: Chris Paul's utter disrespect of a shooter followed by an airball is the play of the NBA preseason
The Rockets acquired the 32-year-old from the Los Angeles Clippers via trade in the offseason after Paul opted into the final year of his contract. The 9-time All-Star scored four points, dished out 11 assists and grabbed eight rebounds in 33 minutes against the Warriors before leaving the game with the injury.
Stein reported that the Rockets will be cautious with Paul moving forward since they want him at full strength before the team enters the playoffs.
The biggest question surrounding the Rockets entering the season was how two ball-dominant guards in James Harden and Paul would co-exist, so Paul's injury will delay the chemistry experiment between the two stars.
But the good news for the team is that they're one of the deepest teams in the league, and they shouldn't be affected in the short term while Paul recovers.