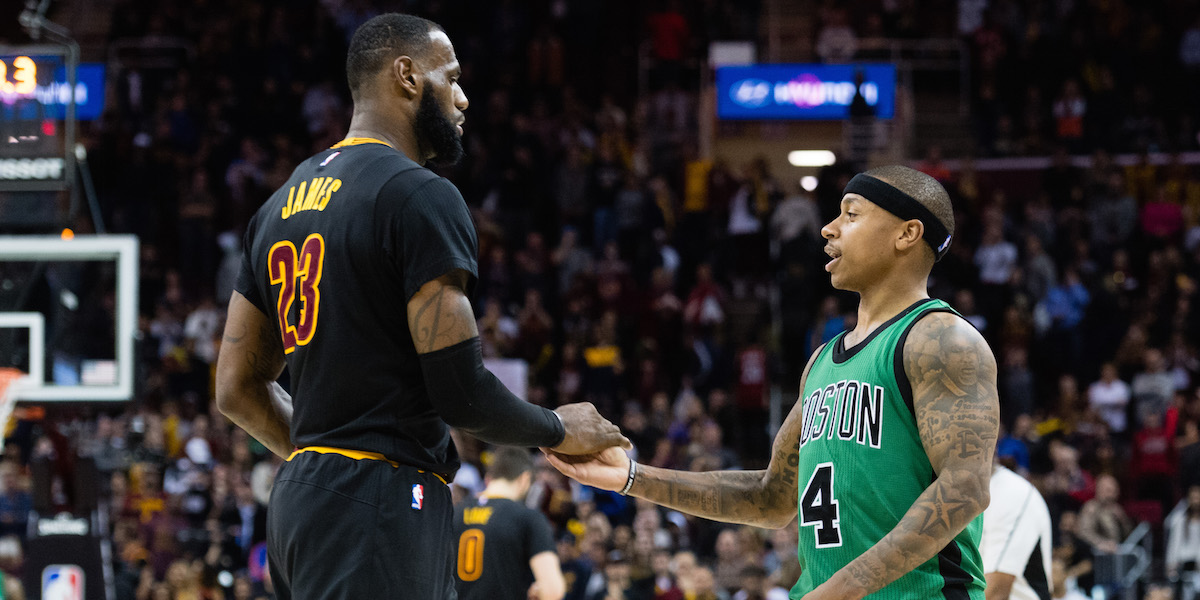 Jason Miller/Getty Images
CLEVELAND, OH - DECEMBER 29: LeBron James #23 of the Cleveland Cavaliers celebrates with Isaiah Thomas #4 of the Boston Celtics during the final seconds second half at Quicken Loans Arena on December 29, 2016 in Cleveland, Ohio. The Cavaliers defeated the Celtics 124-118. NOTE TO USER: User expressly acknowledges and agrees that, by downloading and/or using this photograph, user is consenting to the terms and conditions of the Getty Images License Agreement. Mandatory copyright notice. (Photo by Jason Miller/Getty Images)
Isaiah Thomas is officially a member of the Cleveland Cavaliers, but his debut may be delayed longer than most anticipated.
Thomas' hip injury could force him to be out until the All-Star break, according to Jason Lloyd of The Athletic.
Earlier this week, Thomas told ESPN that he is confident that he'll be able to return from his labrum injury, which he believes will not have a long-term impact on his career.
"There's never been an indication that I wouldn't be back, and there's never been an indication that this is something messing up my career," Thomas told ESPN. "Maybe I am not going to be back as soon this season as everyone wants me to be, but I'm going to be back, and I'm going to be the same player again. No doctor has told me anything different than that."
If Thomas is unable to return sooner, that would mean more minutes for point guard Derrick Rose, who signed a veteran's minimum deal this offseason. It could also cause some chemistry issues depending on when Thomas returns as the Cavs will likely be making their final playoff push at that point.