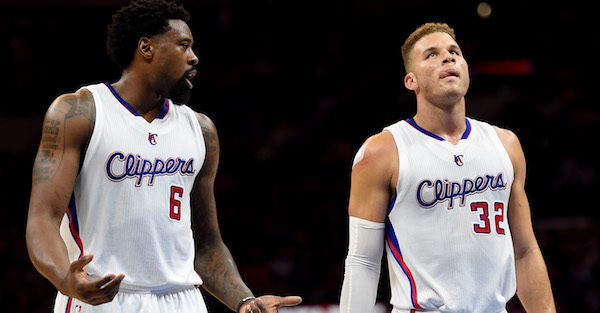 Harry How/Getty Images
LOS ANGELES, CA - APRIL 07: DeAndre Jordan #6 and Blake Griffin #32 of the Los Angeles Clippers react during the game against the Los Angeles Lakers at Staples Center on April 7, 2015 in Los Angeles, California. NOTE TO USER: User expressly acknowledges and agrees that, by downloading and or using this Photograph, user is consenting to the terms and condition of the Getty Images License Agreement. (Photo by Harry How/Getty Images)
The drama between the Houston Rockets and Los Angeles Clippers nearly escalated into brawl in the locker room after the game, and it's clear the two teams don't like each other.
Lost in the shuffle of the scuffle is that Clippers center DeAndre Jordan wants to be traded to the Rockets, according to ESPN's Stephen A. Smith.
Smith mentioned the trade rumor on First Take at about the 3:30 mark.
Related: NBA Hall of Famer Dennis Rodman has reportedly been arrested
There have been rumors that the Cleveland Cavaliers could be targeting Jordan, but he might not even be on the trade block since the Clippers are currently the No. 7 seed in the Western Conference.
Jordan has one year remaining on his deal worth $24 million, but he also has a player option for that season. So, he can opt out and negotiate a new deal if he's traded. Of course, his ability to opt out could give the Clippers incentive to trade him if they can secure a quality asset.
It's unclear if the Rockets would even want to make a move for Jordan. Clint Capela has been an efficient big man for Houston, and he makes only $3.5 million. Houston hasn't played well lately, but injuries have mostly contributed to the slump. Chris Paul and Jordan had good chemistry on the floor with the Clippers, but would Jordan really be that much of an upgrade over Capela? Houston would likely have to find a trade partner for Ryan Anderson to make the deal work.
There will likely be more rumors involving Jordan before the February trade deadline, but it would be surprising to see Jordan being dealt to the Rockets.
Jordan is averaging 11.8 points and 14.9 rebounds this season.