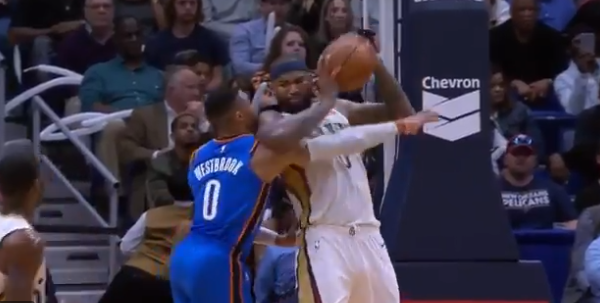 @DefPenHoops/Screenshot
@DefPenHoops/Screenshot
New Orleans Pelicans center DeMarcus Cousins was ejected from Monday night's game against the Oklahoma City Thunder after hitting Russell Westbrook in the head with an elbow.
Cousins was called for a foul on the play after Westbrook went crashing into the court after being hit by a swinging elbow. The officials reviewed the play and then assessed Cousins a Flagrant 2 foul, which triggered the ejection.
After the foul was called, Cousins is seen immediately disagreeing with the referees and claims that Westbrook flopped on the play. Westbrook remained down on the court following the contact but would remain in the game and was OK after the incident. Several of Cousins' teammates came to his defense and didn't think the hit warranted an ejection and one even thought that it was a clear flop by Westbrook.
Cousins is the second player this season to be assessed a Flagrant 2 foul. Thunder forward Carmelo Anthony was ejected weeks ago after elbowing Portland Trail Blazers center Jusuf Nurkic in the head after driving to the rim for a layup attempt.
The Pelicans picked up the 114-107 win over the Thunder in place of Cousins as they improved to 9-8 on the season.