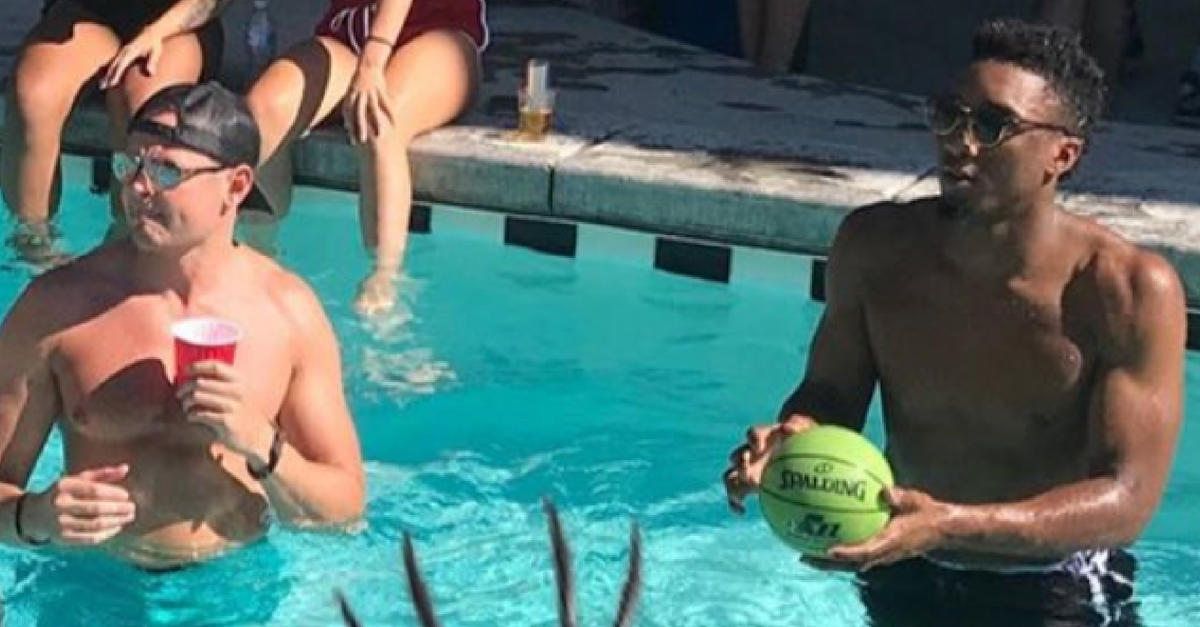 Twitter: @samwinderart
Much like Trailblazers guard Damian Lillard did in Portland a couple of weeks ago, Utah Jazz guard Donovan Mitchell joined the offseason fun of surprising fans in the community.
With a simple tweet, the 6-foot-3 shooting guard received dozens, if not hundreds, of invites to holiday parties in the Salt Lake City area on July 4.
About 40 minutes later, one Fourth of July party caught Mitchell?s attention, and it apparently happened to be close to the home of Jazz head coach Quin Snyder, too.
When you are looking to be a leader on the court and in the community, you have to show up at these kind of events if you put it out on social media. Mitchell did just that and it?s pretty natural he was captured with a pool basketball in his hands at the Independence Day pool party.
Jazz fans probably didn?t need another reason to like Mitchell after his rookie season, but they definitely got it.
However, this is not the first time an NBA player showed up to something random. During the league?s lockout in 2011, Kevin Durant played flag football at Oklahoma State with a fraternity that got a lot of attention, too.
Add Mitchell to the group of stars making impacts with the local fanbase.
After being drafted No. 13 overall by the Denver Nuggets at the 2017 NBA Draft, the former Louisville star was traded to Utah and posted great numbers as rookie. He averaged 20.5 points, 3.7 rebounds, 3.7 assists and 1.5 steals during the regular season.
He even won the 2018 Verizon Slam Dunk Contest during NBA All-Star Weekend.
In the playoffs, Mitchell elevated his game, averaging 24.4 points, 5.9 rebounds, and 4.2 assists to help the Jazz reach the Western Conference semifinals against the Houston Rockets.
For his efforts, he was named to the NBA?s All-Rookie First Team and looks like he will be a fan favorite in Utah for years to come.