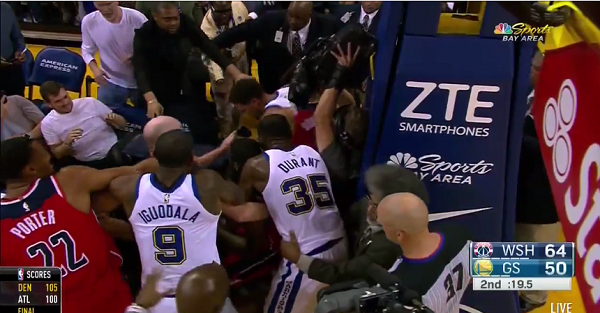 mattclapp/Clippit
mattclapp/Clippit
Golden State Warriors forward Draymond Green says he doesn't agree with the fine that he received for his role during an on-court altercation with Washington Wizards guard Bradley Beal on Friday night.
The incident occurred during the final minute of the second quarter after Green and Beal became entangled with each other on the court. Beal is seen on replay grabbing Green around the head and neck area before the two crashed onto the court near the basket. Although Green's jersey was noticeable ripped from the altercation, Green didn't appear to retaliate against Beal.
Neither player was suspended for their role in the scuffle, but Beal was fined $50,000 and Green was fined $25,000. Green told reporters on Sunday night that he didn't agree with the $25,000 fine that he received.
?I got hit and didn?t even hit back and got fined,? Green said. ?Then for him to get fined only $50,000, I get fined $25,000. Oubre comes in throwing punches and he gets fined less than me. That just don?t add up to me.

"I know they ain?t the biggest fan of me. That?s fine, but don?t be so obvious that you?re not the biggest fan of me. That?s just too obvious. I think at the end of the day they?re going to make out who they want to make out to be the bad guy. That?s cool, but be fair across the board.?
Both players were ejected from the game, although Green was ejected for picking up his second technical foul of the game during the incident. Green maintained that he was just trying to protect himself from Beal and the rest of the Wizards' bench and didn't feel as though he should have been fined. Based on replays, it appears as though Green has a compelling argument that he shouldn't have been fined after remaining calm during much of the incident.
Despite losing Green, the Warriors would go on to pick up the 120-117 win over the Wizards. The two teams will meet again on February 28.