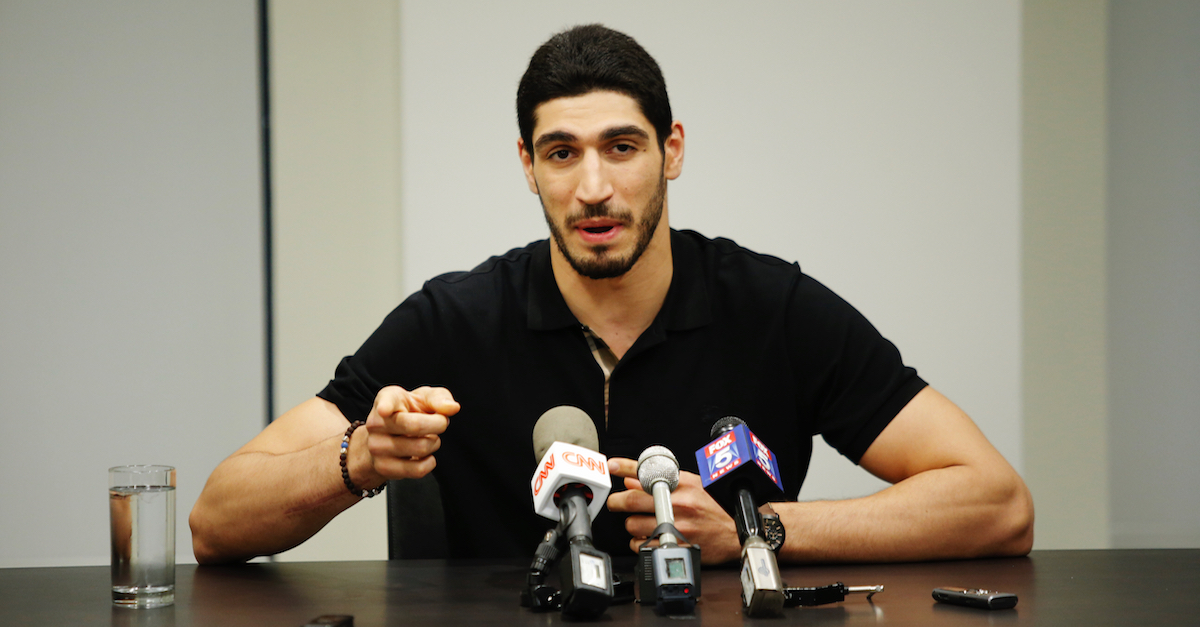 Munoz Alvarez/Getty Images
NEW YORK, NY - MAY 22: Turkish NBA Player Enes Kanter speaks to media during a news conference about his detention at a Romanian airport on May 22, 2017 in New York City. Kanter returned to the U.S. after being detained for several hours at a Romanian airport following statements he made criticizing Turkey's president Recep Tayyip Erdogan. (Photo by Eduardo Munoz Alvarez/Getty Images)
Prosecutors in Turkey are reportedly seeking a four-year prison term for New York Knicks player Enes Kanter on charges of insulting Turkey President Recep Tayyip Erdogan, according to Turkey's state-run news agency.
Anadolu Agency says Kanter is being indicted after the prosecutor's office claims he insulted the president in a series of tweets he posted in May and June 2016. Kanter, who is a supporter of Erdogan opponent Fethullah Gulen, has been very outspoken against the Turkish president and once compared him to Hitler. He would be tried in absentia.
Kanter was detained at a Romanian airport in May after he says the Turkish government canceled his passport after his comments comparing the president to Hitler. He was eventually released from the airport after the NBA and United States intervened during the incident. An arrest warrant was issued in Turkey for Kanter following his detainment at the airport after he was accused of being a member of a "terror group."
Kanter has said in the past that he would like to become an American citizen and even said he is "countryless" due to the ongoing dispute with Turkey. Kanter was the third overall pick by the Utah Jazz in the 2011 draft. He was traded to the Oklahoma City Thunder in 2015 and then moved to the Knicks this past summer.
He is averaging 13.2 points, 9.8 rebounds and 1.4 assists per game this season with the Knicks.
(h/t ESPN)