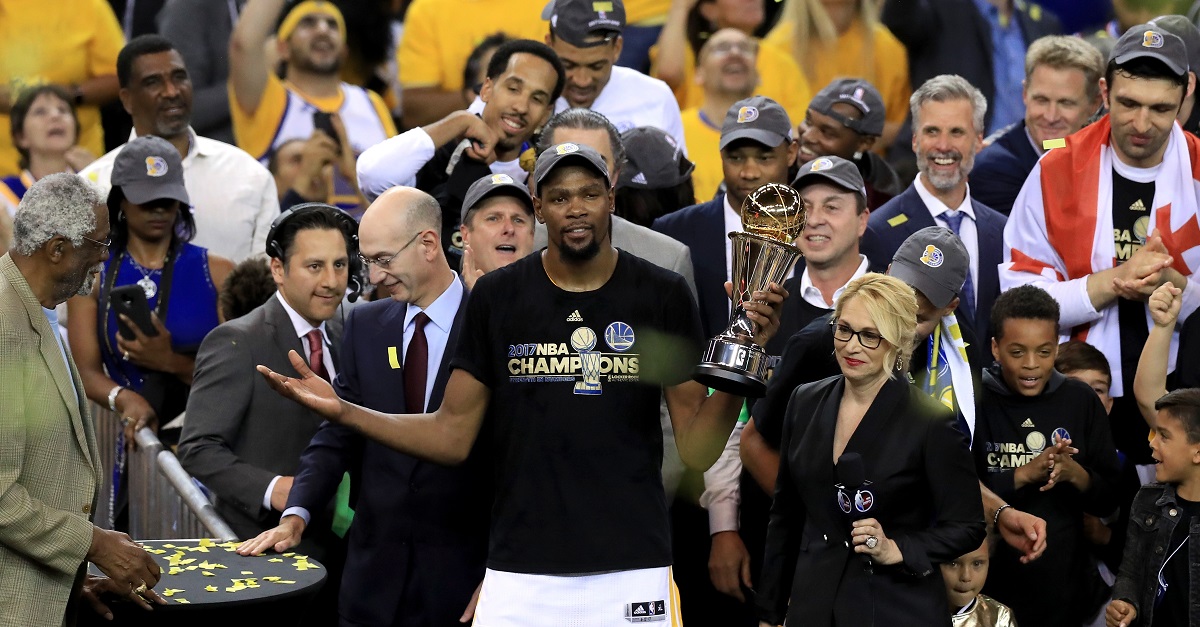 Ronald Martinez/Getty Images
OAKLAND, CA - JUNE 12: Kevin Durant #35 of the Golden State Warriors celebrates with the Bill Russell NBA Finals Most Valuable Player Award after defeating the Cleveland Cavaliers 129-120 in Game 5 to win the 2017 NBA Finals at ORACLE Arena on June 12, 2017 in Oakland, California. NOTE TO USER: User expressly acknowledges and agrees that, by downloading and or using this photograph, User is consenting to the terms and conditions of the Getty Images License Agreement. (Photo by Ronald Martinez/Getty Images)
UPDATE:
---
The Golden State Warriors are the NBA Champions yet again, but they may not be making a familiar trip afterward. Most champions visit the White House and the President after they win a title, but it seems that the team has reportedly already decided not to do that:
Josh Brown is a reporter for CNBC who has never covered the Warriors or broken NBA news so this may be taken with a grain of salt. However, several Warriors have mentioned this season that they would not want to visit President Donald Trump's White House.
RELATED: Stephen Curry responds to Under Armour CEO's support of Donald Trump
Shaun Livingston said months ago that he would not visit the White House if they won the Finals and Steve Kerr has been pretty outspoken on the President's policies as well as the Spurs' Gregg Popovich. Kerr has even gone so far as to call those policies un-American and David West has said Trump?s approach is the opposite of what the forward teaches youth.
There are no other credible reports claiming the Warriors have already made this decision, but it's not far-fetched to think that a consensus could have been reached considering everything that the players have already said this season. Tom Brady and several other New England Patriots players also skipped a White House visit this year. Some of them, Martellus Bennett, Patrick Chung, Malcolm Butler, James White, Danny Amendola, and others, did not go because of who's sitting in office.
[h/t NBC Sports]