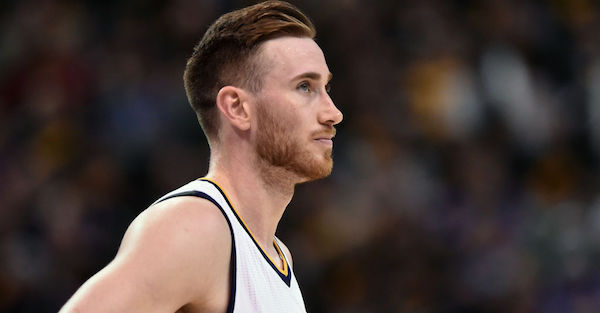 Gene Sweeney Jr/Getty Images
SALT LAKE CITY, UT - MAY 6: Gordon Hayward #20 of the Utah Jazz looks on against the Golden State Warriors in Game Three of the Western Conference Semifinals during the 2017 NBA Playoffs at Vivint Smart Home Arena on May 6, 2017 in Salt Lake City, Utah. NOTE TO USER: User expressly acknowledges and agrees that, by downloading and or using this photograph, User is consenting to the terms and conditions of the Getty Images License Agreement. (Photo by Gene Sweeney Jr/Getty Images)
Upcoming NBA free agent Gordon Hayward is at the top of the Boston Celtics' wish list for this summer, and they are scheduled to meet with him when free agency starts next week.
Related: Details on All-Star Gordon Hayward's free agency visits and expected decision time emerge
If Hayward does sign with Boston to play for his former college coach Brad Stevens, he'll have to make amends with the city's biggest star.
Hayward was asked during the NFL playoffs to choose between Aaron Rodgers or Tom Brady, and he chose Rodgers. That was bad enough, but he also said he "can't stand" Tom Brady.
Hayward said he can't stand Brady because he's a fan of the Indianapolis Colts, and Brady plays for the New England Patriots. He did say Brady is a good QB, but loyalty insists he sides with someone who isn't a rival.
That answer won't sit well with Celtics or Boston sports fans.
But if Hayward does sign with Boston and helps deliver the city another title, all will (probably) be forgiven.
(h/t Yahoo Sports)