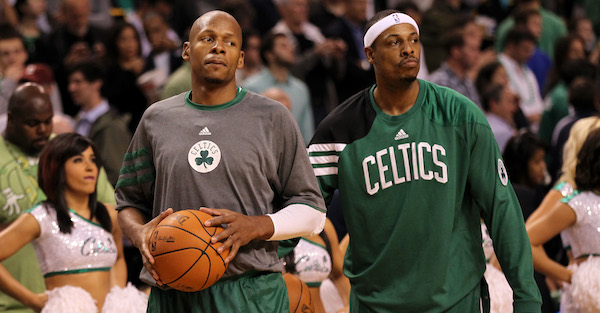 Jim Rogash / Getty Images
in Game Six of the Eastern Conference Finals in the 2012 NBA Playoffs on June 7, 2012 at TD Garden in Boston, Massachusetts. NOTE TO USER: User expressly acknowledges and agrees that, by downloading and or using this photograph, User is consenting to the terms and conditions of the Getty Images License Agreement.
The acquisition of former Utah Jazz forward Gordon Hayward was a coup for the Boston Celtics. After all, the team absolutely needed a top-tier player at the position to combat the likes of LeBron James and, even with some salary cap shuffling, the Celtics were able to add Hayward without gutting their roster in the form of a trade.
However, the move will not come without consequence in at least one way, as Hayward will be wearing a number that may not sit well with the fans of one living legend.
Yes, Ray Allen's No. 20 will not be hanging in the rafters in Boston.
That is not an earth-shattering surprise given that Allen's best seasons, at least individually speaking, did not come in Boston. Still, the future Hall of Fame shooting guard spent five years with the Celtics and famously was a huge part of Boston's last title victory in 2008 when he paired with Kevin Garnett and Paul Pierce to bring glory back to the franchise.
Since then, there has been some fallout with Allen, including a noted absence in a recent television reunion of members of the 2008 team. Still, there is certainly a contingent of Celtics fans that won't take kindly to the knowledge that Allen's number won't be retired, even if it means that Gordon Hayward will be comfortable in his usual number.