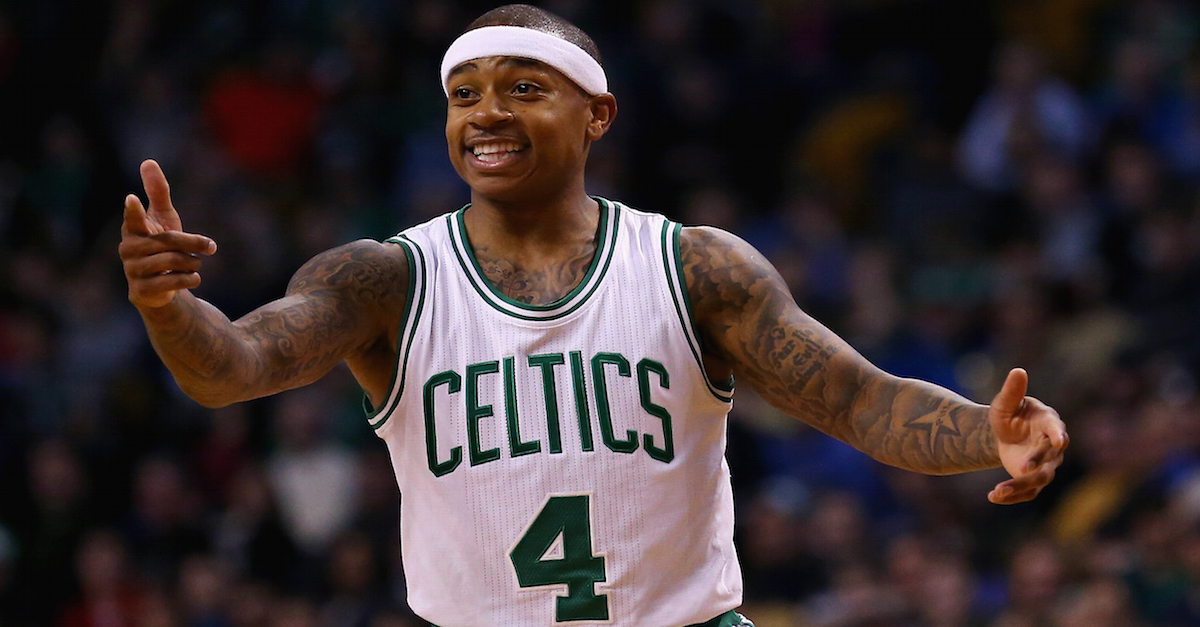 Maddie Meyer/Getty Images
BOSTON, MA - APRIL 03: Isaiah Thomas #4 of the Boston Celtics disputes a call during the first quarter against the Milwaukee Bucks at TD Garden on April 3, 2015 in Boston, Massachusetts. NOTE TO USER: User expressly acknowledges and agrees that, by downloading and/or using this photograph, user is consenting to the terms and conditions of the Getty Images License Agreement. (Photo by Maddie Meyer/Getty Images)
Newly acquired Cleveland Cavaliers point guard Isaiah Thomas is still ailing from a hip injury from the end of the 2017 season, but he has insisted he will be ready for the start of the season.
However, there is growing concern Thomas might need surgery on his hip, and that would lead to him being out for 3-4 months.
Related: Isaiah Thomas could reportedly miss significant time with major injury
Orthopedic hip surgeon Derek Ochiai told the Boston Globe that Thomas' injury might not heal on its own without surgery.
"When you have a labral tear from impingement, that means that the way that Isaiah Thomas?s hip is shaped, it?s shaped in a way that?s not round," Ochiai said. "In certain positions, his hip is not round on round. That?s why it?s called impingement, the bone will impinge because it?s not a round-on-round joint. Once you tear your labrum from that, that?s the most common cause of labral tears in any athlete, that tear is not going to heal. It?s always going to be torn, the question is how do you treat that?

"And there are some high-level athletes who are playing professional sports right now who have labral tears from impingement who are doing fine."
If Thomas does have surgery, it could keep him out until around the All-Star Break in February.
The Cavs' medical team believed Thomas' hip was worse than anyone from the Boston Celtics or even Thomas himself had indicated, which led the Cavs to pursue further compensation from Boston.
With all that being said, it seems unlikely Thomas will have surgery unless he sustains another injury. If he was going to have surgery, he would have done so earlier this offseason so he wouldn't miss much time.
Thomas is also in a contract year, so this is a critical year for him if he wants to earn a major contract next offseason.
(h/t NBC Sports)