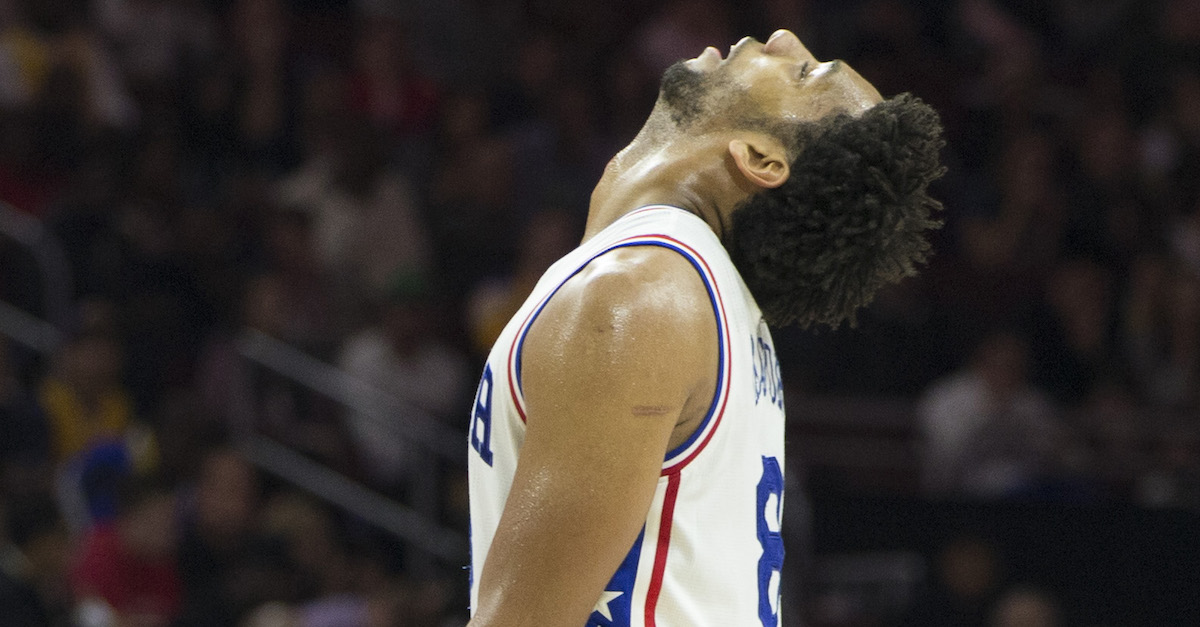 Mitchell Leff/Getty Images)
PHILADELPHIA, PA - DECEMBER 1: Jahlil Okafor #8 of the Philadelphia 76ers reacts in the game against the Los Angeles Lakers on December 1, 2015 at the Wells Fargo Center in Philadelphia, Pennsylvania. NOTE TO USER: User expressly acknowledges and agrees that, by downloading and or using this photograph, User is consenting to the terms and conditions of the Getty Images License Agreement. (Photo by Mitchell Leff/Getty Images)
After Philadelphia 76ers center Jahlil Okafor told reporters on Wednesday that he has requested a trade or buyout from the team, a potential landing spot for the former third overall pick has emerged.
If the 76ers and Okafor were to agree upon a buyout, the Boston Celtics are reportedly a likely team to land him, according to Keith Pompey of the Philadelphia Inquirer. While the Celtics appear to be the favorites to land Okafor, he told reporters that Sixers president of basketball operations Bryan Colangelo said a buyout wouldn't be a good idea because "he would be giving me away to a team for free."
Despite the team unlikely to offer a buyout, the 76ers do still plan on working out a trade for him, according to Adrian Wojnarowski of ESPN. With the 76ers seemingly giving up on Okafor, teams may be reluctant to offer much for him knowing he'll be a free agent next summer. The Sixers are looking for an asset in return for Okafor and that will reportedly be a second-round draft pick.
The 76ers on Tuesday decided against picking up Okafor's fourth-year player option which will make him an unrestricted free agent next summer. With their intentions known for his future in Philadelphia, Okafor told reporters on Wednesday that he would like to move on from the team as soon as possible. He has been out of the rotation this season and has only appeared in one game for the Sixers.
The best course of action for both parties involved at this point would be to move on. Okafor can have a fresh start in a different situation as he attempts to get his career back on track and the team can move on and begin planning for the future. Okafor is certainly hoping this resolves itself sooner, rather than later.