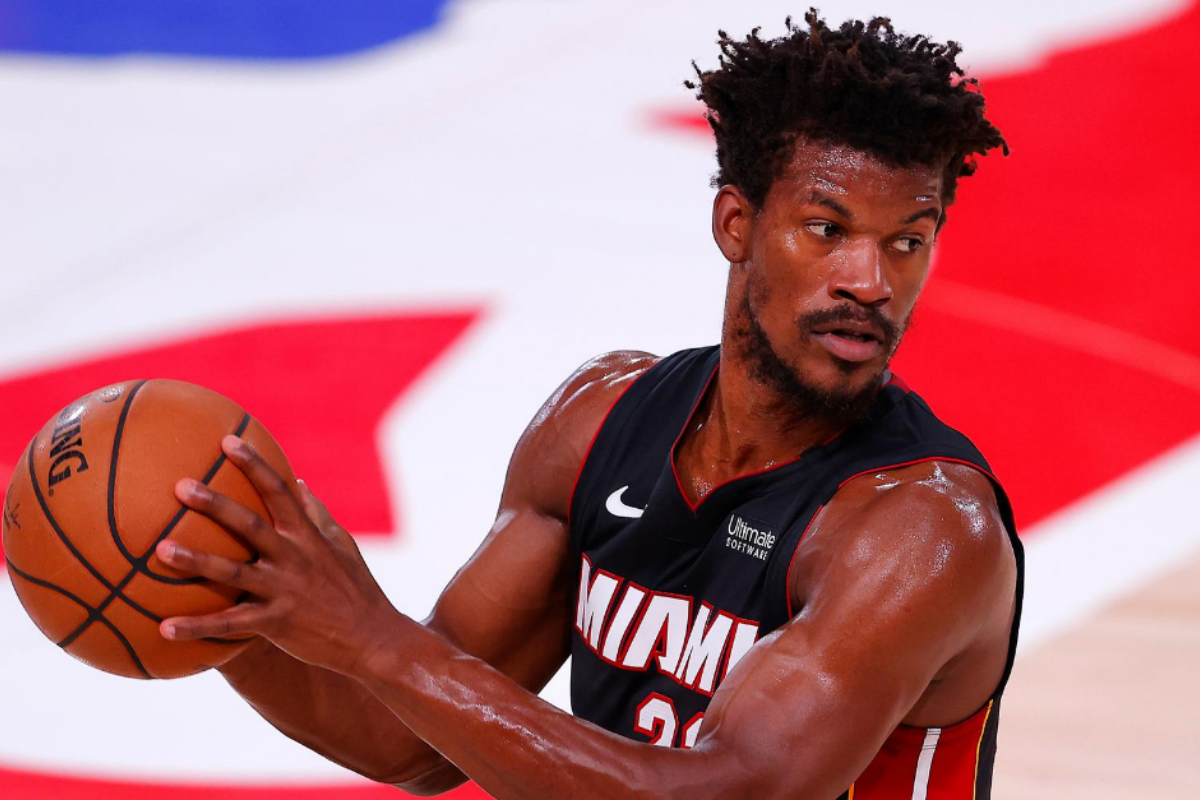 Mike Ehrmann/Pool Photo via AP
Miami Heat star Jimmy Butler is as subtle as the millionth ad for a TNT original program when it comes to basketball. He has no reservations saying what is on his mind and expects everyone to work as hard as him. The guy doesn't hold back.
The NBA player's personal life is the complete opposite. He keeps it under wraps and secretive. Yet, his dating history features high-profile women and all sorts of celebs.
Miley Cyrus
Butler was linked to singer Miley Cyrus back in his days with the Chicago Bulls. As a documented fan of country pop music, he attended her show at the B96 Summer Bash in 2013.
There isn't a lot of meat behind their romantic involvement, more of a mutual fandom.
Charmaine Piula
In 2015, the five-time All-Star dated former Southern Utah hooper Charmaine Piula. They looked like a happy couple in their lone picture online, via PlayerWives.
Piula works in the auto insurance industry as a Commercial Lines Underwriting Administrator at Auto Owners Insurance in Draper, Utah, per her LinkedIn. The relationship was short lived.
Shay Mitchell
According to TMZ, the basketball player dated Pretty Little Liars star Shay Mitchell in 2016. They went on a lunch date in Los Angeles and sparked rumors of romance.
The 30th overall pick in the 2011 NBA Draft and Mitchell never officially confirmed a relationship, but the Chicago Tribune also reported a connection extending beyond the lone lunch date. London's Daily Star noted the couple was no longer together in January 2019.
Karl Anthony-Towns' Ex-Girlfriend Kawahine Andrade
During the Marquette University alum's highly-publicized departure from the Minnesota Timberwolves in late 2018, rumors circulated that some of the training camp animosity stemmed from an affair between him and teammate Karl Anthony Towns' then girlfriend, Kawahine Andrade. Towns disputed this claim over Twitter.
When KAT and Philadelphia 76ers center Joel Embiid's October 30, 2019 on-court scuffle moved online, Embiid implied he had dirt on Towns. It's worth noting that Towns and Embiid have a heated history.
Jimmy Butler's Girlfriend Kaitlin Nowak
In October 2019, after signing with the Miami Heat in free agency, the NBA star welcomed a baby girl, Rylee, into the world with model Kaitlin Nowak. Jimmy missed the first three games of the 2019-20 season against the Memphis Grizzlies, Milwaukee Bucks, and Timberwolves to attend to his daughter's birth. The new parents haven't made their child's life or relationship public on social media.
Miami head coach Erik Spoelstra congratulated his new star via ESPN:
"Jimmy Butler is now a proud father to a baby daughter," Spoelstra [said]. "We're thrilled for him, and we're really excited."
Nowak has been seen courtside at Heat games.
Last season's heartbreaking exit as a member of the Sixers is behind Butler. The four-time NBA All-Defensive Second Team player was focused on leading his new team deep into the Eastern Conference Playoffs and NBA Finals.
Selena Gomez
Reports of Butler and singer Selena Gomez going on dates took social media by storm in December 2020. Gomez famously dated Justin Bieber on and off for numerous years.
According to E! News, Gomez and Butler were spotted having dinner at a place called Lucien in New York City. Whether that means they were anything more than friends is all speculation, however.
This post was originally published on August 27, 2020.