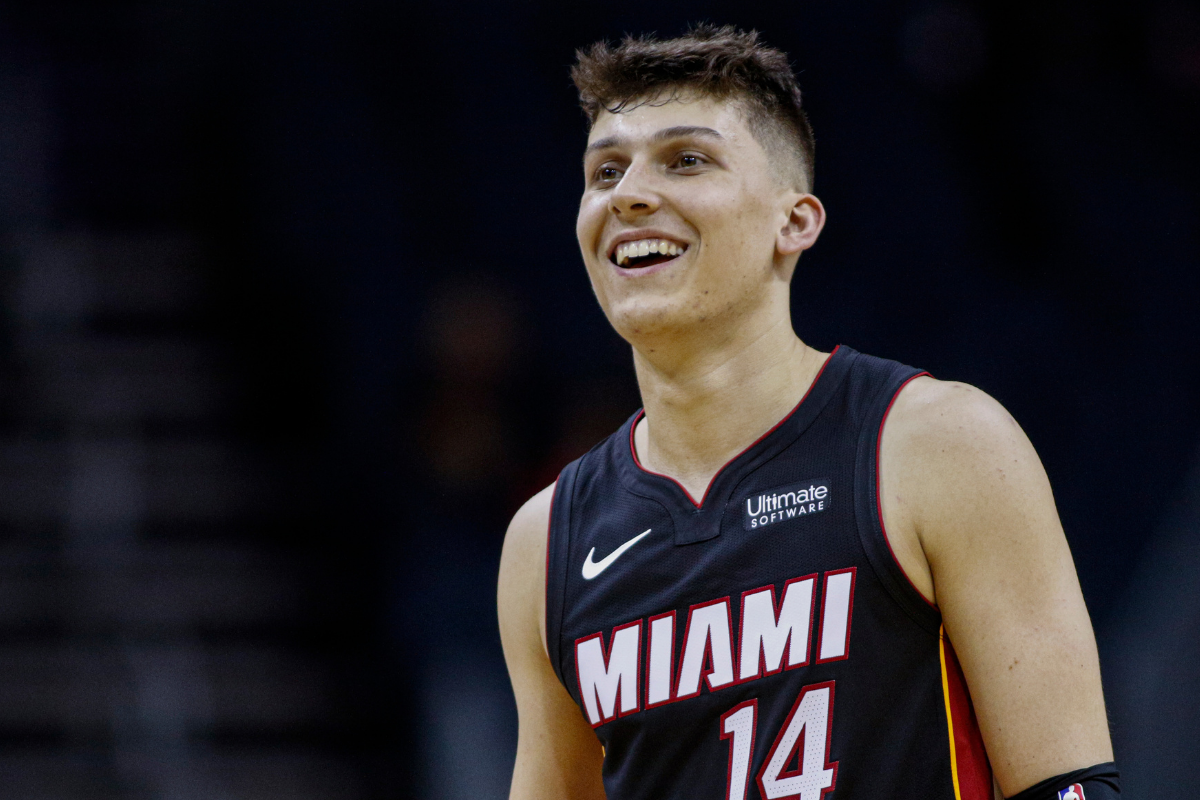 AP Photo/Nell Redmond
Miami Heat rookie Tyler Herro may just be 20 years old but he's taking the NBA by storm as the playoffs come to a conclusion at the long-awaited NBA Finals. He's scored at least 10 points in every postseason game he's played in, including a ridiculous and record-setting 37 points against the Boston Celtics in Game 4 of the Eastern Conference Finals. Don't tell Paul Pierce that his nickname is Bucket, though.
The former Kentucky Wildcat and pride of Wisconsin's Whitnall High School turned out to be a pretty darn good 2019 first-round draft choice despite not being able to legally drink Bud Light, because Herro averaged 13.5 points per game, 4.1 rebounds per game and 2.2 assists per game alongside NBA players like Jimmy Butler, Bam Adebayo, Goran Dragic and Andre Iguodala.
Herro can't even rent a car (not that he needs to), but he has a girlfriend who can. Meet the Miami Heat star's Instagram model gal pal, Katya Elise Henry:
Who Is Tyler Herro's Girlfriend Katya Elise Henry?
RELATED: Kobe Bryant Gifted Wife Famous Dress from 'The Notebook' Before His Death
Tyler Herro is dating an Instagram model named Katya Elise Henry.
Henry is a big name in the world of social media, as she's racked up nearly eight million followers by posting pics in swimwear on Instagram. She's also a fitness model who designs workout programs and has her own website, Workouts by Katya, aimed at people looking to "build their booty."
According to The Sun, Henry is 26, which is significantly older than her 20-year-old boyfriend.
Katya Elise Henry has dated some pretty well-known stars. She's been spotted with singer Austin Mahone in the past and even reportedly dated Los Angeles Lakers small forward Kyle Kuzma, which should set up quite the awkward showdown in the NBA Finals as Herro's team takes on Kuzma's.
The story of how Henry and Herro met was as simple as three letters.
They Met After A Social Media Message
The coronavirus pandemic and COVID-19 outbreak has forced many to shoot their shot and ask people out over social media, and that's exactly what Herro did.
Herro took to Twitter in March 2020 to send a simple message to the Instagram model. The "wyd" tweet — which means "what you doing?" for the older folks reading — worked like a charm and nabbed her attention.
Henry responded, "quarantine n chill?" and the rest of their trending relationship is history.
Since then, the two have spent a ton of time together, including dancing in TikTok videos and soaking up some sun on a boat.
He Let Her In The NBA Playoff Bubble
As the Miami Heat have taken down the Indiana Pacers, Milwaukee Bucks and Boston Celtics in the Eastern Conference Finals, the league has allowed players to let up to four guests — most of which are family, friends and girlfriends — into the NBA bubble at the ESPN Wide World of Sports Complex inside Walt Disney World in Orlando, Florida.
The Miami Heat rookie let his influencer girlfriend into the Bubble and the two celebrated the Heat's win to send them to the NBA Finals against LeBron James, Anthony Davis and the rest of the Lakers.
"THATS RIGHT WE GOIN TO THE FINALS @MiamiHEAT," Henry tweeted.
Tyler Herro is only 20 years old, but he must be living his best life right now. The only thing that can make having a model girlfriend better is winning a title and bringing a banner back to Miami.