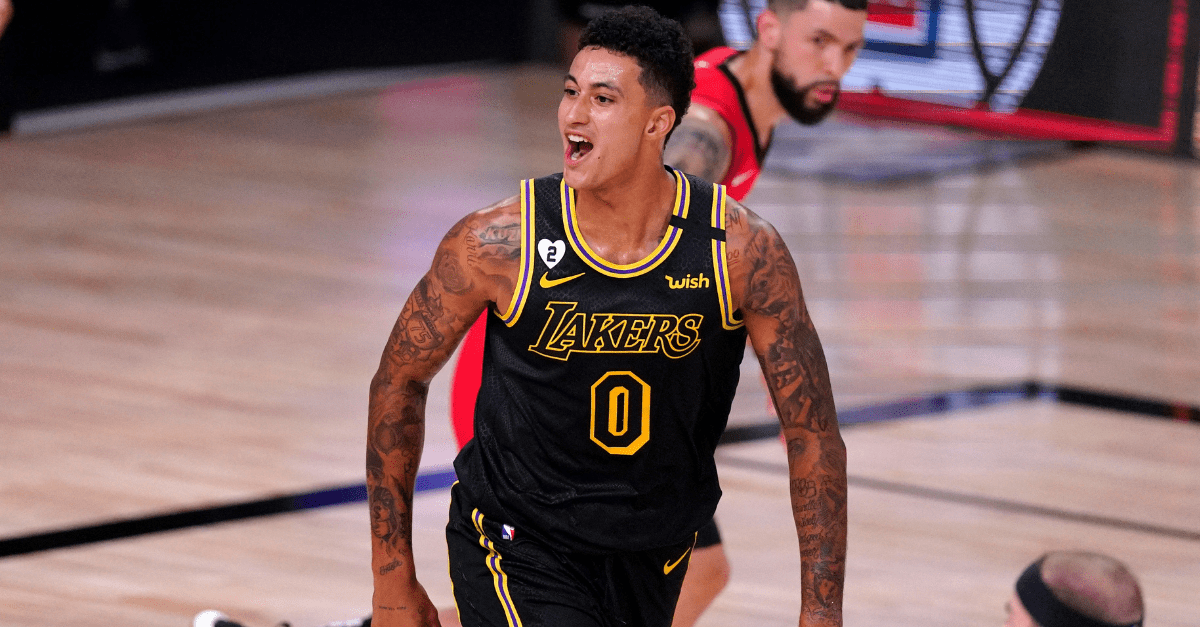 AP Photo/Mark J. Terrill
Kyle Kuzma is a crucial part of the Los Angeles Lakers success as they dive further into the NBA playoffs. The third-year forward needs to be the third scorer behind LeBron James and Anthony Davis for LA to win high-stake games.
While Kuzma's focus is all basketball right now, his personal life off the court is sprinkled with notable relationships. From supermodels to movie stars, Kuzma has been around the dating block.
Let's take a look at the 25-year-old's romantic history:
Katya Elise Hennry
Hennry is a personal trainer and Instagram fitness model. She created the website Workouts By Katya, where she offers fitness programs, meal plans, apparel, swimwear, accessories, and supplements.
According to SportsGossip, Kuzma and Hennry dated from late 2018 until mid 2019.
Kendall Jenner
RELATED: Everyone Ben Simmons Has Dated, But Mainly Kendall Jenner
After Kuzma and Hennry split, the NBA star was linked to Kendall Jenner after a photo surfaced of the two hanging out on a yacht in July 2019.
Jenner quickly defused the romantic rumors in a tweet.
Nicole Shiraz
Kuzma and Australian model Nicole Shiraz dated for a brief period last year. They hung out while Kuzma was playing exhibition games Down Under for Team USA in preparation for the 2019 FIBA Basketball World Cup.
Rumors circulated about the couple rekindling their relationship when Shiraz sat courtside at a Laker home game in November 2019. Shortly after, Nicole's publicist revealed to the Daily Mail Australia that the two were just friends.
Vanessa Hudgens
In breaking news per TMZ, Kuzma and actress Vanessa Hudgens were spotted dining together in Brooklyn, New York in January 2020. Kuzma and the Lakers were in town to face the New York Knicks at Madison Square Garden, and Hudgens was in attendance to show support for the purple and gold.
Previously, she appeared at the LA Lakers home game against the Cleveland Cavaliers on January 13.
The fling was short lived as the two were reportedly just having fun together.
Anastasia Karanikolaou
After Hudgens, the Lakers forward flirted with Anastasia Karanikolaou, aka Stassie Baby and Kylie Jenner's best friend, on social media. Nothing substantial stemmed from the online romancing.
Addison Rae
In quarantine during the coronavirus pandemic and COVID-19 outbreak, Kuzma spent his newfound free time shooting his shot with trending social media star Addison Rae. He made a TikTok dancing to rapper The Kid Laroi's song Addison Rae. The attempt fell as flat as Kyrie Irving thinks the Earth is.
Kyle Kuzma's Girlfriend Winnie Harlow
Kuzma is currently dating Canadian model Winnie Harlow. They started quarantining together in late April 2020 and are still going strong. She made a sentimental happy birthday post to Kuz on July 24.
NBA players were allowed to have guests enter the NBA Bubble at the beginning of the second round of the playoffs. Harlow made the trip to Disney and ESPN's Wide World of Sports campus in Orlando to join Kuz. He's like a puppy who wags his tail out of happiness when he's with her.
As the Lakers proceed deeper into the postseason, Kuz spends his downtime hanging out and golfing with his girlfriend.