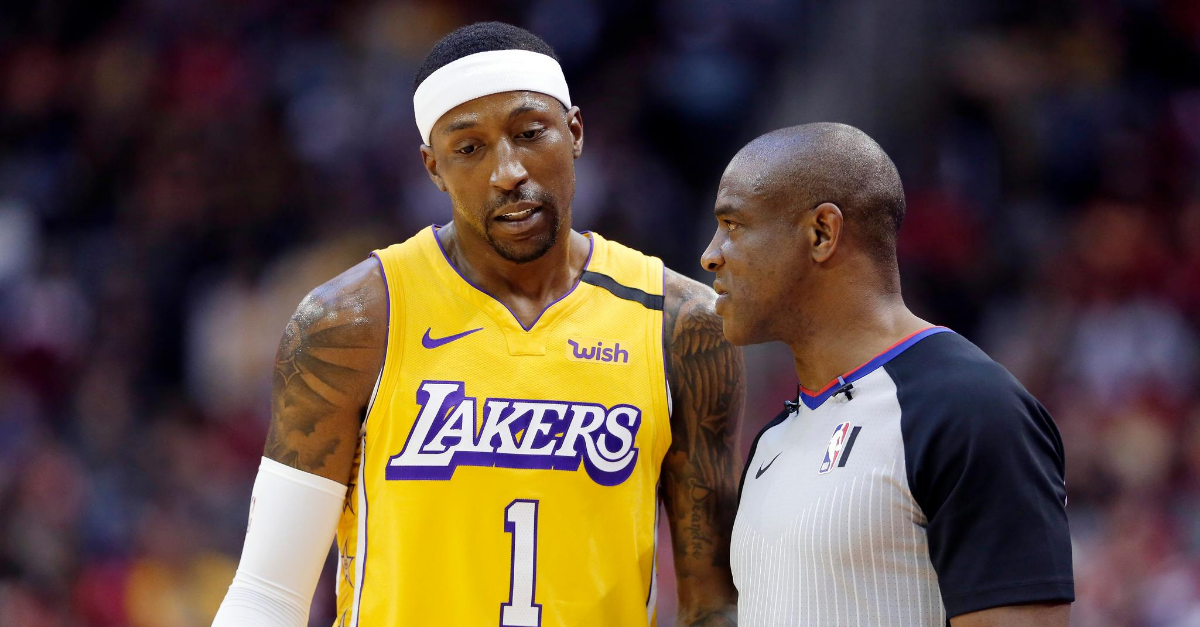 AP Photo/Michael Wyke
In the middle of the 2017-18 season, Los Angeles Lakers guard Kentavious Caldwell-Pope had to wear a GPS monitor to leave the Seal Beach Police Department Detention Center in Orange County, California. It was a requirement of the work-release program weaved into his 25-day jail sentence.
Compared to the everyday man, KCP's job is wide open to the public. He's an NBA shooting guard and was in his first season with the Lakers on a fresh one-year, $18 million contract following four seasons with the Detroit Pistons. It was during his last season in Detroit that provoked the sentence.
In March 2017, Caldwell-Pope was cited for operating a vehicle while intoxicated. He later pleaded guilty to a less severe charge of allowing someone to operate his vehicle while under the influence. The new charge included a 12-month probation.
Kentavious Caldwell-Pope's DUI Charge
KCP was required to abstain from alcohol and controlled substances and complete and pay for random drug testing. He also couldn't leave Michigan. However, he was granted permission to leave the state to return to his home state of Georgia and take free agency meetings. Once signed, he could travel as needed to play for the Lakers. He later failed to comply with a Michigan court's drug and alcohol screening order, leading to a subsequent hearing.
After serving a suspension for the season's first two games due to the league's substance abuse policy, KCP played the next 24 games without any impediments. He flew to the Detroit area for the hearing following a 24-point performance against the New York Knicks, where he was sentenced to 25 days at Oakland County Jail in Michigan. He immediately submitted a request to serve at Seal Beach, a pay-to-stay operation, which was granted the same day.
The work-release allowed KCP to attend practices, home games, and road games only in the state of California, causing him to miss road bouts against the Houston Rockets and Minnesota Timberwolves. He wore the ankle monitor whenever he left the detention facility and was subjected to a breath test upon return.
The Lakers issued a statement on the bizarre situation, per the Los Angeles Times:
?This is a legal matter, stemming from an incident that occurred last season while Kentavious was a member of another NBA team,? the statement read. ?The Los Angeles Lakers are abiding by the terms of a program for Kentavious that were established for him by a court in the state of Michigan. As such, we will have no further comment at this time.?
Did KCP Wear an Ankle Bracelet While Playing?
Contrary to popular belief, KCP didn't wear an ankle monitor while playing and serving his sentence. A viral, photoshopped picture of him playing with one allegedly stemmed from the Lakers game against the Golden State Warriors in Oakland on December 22, 2017. Game-footage and photographs from that game (and the fact that the Lakers wore purple, not yellow) prove otherwise.
Nonetheless, it's bonkers that a professional player serving a jail sentence was able to play NBA games at all.
A season removed from the ordeal has KCP assuming a starting role in the NBA Bubble with the absence of Avery Bradley. LeBron James steers the ship as the NBA playoffs progress.