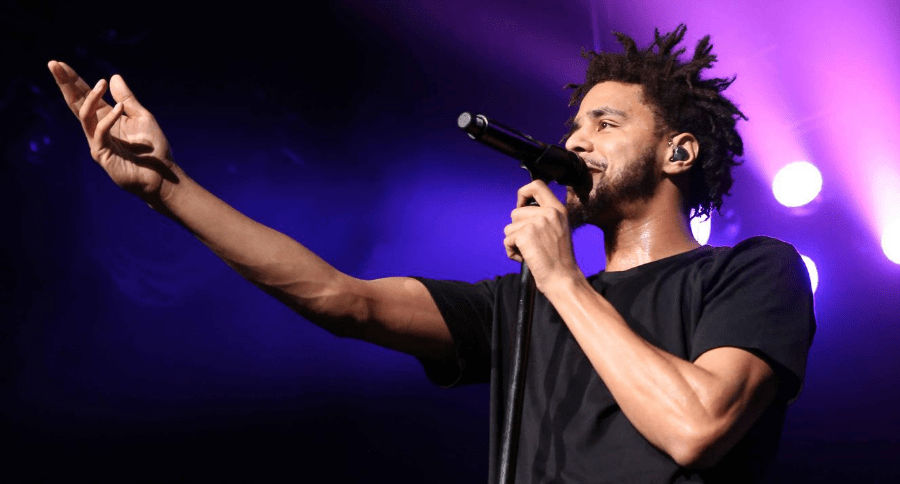 Robb D. Cohen/Invision/AP
J. Cole's basketball career seemingly came to a halt as a sophomore St. John's University. The school's basketball team held tryouts for a walk-on spot, and Cole advanced with nine other players to the next day. His aspirations as a hooper were inching closer, but he chose to completely dedicate himself to hip-hop.
The decision proved to be the right one. Cole's found success and maintained a spot in popular rap consciousness in the past decade, for better or worse. Say what you want about his style, excitement, and corniness, it's hard to deny the poetry of "I let you feel like you the s***, but you can't out-fart me" and "Gary Coleman just passed, life is short."
16 years after passing on the tryout, Cole reignited his hoop dreams of playing in the NBA.
J. Cole's Path to the NBA
The Fayetteville, North Carolina, native outlined his professional basketball intentions in The Players' Tribune article titled "The Audacity" on July 20. He detailed his basketball history, from failing to make Terry Sanford High School's JV team as an underclassmen to working his way into a starting role on the varsity squad by his senior year. He's never been far from a court throughout his rap career.
Cole turned to Master P, who made the transition from music to basketball with preseason stints on the Charlotte Hornets in 1998 and Toronto Raptors in 1999. Master P narrated the commercial for Cole's new Puma RS-Dreamer basketball shoes. He confirmed the Dreamville rapper's pivot in an interview with TMZ Sports.
?When I talked to J. Cole, he was like ?You know, big dog you did it. What do you think I would have to do to make it happen?,'? Master P explained. ?I said to get one of these NBA jerseys, it?s not gonna be easy. It?s gonna be a lot of hate, it?s gonna be a lot of people not believing in you but you know J. Cole ? he got the right size, he in the gym!?
Cole showcased his hops in the 2012 NBA Celebrity game by finishing an alley-oop dunk from Kevin Hart. He trains with skills coach Chris Brickley, who's worked with Carmelo Anthony and D'Angelo Russell.
J. Cole Dunks in Celebrity All-Star Game
His opportunity may already be here. The Detroit Pistons took the bait and offered Cole a tryout via tweet. It reads, "hit us up for that tryout," and "this is for all the dreamers." Folks, I think we have an intro for a new J. Cole song right here.
Does he actually have what it takes? Cole stands 6-foot-3 and has shared the floor with NBA players. Last summer, he ran with Melo, Lance Stephenson, JR Smith, and Trae Young in New York City. He appeared to hold his own despite the notorious suffocating defense at the Hoodie Melo memorial Life Time Athletic at Sky gym.
Cole has his fair share of skills as a basketball player, but making an NBA team is a daunting task at 35.