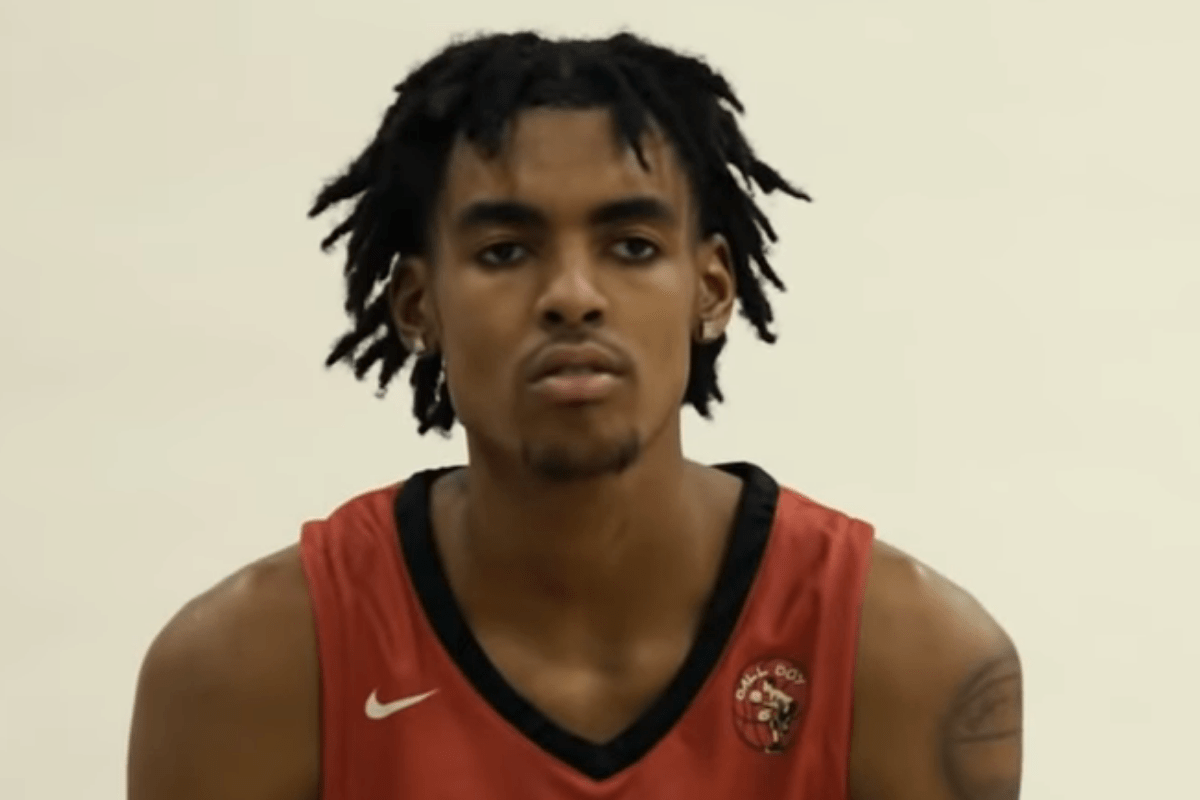 Screenshot from YouTube
Drawing comparisons to Kevin Durant is a no small feat, especially for a 17-year old. Emoni Bates takes it in stride.
The 6-foot-8, 200-pound forward out of Ypsi Prep Academy in Ypsilanti, Michigan is the consensus number one recruit in the Class of 2022, according to 247Sports, Rivals, and ESPN. It's easy to see why.
Emoni Bates Highlights
Bates's strongest aspect is his motor. He plays with intensity and looks ready to go to war when he scores a basket, casting a "you can't guard me" scowl in the direction of his opponents. Bates has a skinny frame like Durant that allows him to slither through defenses. Once in the paint, he finishes with strength and soft touch around the rim. His dunks are even like Durant's — they whip the ball through the rim thanks to their length.
The five-star high school basketball player is as proficient a scorer as anyone. He uses jabs, fakes, and hesitations to misdirect the defense and uses nifty ball-handling skills to take advantage. His shot is smooth. He's a threat from beyond the arc with keen ability to shoot off the dribble. He has a sleek hesitation move where he sizes up the defense then rises for a shot.
Bates has a good nose for the ball. He crashes the boards offensively and has strong hands. Whenever he's around the rim, he keeps his hands up, ready to pounce. On defense, he has shot-blocking ability and the athleticism to guard every position. He has room to sharpen up on the defensive end and be a two-way force.
The biggest knock on Bates' game is his strength. Remember this kid is still in high school, and there is plenty of time to hit the weight room.
Emoni Bates Basketball Recruiting
RELATED: Jalen Duren's Stock Is High, But His Ceiling Is Even Higher
The star small forward is weighing his options on where he'll play college basketball. According to 247Sports Crystal Ball, the country's top player in the 2022 recruiting class is highly considering Michigan State and Kentucky. He also has scholarship offers from DePaul, Florida State, and Michigan. Spartans head coach Tom Izzo has been seen watching many of Bates' AAU games on the Nike EYBL circuit.
However, we may never see Bates in the NCAA ranks. He faces a unique situation because of his age and the NBA Collective Bargaining Agreement (CBA). The "one-and-done" rule instated in 2005 raised the draft age requirement to 19, making high school players ineligible to jump straight to the league. The rule has been a subject of discussion in recent years, with possible abolishment coming before the 2022 NBA Draft — the draft immediately after Bates's senior year of high school.
If the rule is terminated, Bates plans to head straight for the NBA. This wrinkle has other bluebloods like Duke, Kansas, and North Carolina hesitant in pursuit of the high school phenom.
Emoni Bates shows the potential to be basketball's next great superstar. The hype surrounding him is similar to other young prodigies like LeBron James and Zion Williamson. As a 15-years-old, he was labeled as the best freshman high school basketball player ever. Not bad.
Bates has the mindset and work ethic to continue growing his game and handle the pressure. This desire to improve combined with his natural talent will carry him to the NBA.
Maybe sooner than later.
This article was originally published March 18, 2020.
UPDATE (April 14, 2020): Despite a shortened season in 2019-20 due to the coronavirus pandemic, Bates won the Gatorade National Boys Player of the Year award, making him the first sophomore to ever do so.
NBA veterans from Jayson Tatum to Dwyane Wade congratulated Bates on social media, who finished his second high school season averaging 33.1 points, 9.1 rebounds, 2.9 assists and 2.3 steals per game.
UPDATE (June 29, 2020): On ESPN's SportsCenter telecast, Bates announced that he is verbally committed to playing college basketball for the Michigan State Spartans.
Although Bates is "unsure what the future may hold" when it comes to playing professionally, whether in the NBA or overseas, this is a huge boost to Tom Izzo's program landing, arguably, the best high school player since LeBron James.
Emoni Bates Decommits From Michigan State
UPDATE (May 3, 2021): 2022 top prospect Emoni Bates announced on Instagram that he has decomitted from Michigan State and reopened his recruitment.
It's not a total shock that Bates rescinded his MSU commitment. Many recruiting insiders have speculated that the Ypsilanti, Mich native will go pro following high school, whether that be the increasingly popular G-League route or overseas.
Prior to the 2020-21 season, Bates transferred from Lincoln High School to Ypsi Prep Academy—a prep school opened by his father Elgin. The elder Bates serves as the school's head basketball coach.
The team was set to square off against Bronny James, son of Los Angeles Lakers superstar LeBron James, Amari Bailey, and Sierra Canyon in November in Dallas, Texas. However, the game was rescheduled to January for COVID-19 reasons and canceled a second time.
With this announcement, the chances of seeing Bates on a college basketball court are essentially nonexistent.