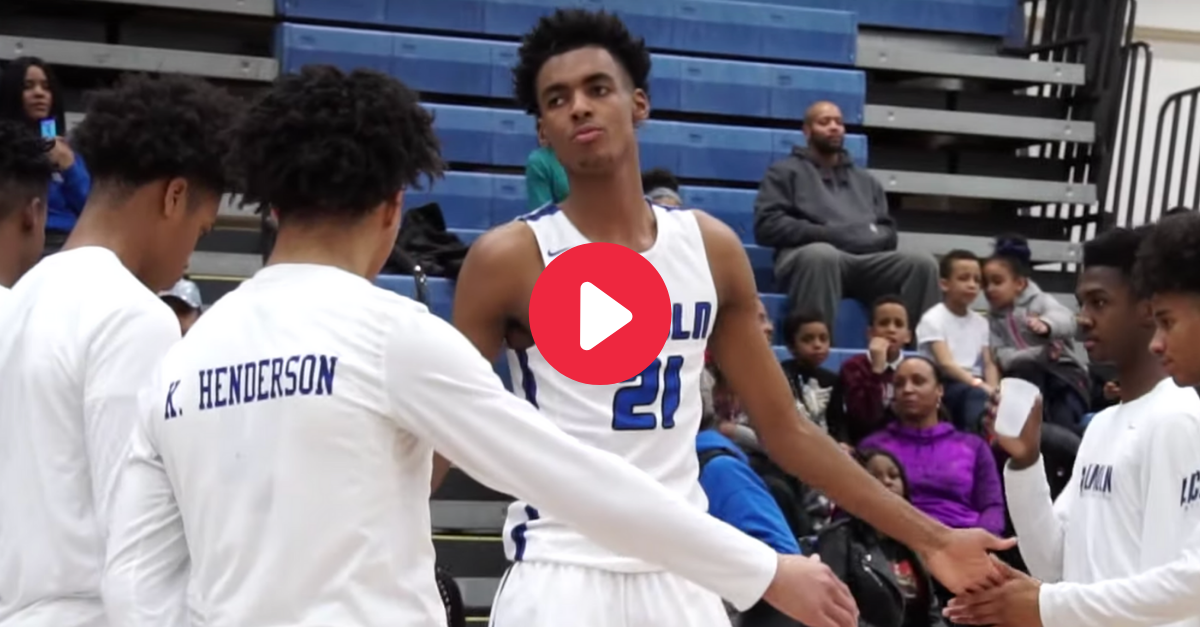 Screenshot from YouTube
If you love basketball and don?t know the name Emoni Bates just yet, it?s time to start paying attention. The 16-year-old phenom is special and with a skill set well beyond his years. He?s widely considered as one of the best high school prospects since LeBron James and he continues to show why each time he steps on the court.
Before Ypsilanti Lincoln High School faced off against Chelsea, everyone knew the 6-foot-9 sophomore was a lethal scorer. He?s basically the high school version of Kevin Durant with his long, skinny frame and silky-smooth jumper. Then, on February 18, 2020, Bates put on a scoring clinic for the ages.
The Tuesday night game in Michigan was an instant classic, and the five-star prospect dropped a career-high 63 points and snatched 21 rebounds in a double-overtime win.
Emoni Bates 63 points vs. Chelsea
RELATED: America?s No. 1 Junior Already Has NBA-Level Talent
Goodness gracious. That?s really all anyone can say. Anyone dropping that kind of stat line is insane, but a high school basketball player? A sophomore? Get out of here. No wonder he?s the nation?s top high school player in the 2022 recruiting class.
Not only did Bates ? the reigning Michigan Gatorade Player of the Year ? set his new career high, but his team also got the 108-102 double-overtime win, which helped the Railsplitters improve to 14-2 overall, according to MLive.com.
Highlight-reel dunks. Crafty layups. 3-point range. Free throws. You name it. Ypsilanti Lincoln?s Emoni Bates has it all in his bag of tricks, and it?s why scouts are already putting his name in NBA Draft conversations.
There?s still plenty of time until Bates hits the college basketball scene, but you better believe the biggest names are already after the boys basketball superstar.
Ypsilanti, Michigan is less than an hour away from Detroit and the University of Michigan in Ann Arbor. It?s a little more than an hour away from Michigan State in East Lansing, too. Those Big Ten schools will definitely be in the mix for the next couple of years. So will the likes of Duke and Kentucky.
The second half of his high school career will be a frenzy, and we all get a front-row seat to watching greatness with performances like this.