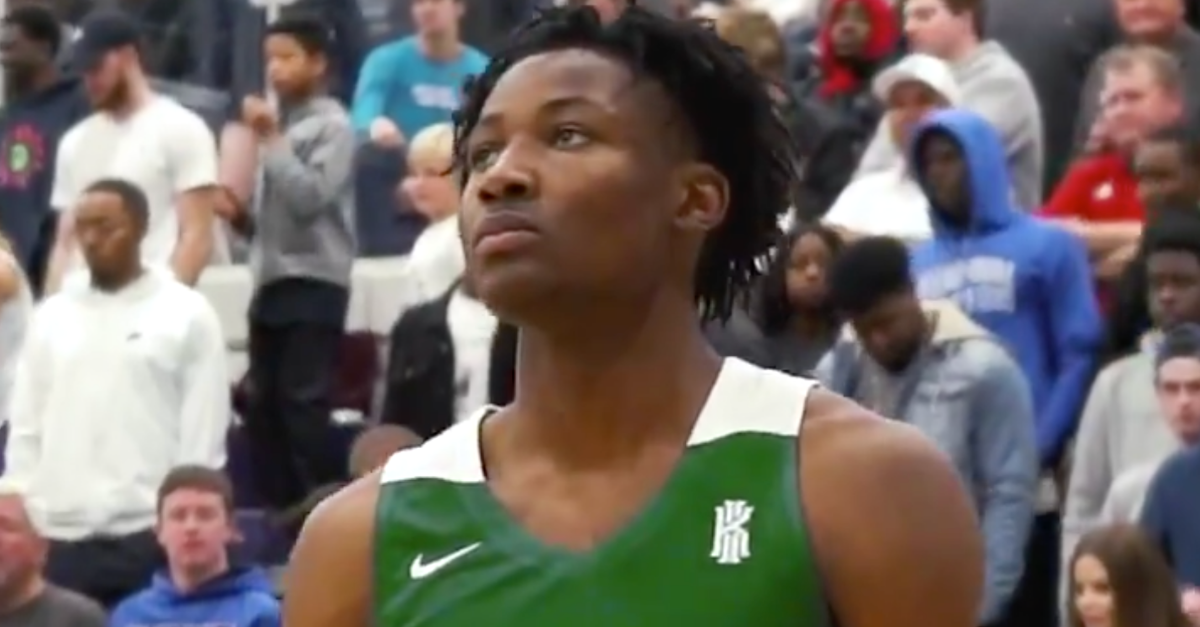 Screenshot from Twitter
The Patrick School in Hillside, New Jersey, has a history of producing NBA talent. Brooklyn Nets' point guard Kyrie Irving graduated from there in 2010. So did Dallas Mavericks forward Michael Kidd-Gilchrist the following year. High-caliber basketball players walk the halls year in and year out.
Jonathan Kuminga, a 6-foot-8 small forward, is next in line and could be the best yet to play for the Celtics.
Jonathan Kuminga Highlights
Before attending The Patrick School, Kuminga attended Huntington Prep in Huntington, West Virginia, and Our Savior New American School in Centereach, New York.
Kuminga — the consensus No. 1 overall prospect in the 2021 basketball recruiting class — is an athletic specimen. He drives with purpose to the rim and finishes over defenders with thunderous dunks and soft touch. He uses his 6-foot-11 wingspan — along with pure athleticism — to swallow rebounds and block shots. The five-star recruit's versatility ables him to reach the paint at will and guard any position. Kuminga's just scratched the surface on scoring creativity, too. He has a decent shot, and once it's more polished, he'll be a matchup nightmare for opposing defenses.
Jonathan Kuminga Recruiting
The high school junior — a native of the Democratic Republic of the Congo —  is currently undecided about where he'll play college basketball. He also has the option to reclassify to the class of 2020 but hasn't solidified a decision yet.
In November, he narrowed his college choices down to Duke, Kentucky, Washington, Florida State, Memphis, Texas Tech, Michigan, Georgia, Maryland, and Auburn.
The Blue Devils have been viewed as the favorite. Texas Tech became a player once they signed Kuminga's brother, Joel Ntambwe, who transferred from UNLV. LSU also made some noise in the Kuminga sweepstakes but didn't crack the top-10.
---
UPDATE (May 22, 2020): Kuminga took to Twitter as his list narrowed to four schools, plus a fifth option to turn pro. He announced his final five include:
— Auburn Tigers
— Duke Blue Devils
— Kentucky Wildcats
— Texas Tech Red Raiders
— NBA G-League
---
Jonathan Kuminga as NBA Prospect
NBA Scouts have hopped on the Kuminga hype-train. He's projected to go at the top of the NBA Draft in either 2021 or 2022; depending on his reclassification decision. He shows tremendous upside and fits well in today's NBA.
One thing is for sure: if you find yourself in an open lane between Kuminga and the basket, stay out of the way or you might become a poster.
This article was originally published February 13, 2020. It's been updated to track Kuminga's recruiting.