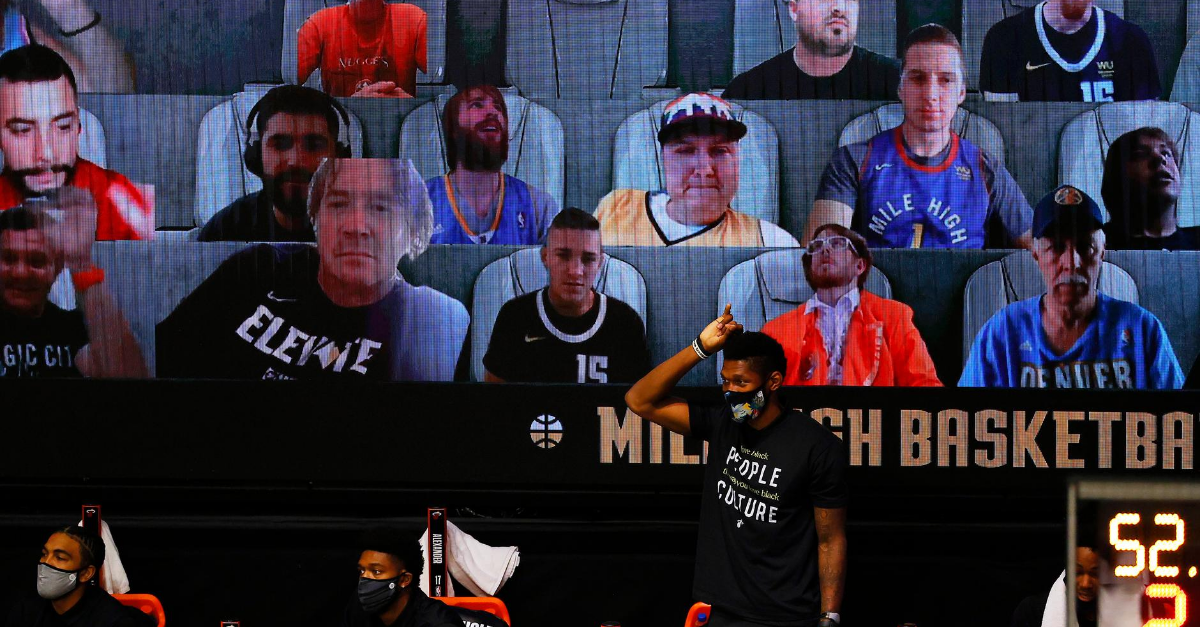 Kevin C. Cox/Pool Photo via AP
Adam Silver found a way to involve fans in the Orlando bubble without running the risk of spreading COVID-19. Behind the team benches are virtual seats on 17-foot tall LED screens, where NBA fans can sit courtside from the comfort of their homes.
Meet the virtual fan.
NBA Virtual Fan Sign Up Process
The NBA partnered with Microsoft Teams to make this all possible through their new "Together Mode". All fans need is a computer or device capable of running the Microsoft Teams App. Each game's home team is given seat priority.
Signups differ around the league. The Indiana Pacers and New Orleans Pelicans have forms on their sites, while the Boston Celtics give precedent to season ticket holders in addition to friends and families of players. Registration is subject to change during the playoffs.
Michelob Ultra, the official beer sponsor of the league, is also running ticket giveaways through social media.
Rules for Being NBA Virtual Fan
RELATED: Complete Schedule for 2020 Restart in the NBA Bubble
Once chosen, fans will receive a Microsoft Teams username and password over email. A meeting invitation is then accessible on your calendar. You're expected to log on to the game feed 30 minutes prior to tipoff.
Fans are required to follow the rules stated in the league's acknowledgement and authorization form. Basic rules include one fan per seat and no offensive behavior or inappropriate messaging. Designated moderators hold the power to kick spectators if necessary. Audience members are expected to stay in their seats for the entire duration of the contest. If a fan is absent for a lengthy time period, their seat can be reassigned.
Find the NBA's step-by-step instructions for the entire virtual fan experience here:
Download Microsoft Teams
Log-In to Microsoft Teams
Find the Meeting Invitation
Optimize the Settings
Join the Meeting
Optimize Your Viewing Experience
The NBA restart's virtual fan section hasn't hindered famous cameos. Chris Bosh was in the virtual stands on July 30 during the Los Angeles Lakers vs. LA Clippers game. Paul Pierce sat in front of Jayson Tatum's son Deuce for the Celtics' matchup against the Portland Trail Blazers on August 2.
A cigar-smoking Dirk Nowitzki cutout showed support for the Dallas Mavericks in their July 31 game against the Houston Rockets. It's only a matter of time before Jack Nicholson and Billy Crystal show up.
And of course, Shaquille O'Neal made quite a few appearances.
Shaq Joins NBA's Virtual Fan Section
The NBA season restart is so far, so good. It was difficult to imagine the league pulling this off when play was suspended because of the coronavirus pandemic on March 11, but they did the dang thing. Who would've thought we'd see NBA games with fans cheering for their favorite teams on video boards in real-time this year? At this point, nothing is surprising.

This article was originally published August 7, 2020.