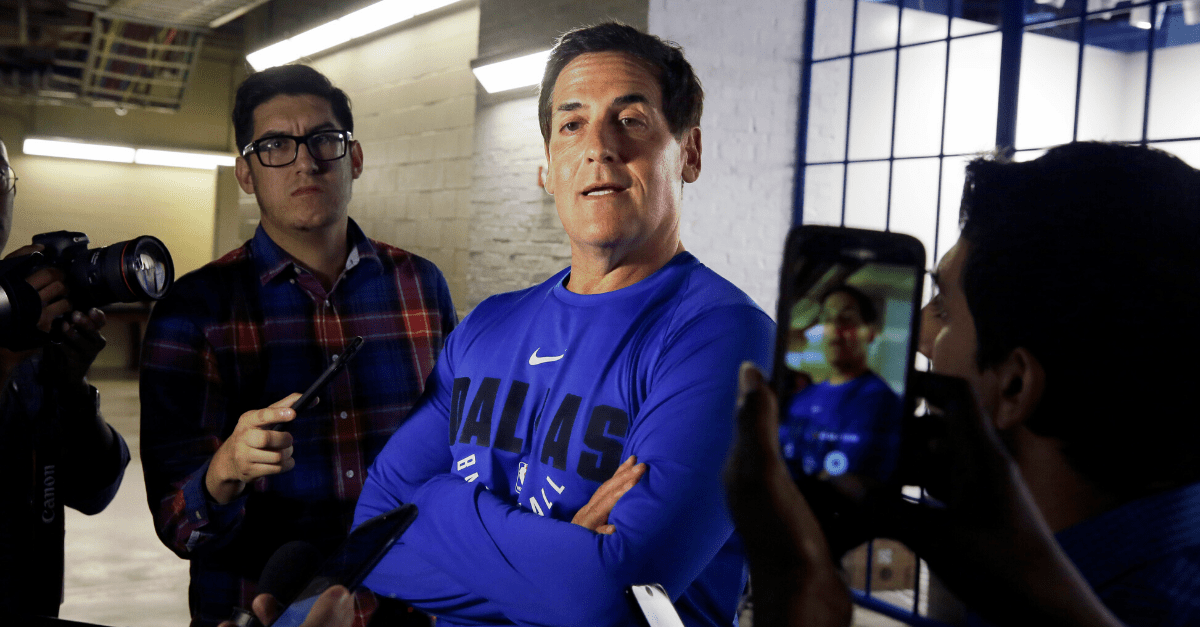 AP Photo/LM Otero
One of the most famous owners in all of sports is also known for his time on television as an investor, so it shouldn't be shocking that someone who spends time looking for more ways to make money is worth billions of dollars.
Mark Cuban, billionaire owner of the NBA's Dallas Mavericks, has been making money for decades, leading to a pretty sizable impact on his net worth that's sure to inspire the entrepreneur in all of us.
Early Life
Cuban came a long way since growing up in Pittsburgh, Pennsylvania. His mother, Shirley, worked various odd jobs while his father, Norton Cuban, made his living as a car upholsterer. Cuban learned how to make money as a kid by selling things like stamps and coins.
He skipped his senior year of high school and enrolled early at the University of Pittsburgh. After one year, he transferred to the Indiana University in Bloomington and graduated with a Bachelor's of Science degree in management. He put that degree to work by moving to Dallas, Texas, and working as a salesman at Your Business Software. He was eventually fired for closing a sale without the CEO's knowledge.
He then took clients from his time there and started his own company, MicroSolutions. When that company took off in 1990, he sold it to CompuServe for $6 million.
Five years later, Cuban and another Indiana alumna started the company Audionet. Cuban and co-founder Todd Wagner both shared a passion for webcasting and Indiana Hoosiers basketball. Audionet would eventually become Broadcast.com in 1998. The next year, with the site making millions in revenue, they sold Broadcast.com to Yahoo in a stock-swap deal valued at over $5 billion.
Buying The Dallas Mavericks
Not long after selling his Yahoo deal, Cuban joined the ranks of NBA ownership when he paid $285 million for a majority stake from H. Ross Perot, Jr. to takeover as owner of the Dallas Mavericks basketball team.
According to Forbes, the Mavericks are now worth over $2.4 billion.
Since taking over as the majority owner, the Mavs franchise has completely turned around, making the NBA Finals, facing the Miami Heat twice since 2006, and bringing the 2011 NBA Championship to the American Airlines Center with Dirk Nowitzki leading the way.
Shark Tank Investments
Obviously, Cuban has been a great businessman for decades. So his spot on the show Shark Tank just makes sense, as he's busy looking for the next great product to invest his money in. It is ventures like these that helped him build and keep his money, investing in as many different products as possible.
He joined the ABC TV show in 2011 during its second season. According to Sharkalytics, Cuban's invested $19.85 million during his time on the show, including a $2 million investment into Ten Thirty One Productions.
Other Business Ventures and Personal Life
Cuban's co-founded and owned numerous other businesses over the years, some of which include 2929 Entertainment, Magnolia Pictures, Landmark Theatres, AXS TV, and investing in various real estate projects.
Purchasing his Gulfstream V jet in 1993  was credited by Guinness Book of World Records as the "largest single e-commerce transaction" at the time with a price tag of $40 million.
He also appeared on the 2007 season of Dancing with the Stars with Kym Johnson, being the fifth couple of contestants eliminated.
Cuban and his wife, Tiffany Stewart, donated $5 million to Indiana University at Bloomington to create the Mark Cuban Center for Sports Media and Technology. He's donated millions more to various causes over the years, including women's causes and natural disaster relief funds both nationally and in Texas.
Mark and Tiffany have two daughters together, Alexis and Alyssa.
Mark Cuban Net Worth
Very few people can say they've been as smart a business man as Cuban over the course of his life. It is why Cuban's e-book How to Win at the Sport of Business: If I Can Do It, You Can Do It is worth a read since he would be the guy to listen to on success.
With all of his investments and ownership, it should come as no surprise that Mark Cuban's net worth is estimated north of $4.3 billion in 2020.
Cuban ranks as in the top 200 richest people in the United States, according to the Forbes 400.
This article was originally published April 27, 2020.