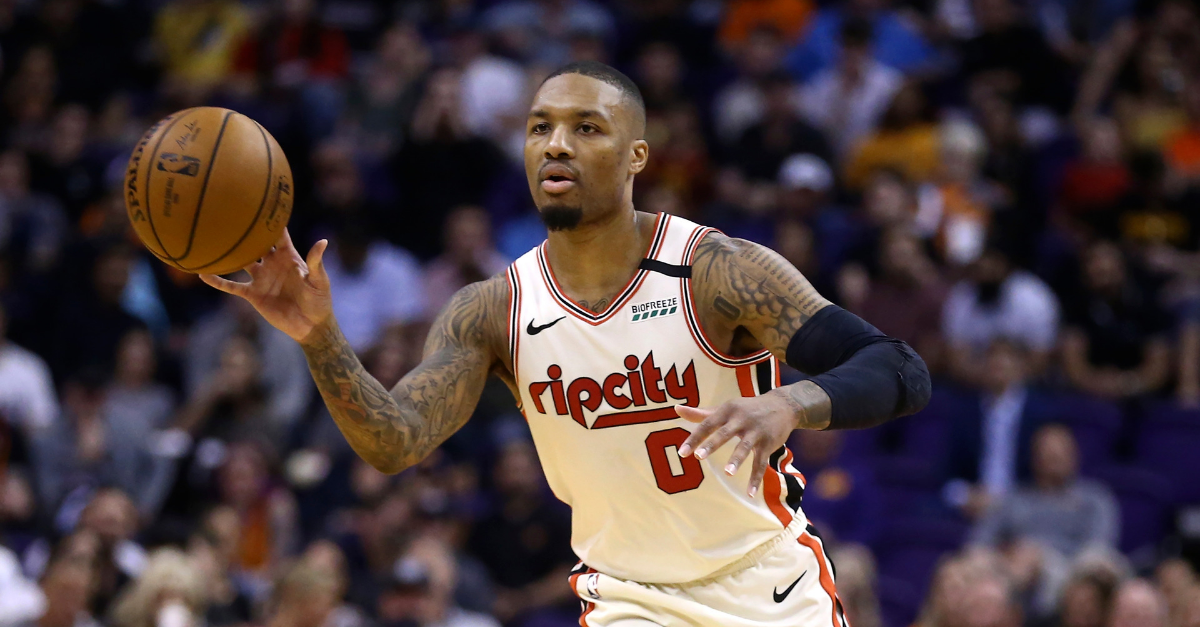 AP Photo/Ross D. Franklin
Damian Lillard is an assassin on the court. In the final seconds of games, he becomes John Wick. (Only *spoiler alert* no doggos are harmed in his work.) The five-time NBA All-Star revels in pulling up from half-court and launching a Logo Lillard special. It's worked out for him on the court and in his bank account.
Damian Lamonte Ollie Lillard was born on July 15, 1990, in Oakland, California. He attended St. Joseph Notre Dame High School?Jason Kidd's alma mater?before transferring to Oakland High School. He made First Team All-League as a junior and senior but wasn't heavily recruited. He committed to play college basketball at Weber State University.
College and NBA Career
Lillard excelled at Weber State and skipped his senior season to enter the 2012 NBA Draft. He was the sixth overall pick by the Portland Trail Blazers. Rip City's face of the franchise has established himself as one of the top NBA players in the game. Here's what he's accomplished so far:
Weber State

? AP/NABC Third-team All-American (2012)

? 2x Big Sky Player of the Year (2010, 2012)

? 3x First-team All-Big Sky (2009, 2010, 2012)

? Big Sky Freshman of the Year (2009)

?No. 1 retired by Weber State Wildcats
Portland Trail Blazers
? 5x NBA All-Star

? All-NBA First Team (2018)

? 4th in 2018 MVP Voting

? 2x All-NBA Second Team (2016, 2019)

? All-NBA Third Team (2014)

? NBA Rookie of the Year (2013)

? NBA All-Rookie First Team (2013)
In the 2019 playoffs, he spectacularly crushed the Oklahoma City Thunder's hopes in the first round. Portland beat the Denver Nuggets in the second round before falling to the Golden State Warriors in the Western Conference Finals. Lillard, CJ McCollum, and company are battling for a playoff spot once the NBA resumes play in Orlando after the season was suspended due to coronavirus. In 2020, the West will go through LeBron James and the Los Angeles Lakers.
NBA Contracts
According to Spotrac, the American professional basketball player has earned $122,106,658 thus far in his NBA career.
A majority of that cash comes from the five-year, $139.8 million deal he signed prior to the 2015-16 season. In July 2019, the Blazers signed Lillard to a four-year, $196 million supermax contract extension. The deal kicks in at the start of the 2021-22 season. The final year of the supermax includes a $54.3 million player option.
Endorsement Deals
Lillard has endorsement deals with Adidas, Powerade, Spalding, Panini, Foot Locker, JBL, Biofreeze, Moda Health, and Hulu.
The Oregon-based point guard initially signed a multi-year shoe deal with Adidas in 2012. Two years later, he negotiated a new deal for 10 years worth up to $100 million. His signature shoe line is called the Adidas Dame.
Rap Career
Off the court, Lillard raps under the moniker Dame D.O.L.L.A. The latter part stands for Different On Levels the Lord Allows. The rapper's released three studio albums: The Letter O in 2016, Confirmed in 2017, and Big D.O.L.L.A, which features Lil Wayne and Jeremih, in 2019. He has his own record label called Front Page Music.
Dame started #4barFriday on social media, in which anyone can film themselves rapping a short verse.
Damian Lillard Net Worth
Damian Lillard's net worth is estimated around $70 million in 2020, according to Celebrity Net Worth. That number is only expected to grow once the new contract kicks in and the endorsement deals keep coming. Dame D.O.L.L.A is bound to continue living up to his namesake.