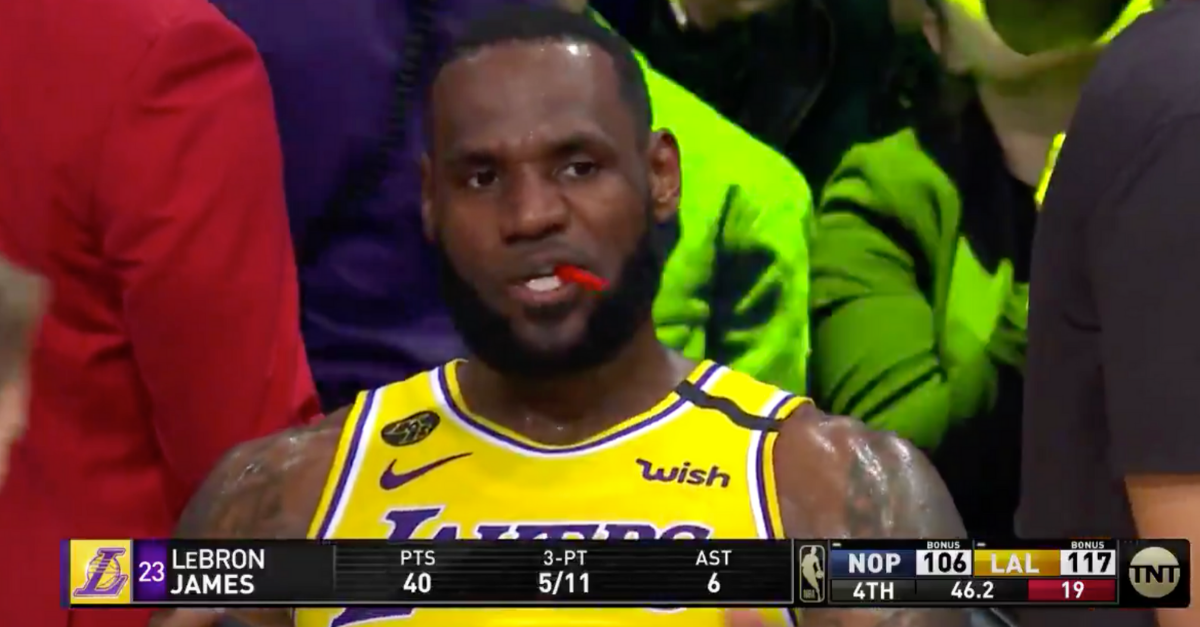 Screenshot from Twitter
Los Angeles Lakers superstar LeBron James is truly something else. Whether it?s on the court or in the community, people are amazed by his every move and spark debates about it, even if it?s completely unnecessary. What happened during a Tuesday night game proved as much.
In a highly anticipated matchup against rookie Zion Williamson and the New Orleans Pelicans ? an NBA game littered with storylines ? King James showed his might. He scored a season-high 40 points, snatched eight rebounds and dished out six assists in a 118-109 win for the Lakers. It was impressive, no doubt, but that?s not what got everyone talking.
In the closing minute of the fourth quarter at Staples Center, James was sitting at the end of the bench. And when the TNT cameras spotted him eating Red Vines licorice, the entire Internet blew up.
LeBron James Snacks on Red Vines
RELATED: LeBron James Shuts Up Heckler From the LA Lakers Bench
Dropping a 40-point game and eating candy on the bench is a pretty strong flex, but it didn?t come without some controversy. People finally stopped talking about whether or not James attended the Kobe Bryant memorial service for a few minutes to discuss something we all should have an answer to.
Red Vines or Twizzlers?
Sometimes, you don?t have a choice. It?s not like LeBron James was going to turn up his nose at a fan because they didn?t have the other at the end of the game. The man just wanted some damn candy and that was the only thing available at the time. But leave it Shaquille O?Neal to take it to another level. Even Dwyane Wade got in on the action.
?White guys call it Red Vines, black people call it Twizzlers,? Shaq said during TNT?s postgame show.
The amount of strange tweets this caused is something ridiculous. They are two different candies, but it sparked a rather heated social media debate.
For the record, Twizzlers are better, but nobody can fault LeBron James for treating himself after another legendary performance.