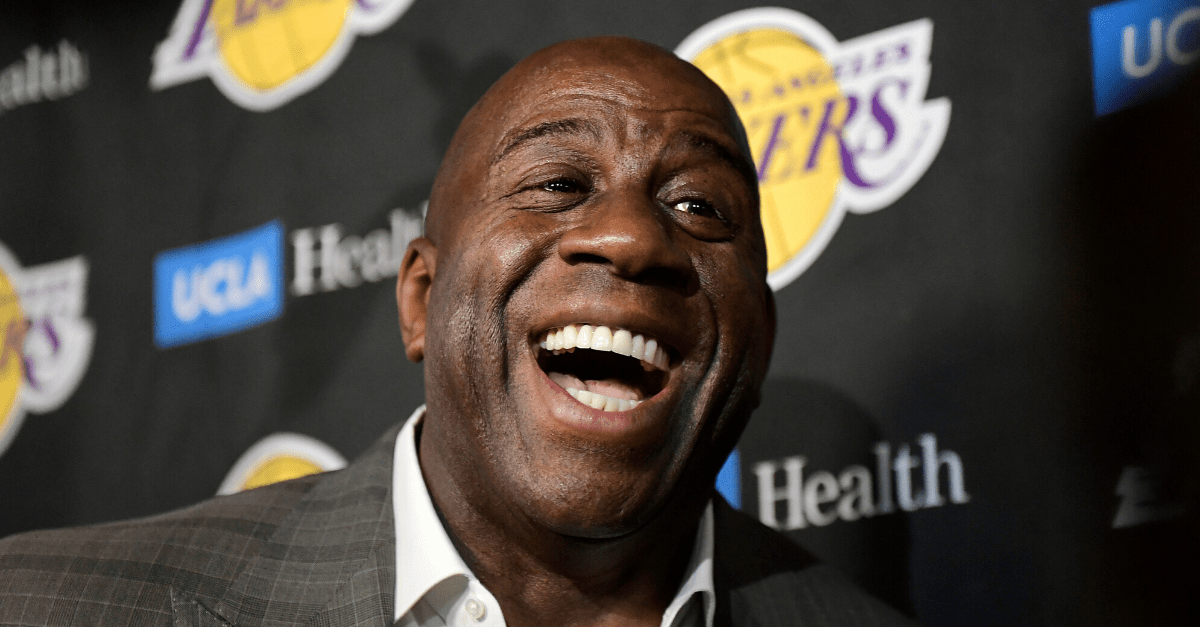 AP Photo/Mark J. Terrill, File
Earvin "Magic" Johnson Jr. is one of the greatest players in NBA history. Among the pantheon of basketball legends, Johnson deserves credit for reigniting excitement in the NBA alongside career rival Larry Bird. His size and unique skill set redefined the point guard position.
Born as Earvin Johnson in Lansing, Michigan, the 6-foot-9 basketball player was dedicated to the game from an early age. He earned the nickname "Magic" as a sophomore at Everett High School after recording a triple-double of 36 points, 18 rebounds, and 16 assists. The basketball icon then went on to have a well-decorated career—both in college and professionally—that places him among the sport's greats.
Magic's talent extends beyond the court into business. From movie theaters and Starbucks to sports franchises and 24-hour Fitness clubs, Johnson has been involved in several successful business ventures in his post-basketball career.
That being said, just how much is the Magic man worth?
College and NBA Career
It's hard to quantify the impact Magic made on both collegiate and pro basketball. Suffice to say that the Hall of Famer was as important to the growth of the game as any player in history.
Here is a short list of his accomplishments on the floor:
Michigan State
— Consensus first-team All-American (1979)

— NCAA Champion (1979)

— Final Four Most Outstanding Player

— No. 33 retired at Michigan State University
Los Angeles Lakers
— Five NBA Championships

— Three NBA Finals MVP Awards

— 3-time NBA Most Valuable Player

— 12 NBA All-Star Game appearances

— 9-time All-NBA First Team

— NBA All-Rookie First Team

— First overall pick in 1979 NBA Draft

— Naismith Basketball Hall of Fame Class of 2002

— No. 32 retired by Lakers
The Lakers legend also won an Olympic gold medal in 1992 as part of the United States' "Dream Team"—arguably the greatest basketball team ever assembled.
NBA Contracts
Magic made history in 1981 when he signed a 25-year, $25 million contract, the largest in sports history at the time. The contract made the Michigan State University product a Laker for life and set him up for future business endeavors. Unfortunately, Magic's playing days were cut short after he contracted HIV in 1991.
The next year, Lakers' owner Jerry Buss gave Johnson a contract for $14 million per year in return for all the years he wasn't the highest-paid player in the league. This contract allowed Johnson to coach the team on an interim basis—at Buss's request—for a 16-game stint during the 1993-94 season for no additional compensation. He resigned from coaching at the end of the season with a 5-11 record.
Buss also encouraged Magic's intrigue in business and taught him the details of Lakers' contracts and how the organization functioned. Buss eventually sold an ownership stake to Johnson in 1994, which he sold in 2010.
The life-long Los Angeles Laker officially ended his NBA playing career after a brief comeback during the 1995-96 season. Johnson's five NBA titles put him in elite company, as only 25 other NBA players have ever reached that number.
Magic Johnson Enterprises
Johnson formed Magic Johnson Enterprises in 1995 when he purchased an equity stake in a movie theater in Baldwin Hills—a suburb of Los Angeles. Since then, the business empire's portfolio has grown immensely and includes ventures in T.G.I. Fridays, health clubs, movie theaters, and real estate.
The Lakers' star gained notoriety as a businessman in 1998 when he bought over 125 Starbucks locations. The stores thrived by focusing on the urban market. He enjoyed success through Starbucks until he sold his stores back to the company in 2010.
Magic entered the real estate game in 2001 when he formed the Canyon-Johnson Urban Fund in alliance with hedge fund Canyon Capital. The fund's goal is to develop real estate in urban communities. The collaboration has 31 developments in 13 states and Washington D.C.
Magic Johnson Enterprises is reported to have a net worth of $700 million.
Team Ownership and Lakers' Front Office
In March 2012, the retired professional basketball player led an ownership group that purchased a majority stake in the Los Angeles Dodgers for $2 billion. The team has enjoyed success under Johnson's ownership. They've won two National League pennants (2017, 2018) and the NL West division every year since 2013.
The NBA legend purchased the WNBA's Los Angeles Sparks in 2014. The Sparks won the WNBA championship in 2016. Additionally, Johnson is a part-owner of the Los Angeles Football Club, an expansion Major League Soccer team and second in the LA market. LAFC played its first game in 2018.
Johnson returned to the Lakers in 2017 as president of basketball operations. The highlight of his tenure was signing superstar Lebron James. The former point-guard abruptly resigned from his role in April 2019. The Lakers failed to reach the NBA playoffs during Johnson's front office tenure.
Magic Johnson Net Worth
According to Celebrity Net Worth, Magic Johnson has a net worth around $600 million.
The basketball star turned businessman doesn't look to be slowing down anytime soon. He's open to new ventures and has proved he's equipped with the business knowledge to be successful in whatever he pursues.