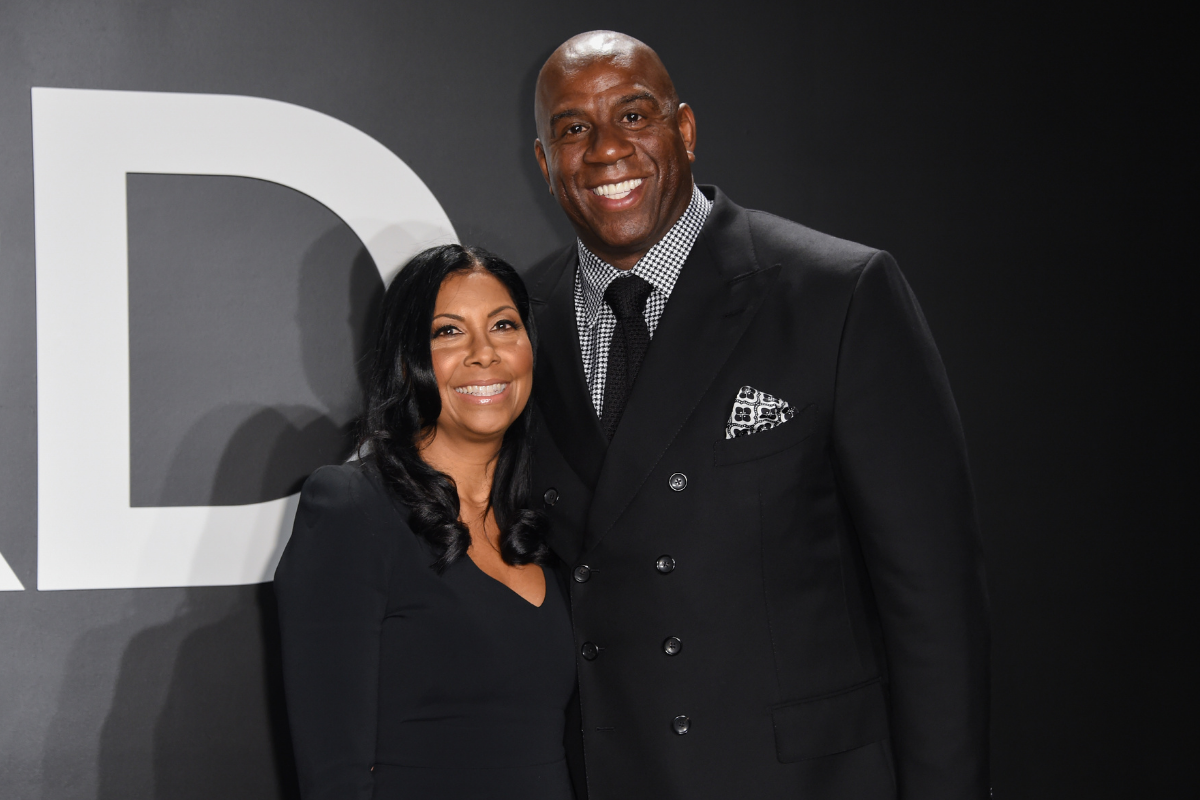 Photo by Rob Latour/Invision/AP
From New York City to China, the world held its breath when Earvin "Magic" Johnson held a press conference at the Los Angeles Forum on November 7, 1991.
The Los Angeles Lakers point guard and global basketball star announced he was HIV positive. Without going into much detail, he disclosed he contracted the disease through one of his many sexual partners throughout his playing career.
A widely stigmatized and murky topic at the time, Magic immediately retired from the NBA.
To his right sat his wife Cookie Johnson ? a place eternally reserved for her.
Magic Johnson's Wife Cookie Johnson
RELATED: Magic Johnson?s Net Worth: The Showtime Laker With a Savvy Business Mind
Johnson and and Earlitha "Cookie" Kelly were college sweethearts at Michigan State. They married in 1991 at a small ceremony in Lansing, Michigan.
Forty-five days later, Magic confessed his diagnosis to his wife. Cookie was pregnant at the time and had to be tested for herself and the couple's unborn child. Fortunately, the test came back negative.
Their son, Earvin Johnson III, otherwise known as EJ, was born on June 4, 1992. EJ publicly came out as gay in 2013. He was a cast member of the E! reality show Rich Kids of Beverly Hills. He has an active social media presence with over 711,000 followers on Instagram.
While EJ was Cookie's first child, Magic had previously fathered a son, Andre Johnson, in 1981. Andre was raised by his mother Melissa Mitchell, but Magic made it a point for his oldest son to visit him each summer. Magic and Cookie adopted a daughter, Elisa, in 1995.
In 2016, Cookie sat down with ABC News to share her side of the relationship. In describing the ups and downs of their time together, she elaborated on her initial reaction to Magic's HIV:
"It scared me to death. I mean, I fell to my knees," Cookie told [Good Morning America] co-anchor Robin Roberts. "We both fell on our knees and we started crying."
Devastated by the news, the NBA star told Cookie he completely understood if she wanted to leave. She dismissed the idea and dedicated herself to helping him beat the disease.
Her memoir, Believing in Magic: My Story of Love, Overcoming Adversity, and Keeping the Faith, was released in September 2016.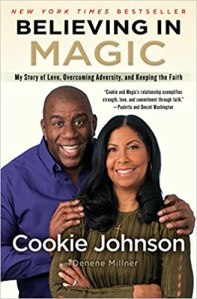 Cookie happily leaves the spotlight to her husband with the million-dollar smile. The basketball legend is much more than a gold-medal winner and point guard who battled with Larry Bird and the Boston Celtics. He's part owner of the Los Angeles Dodgers, has made multiple appearances at the White House, started a movie theater chain, has a spot in the Basketball Hall of Fame and a star on the Hollywood Walk of Fame, and created the Magic Johnson Foundation to help combat HIV.
In April 2020, Magic shared his thoughts on the similarities between HIV and the coronavirus pandemic and COVID-19 outbreak ? specifically how they both affect the African-American community.
No matter what venture Magic is involved in, Cookie is right there for support.