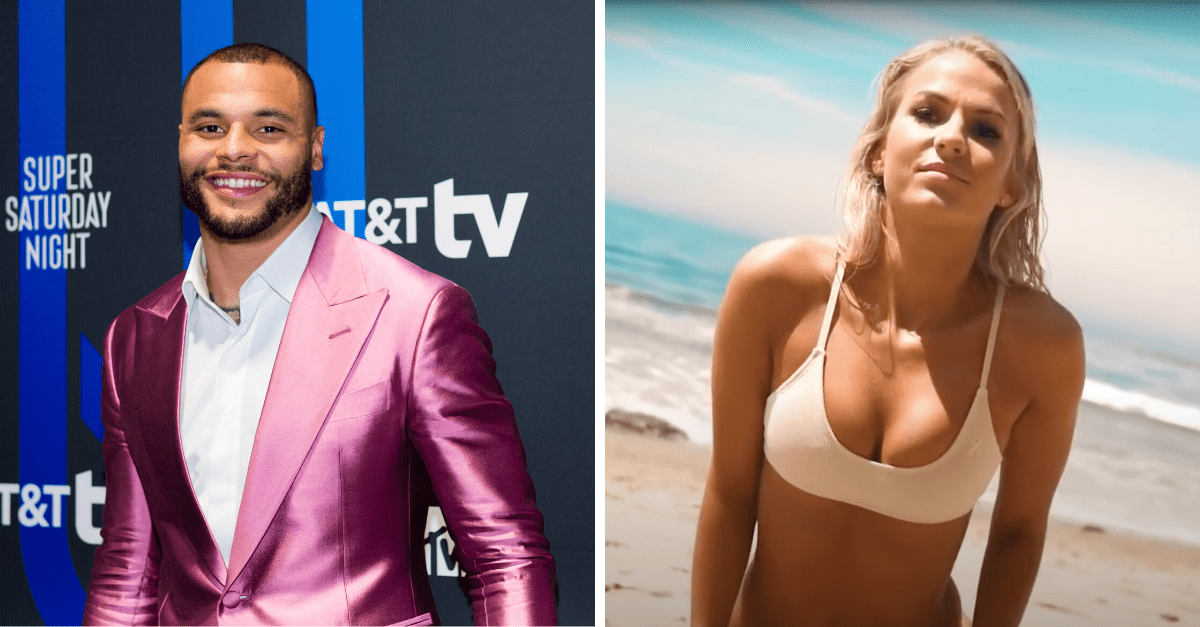 Photo by Scott Roth/Invision/AP (left), Screenshot from YouTube
NFL quarterbacks are some of the most high-profile athletes in the world. Almost every starter makes more than $20 million per year (hello, Patrick Mahomes) unless they're still young and not making huge money like Kyler Murray, Deshaun Watson and Joe Burrow.
Dallas Cowboys quarterback Dak Prescott is definitely no exception. The two-time Pro Bowl passer and former fourth-round pick in the 2016 NFL Draft is the face of "America's Team." That means the $33-million quarterback is scrutinized for everything he does on and off the field.
Prescott likes to keep his private life pretty private for the most part. We know the Prescott family has endured plenty of tragedy and difficult times. His brother, Jace Prescott, died at 31 in April 2020. His mother, Peggy Prescott, passed away in 2013 from colon cancer.
When it comes to who the 26-year-old Sulphur, Louisiana, native and former Mississippi State University Bulldog is dating, you won't find him posting about any of his relationships on Twitter or Instagram. Still, that doesn't mean he isn't in high demand in the dating world.
In fact, he once dated a Playboy model named Dallas. Yes, the biggest star in Dallas was linked to a model named Dallas. You can't make this stuff up.
Dak Prescott Reportedly Dated A Playmate Named Dallas
RELATED: Jimmy Garoppolo Dated a Porn Star, But Still Hasn't Found Love
Dallas Nicole Parks was a 23-year-old Playboy model from Austin, Texas, who participated in the annual Playboy Miss Social competition, an event that now appears to be kaput.
Parks was rumored to be seeing Dak Prescott in 2016, sometime after she also reportedly dated Johnny Manziel. There's even a picture of her next to the former Texas A&M and Cleveland Browns castaway.
Parks often posts photos on social media of her Dallas Cowboys jerseys and is apparently more than just a fan of the one and only Dak Prescott.
Prescott and Parks dated sometime in 2016, but their "relationship" came to a screeching halt once her name became public. The Cowboys reportedly told Prescott to "cool it" and apparently broke things off with her.
She took to Twitter to bash the quarterback, saying he was "fake as his character on the field" and if you "wanna be treated like shit…go to him." Shortly after, she told everyone she was hacked. Then she said she was drunk. Which is it, Ms. Dallas?
Parks later cleared the air regarding her love for Texas quarterbacks.
"I never dated Johnny, I don't date dak. So from the source let me enjoy football and stop using me as a prop for these rookies," she tweeted in October 2016.
Prescott, too, came out and publicly said he didn't even know who Dallas Nicole Parks was. That's interesting considering they've taken a picture together. But hey, maybe it's photoshopped.
"Funny Fact: Linked to a Girl Named Dallas that I Don't Even Know just bc I play for Dallas lol "come on man"(MNF Voice)," his tweet read.
Before getting to who else the Dallas Cowboys quarterback has dated, let's take a second to appreciate that Dak Prescott dated a girl with the first name of the city he plays in.
Can you imagine Tom Brady marrying someone named Tampa? What if Russell Wilson ditched Ciara for a Seattle? Ryan and Nashville Tannehill or Cam and Charlotte Newton would also make pretty good couple names. Please, Josh Allen, find someone named Buffalo. And if there are any women named Pittsburgh, look up Ben Roethlisberger in the phonebook.
Dak Prescott's Girlfriend Natalie Buffett
Dak Prescott hasn't publicly posted his "girlfriend," at least not in the way that Christian McCaffrey or Deshaun Watson do.
"Yeah you women need a lot of time. And my time is focused on football right now – my first love," he told Sports Media's Inside the Huddle in 2017.
However, a woman by the name of Natalie Buffett has posted about him. The 23-year-old model has quite the following on Instagram (19,000 followers), but she's set her account to private. Egotastic Sports, which apparently follows her or received a screen shot from someone that does, shared a photo of her post saying, "Happy birthday babe!" around the time of his birthday, which was July 29. Prescott responded in a comment calling her "my girl." Some might say that makes them Instagram official.
Buffett first was mentioned in headlines back in April 2020, when Prescott reportedly threw her a birthday party and invited teammate Ezekiel Elliott this offseason. The gathering drew criticism for ignoring social distancing rules during the COVID-19 and coronavirus pandemic.
Prescott reportedly began dating model Lauren Holley in January 2019, according to sports blogger Terez Owens. Later that year, SportsGossip.com captured photos of "Dak Prescott's new girlfriend" attending one of his games.
Prescott's alleged list of former ladies goes on.
He was linked to Instagram model Ireland Borba (he must be a big geography guy) in April 2019. He and model Estrella Nouri were rumored to be an item in 2018. She moved on to NFL star Odell Beckham Jr. before getting back with Prescott in October 2019, according to SportsGossip.com.
Prescott reportedly dated a woman named Yasmine Lee in 2017 and prior to her someone named Kayla Puzas. He and Puzas reportedly dated while they were in college for a couple years before splitting in 2016. She then scrubbed him off her social media accounts and then dated "Chrisley Knows Best" reality TV star Chase Chrisley.
Hopefully, Cowboys QB Dak Prescott is more focused on throwing touchdowns to Ezekiel Elliott and Amari Cooper this NFL season. The passer signed a one-year $31.4 million franchise tag deal for the 2020 season and has his sights set on the playoffs and winning a Super Bowl for Jerry Jones. However, Cowboys fans shouldn't be surprised if he posts about his new gal pal.