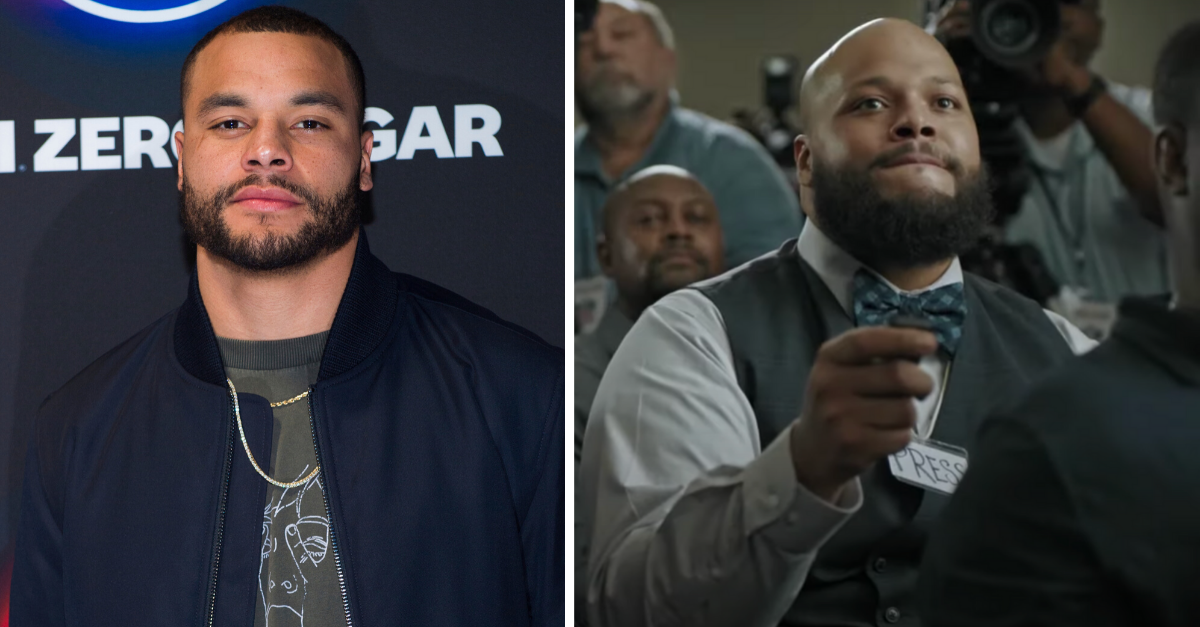 Scott Roth/Invision/AP (left), Screenshot from YouTube (right)
The Dallas Cowboys should have been celebrating their first-round pick of the 2020 NFL Draft that Thursday night. That?s what most teams did, at least, until they were on the clock again. Instead, the franchise was mourning the loss of a close family member.
Jace Prescott, the older brother of Dallas Cowboys quarterback Dak Prescott, died at his home in Orange, Texas on April 23, according to the Star-Telegram. He was 31 years old.
"It is with great sadness and support that we share the news of the passing of Jace Prescott today,? the Cowboys said in a brief statement minutes after their pick. ?The loss of Tad and Dak's brother is devastating. At this incredibly difficult time, the Prescott family asks only for prayers and respect for their privacy."
The cause of death has not been announced. The news was as shocking as it is sad.
Cowboys QB Dak Prescott?s Brother Jace Dies
RELATED: Dak Prescott Responds to Throwing Party During Quarantine
Dak Prescott has already, and unfortunately, experienced a lot of family tragedy in his young life. Prescott lost his mother, Peggy Prescott, to colon cancer in 2013. Now, his older brother is gone.
Jace Prescott, who recently starred in a Campbell?s Chunky Soup commercial with his brothers, was the middle of three brothers between Dak and Tad.
Dallas Cowboys owner Jerry Jones made a statement during a virtual press conference after the franchise selected Oklahoma wide receiver CeeDee Lamb with the No. 17 overall pick, according to a press release.
"We are so saddened that Dak has lost his brother. We want him to help him get through this time. Whatever we can do to help him get through this tough time. When you're young, and Dak is young, death is really hard to understand to think about or live with. I have a particular sensitively to players when they have a tragedy.?
The Cowboys also said both Stephen Jones and head coach Mike McCarthy shared their condolences on the conference call.
At 6-foot-6 and over 340 pounds, Jace Prescott was not just Dak Prescott?s older brother. He was a star football player as well. He was a standout at Haughton High School and and was an offensive lineman for Northwestern State University in Louisiana from 2008-10.
"He was a great kid who dominated games," Prescott?s high school football coach, Rodney Guin, told The Shreveport Times. ?He was a pleasure to coach — as were all the Prescott boys."
As if life during the coronavirus pandemic and COVID-19 outbreak wasn't hard enough, it got even tougher for the Prescott brothers and their family.
Dak Prescott Opens Up About Brother's Death
It's been a tough offseason for Dallas Cowboys quarterback Dak Prescott. Most notably, nearly four months have passed since Jace Prescott's sudden and tragic death. And for the first time since that day, the star quarterback opened up about his brother.
"It's tough, obviously. He meant a lot to my family. He meant a lot to me. He's part of the reason I am a quarterback. When I was a little kid, he is the reason that I first started throwing the football.

"It's been a tough year. It's been a tough year for me personally. It's been a tough year for my family. It's been a tough year for this country and this world, obviously. It's all been tough, but I have a great family to count on, to lean on, great supporters here, great teammates, great coaches, people that help me get through it.

"I know I've just been… had the obligation to live on and carry on another legacy. So now it's just not my mother, but it's my brother as well. I will continue to do that in every walk of my life."
Prescott, who threw a career-high 30 touchdowns last season, will help try to get the Cowboys back to the playoffs again in maybe his final season in Dallas.
Whatever the future holds, Prescott will be playing with an extra motivation.
This post was originally published on April 24, 2020 before updating.