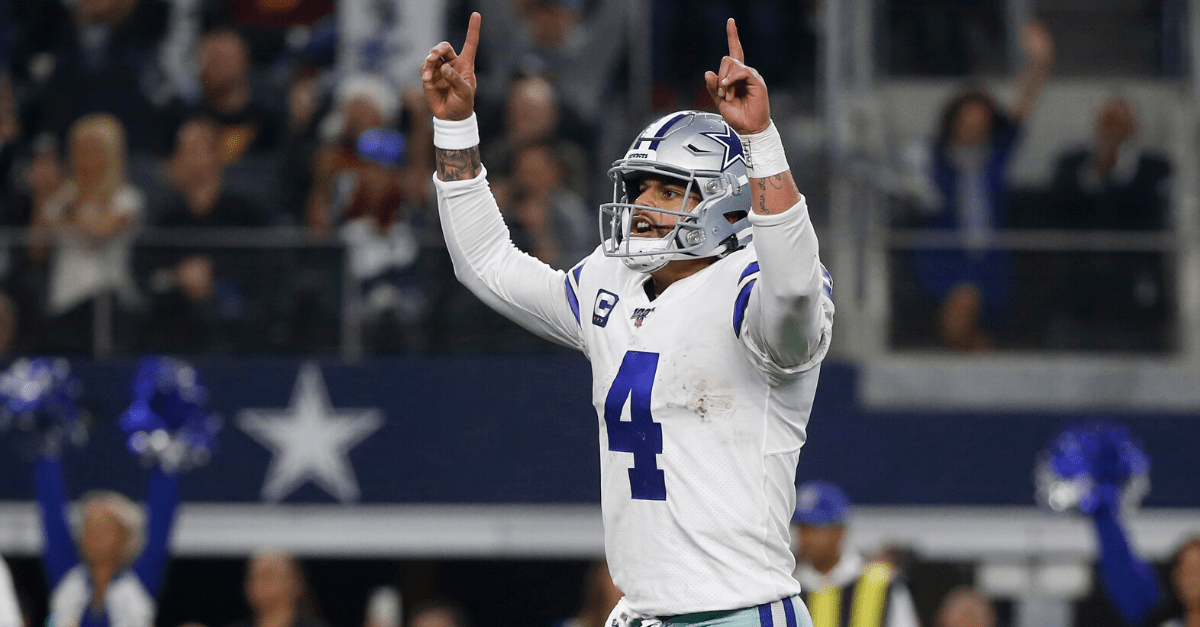 AP Photo/Ron Jenkins
UPDATE (March 16, 2020): As the NFL's new year began, the Cowboys placed its exclusive franchise tag on quarterback Dak Prescott for the 2020 season. That means he will earn $33 million this year while both sides work towards a long-term deal, according to the team's website.
The stipulations of that contract are up in the air, but Prescott's representatives hope their client can become one of the NFL's highest-paid quarterbacks ever.
---
This article was originally published March 9, 2020.
Free agent quarterback Dak Prescott is looking for a new contract. That's no secret. It's been closely followed for the last year. A long-term deal is what the Pro Bowl signal caller is ultimately after and it appears the Dallas Cowboys are willing to break the bank to keep him in The Lone Star State for the foreseeable future.
Nobody can blame a player for testing NFL free agency. It's important to find out what options are out there during the offseason. There are no signs of Prescott actually leaving Dallas, and it would almost be impossible to find another team offering as much as owner Jerry Jones.
According to The Dallas Morning News, the Cowboys reportedly offered Prescott a massive deal of $33 million per year with $105 million guaranteed.
Dak Prescott Contract
RELATED: Predicting Where 2020's Free Agent Quarterbacks Will Land
If the report is true, and Prescott eventually lands a massive deal, that's insane. The 26-year-old and former fourth-round pick in the 2016 NFL Draft would be signing one of the largest deals in NFL history.
Prescott, who made over $4.7 million during his entire four-year rookie contract, according to Spotrac, would instantly become one of the highest-paid players in the league alongside Seattle Seahawks quarterback Russell Wilson, Green Bay Packers quarterback Aaron Rodgers, Los Angeles Rams quarterback Jared Goff, and Philadelphia Eagles quarterback Carson Wentz.
That's the market value for a star quarterback, so it's understandable why the contract would be so massive, but it doesn't seem worth paying Prescott that kind of money up front.
Prescott puts up impressive stats — nearly 5,000 yards and 30 touchdowns through the air last year alone — and is likely entering his prime. However, one playoff win in four seasons isn't anything to write home about and he hasn't proven he can win enough consistently to earn that type of payday.
Add in the fact running back Ezekiel Elliott just got paid huge bucks, and the Cowboys are looking to lock up wide receiver Amari Cooper as well, and the $33 million also seems like a big hit to the salary cap for just three players.
Prescott doesn't have Super Bowl rings like Tom Brady. He's not a perennial MVP-level quarterback like Patrick Mahomes. And who knows how his game will be impacted by new head coach Mike McCarthy as well?
The Cowboys want Prescott to stay and vice versa. Prescott's agent is doing all he can to get his client paid, too. But is giving Prescott a huge deal right now worth it? Not a chance.
If Dak Prescott signs a contract with over $100 million guaranteed, he better earn it on the field.