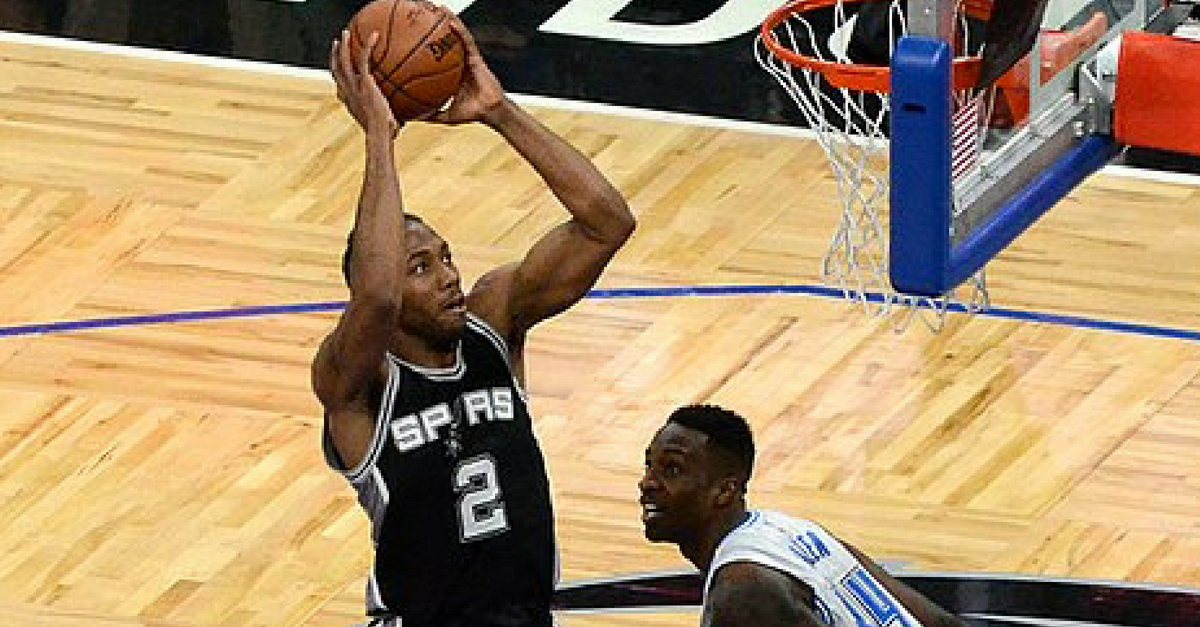 Wikimedia Commons
Wikimedia Commons
Breaking up is hard to do. Separating with a person you've learned from, grown with, and found success with leaves scars that only time will heal. Hanging on to a lost relationship will only magnify the situation, and the problems inherent in it. At some point, though, you have to rip off the Band-Aid and move on.
Someone should tell that to the San Antonio Spurs and Kawhi Leonard.
On the 'Back to Back Podcast,' ESPN Spurs reporter Michael C. Wright shined light on a visit by a group of San Antonio Spurs staffers to New York:
According to Wright, when members of the Spurs brass came to visit the All-NBA small forward at his NYC hotel during his rehab process, members of Leonard's team intentionally moved him to secluded spot of the hotel, effectively starting a game of 'Hide and Kawhi-Seek' against the Spurs staff.
The Kawhi versus the Spurs saga has stretched into July, after it leaked that Kawhi wanted out of San Antonio back in June. Throughout this past season, team veterans Tony Parker and Manu Ginobili spoke out condemning their teammate's injury and lack of presence at the team facilities.
Coach Gregg Popovich, a master of trolling reporters during interviews, also took silent shots at Kawhi earlier this season, saying that the Spurs were focused on the players in the locker room, and praising the play of LaMarcus Aldridge:
Kawhi Leonard trade talks have linked to potential destinations like the Los Angeles Lakers and Lebron James, but also the Boston Celtics and Philadelphia 76ers, although nothing concrete seems to be in the works. San Antonio's asking price is a near-king's ransom for the disgruntled, star forward, although Leonard's resume certainly seems to demand it.
Leonard hold an NBA Finals MVP (2014), two NBA Defensive Player of the Year awards, and two All-Star nominations. In the 2016-17 Western Conference Finals, Leonard re-aggravated an ankle injury when Warriors goon Zaza Pachulia ran under him while attempting a shot. Last season, Kawhi was limited to nine games with a shoulder and quadriceps injury.
When healthy, the 27-year-old is one of the NBA's premier defenders and rising stars. It's a not a matter of if Kawhi leaves Popovich and San Antonio, but when.
Only question remains: what will Kawhi be without the Spurs?