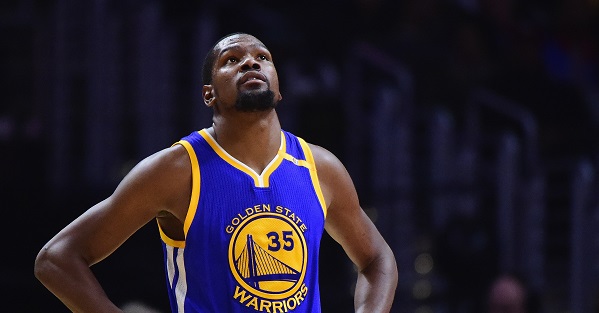 Harry How/Getty Images
Harry How/Getty Images
Kevin Durant is probably the most active NBA superstar on Twitter, and he regularly interacts with fans (and haters) on social media. But it appears as if being an avid tweeter might've backfired on him.
Someone tweeted at Durant and asked him to give a legitimate reason for leaving Oklahoma City outside of winning a championship. Durant responded, but it appears as if he intended to respond from another account to defend himself and not his own, but he forgot to switch accounts. He ended up calling out his former teammates, organization and Billy Donovan.
It's likely he has multiple accounts, and he forgot to switch them before responding, which led to this encounter via @harrisonmc15.
Related: Kevin Durant responds to former ESPN reporter after White House criticism on Twitter
"He didn't like the organization or playing for Billy Donovan," Durant said. "His roster wasn't that good, it was just him and Russ.
"Imagine taking Russ off that team, see how bad they were. KD can't win a championship with those cats."
Yikes. It's possible Durant has someone helping coordinate his social media, and he probably has a few fake accounts.
But Durant is very open and honest on Twitter, and it looks like he just made the mistake of not switching accounts before he defended himself. Durant later deleted the tweets and was back to responding to negative tweets from random people.
Durant will probably face some backlash for calling out his old teammates, Donovan, and the organization as a whole. But it's hard to argue with his comments considering how easily he won a title at Golden State and how much Oklahoma City struggled without him.
(h/t CBS Sports)