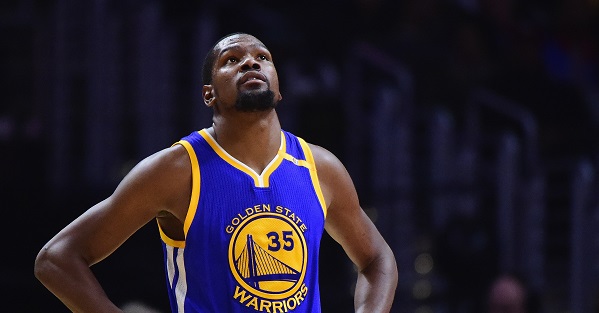 Harry How/Getty Images
Harry How/Getty Images
A week after winning his first NBA championship, Kevin Durant has reached a decision on where he will play next season.
According to ESPN's Chris Haynes, Durant will decline his player option for the 2017-18 season with the Golden State Warriors. He will officially become an unrestricted free agent on July 1, but he will re-sign with the Warriors for next year.
Durant is due $28 million for next season if he opts in, but he will receive more money when he signs his new deal. He is still expected to take less than the max so the Warriors can re-sign Andre Iguodala and possibly Shaun Livingston.
Related: Defending champion Warriors reportedly set to re-sign huge member of the team
If Durant takes $4 million less than the max for next season, it will allow them to re-sign Iguodala to a favorable contract without renouncing his rights. Durant will likely sign another two-year deal with the option to opt out after next season, ESPN reported.
Durant, a 10-year veteran, will turn 29 before the start of next season. The 6-foot-11 forward is an eight-time All-Star, former Rookie of the Year, and he led the NBA in scoring four times. He was also league MVP in 2014.
The Warriors will likely pay Steph Curry a five-year max contract this offseason, and Durant will wait at least one more year before he signs a long-term deal.
This means the Warriors will have Durant, Curry, Iguodala, Klay Thompson and Draymond Green under contract for a at least one more season and possibly longer.
The Warriors will be the overwhelming favorites to win another championship next season.
(h/t ESPN)