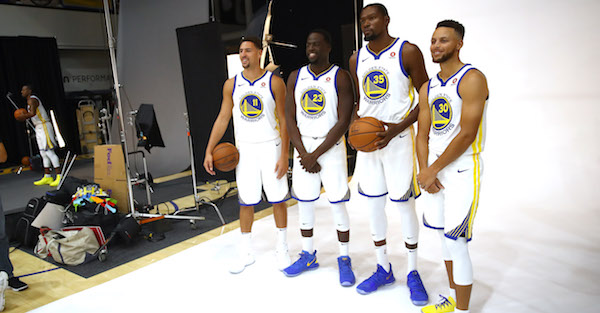 Ezra Shaw/Getty Images
OAKLAND, CA - SEPTEMBER 22: (R-L) Stephen Curry #30, Kevin Durant #35, Draymond Green #23, and Klay Thompson #11 of the Golden State Warriors pose for a picture during the Golden States Warriors media day at Rakuten Performance Center on September 22, 2017 in Oakland, California. NOTE TO USER: User expressly acknowledges and agrees that, by downloading and or using this photograph, User is consenting to the terms and conditions of the Getty Images License Agreement. (Photo by Ezra Shaw/Getty Images)
The Golden State Warriors will have their core four of Kevin Durant, Steph Curry, Klay Thompson and Dryamond Green together for at least another year and likely two more seasons. Thompson's deal ends after the 2018-19 season, and he is the biggest threat to leave Golden State for more money elsewhere if the Warriors can't pay him enough.
However, Thompson indicated to Marcus Thompson and Tim Kawakami of The Athletic that he would be willing to take a discount to keep the Warriors together when the time comes?though not much of one like KD since he doesn't make as much as Durant or Curry off the court.
Kawakami: "Could you (take a discount?")
Klay Thompson: "I probably could, yeah. That much? I don't know. I don't make as much as Kevin off the court.
"If it's a few million … It's a blessing whatever contract I sign. I would definitely consider it cause I don't want to lose anybody."
Related: Golden State Warriors release statement on White House following Donald Trump comments on Steph Curry
Thompson signed a four-year deal worth just under $69 million that took affect for the 2015 season. As the salary cap has increased, he'd be worth far more than that now considering he's an elite perimeter defender and one of the best shooters in the league.
Curry and Durant earn the most on the team, though Curry was on a very team-friendly contract prior to this season.
The Warriors are the favorites to win it all this year, which would be three titles in the last four seasons. If those four stay together for longer after this season, they will likely continue to be the favorites to win the championship.
(h/t CBS Sports)